Ranking Avril Lavigne Albums From Worst To Best
Emily Sawyer Articles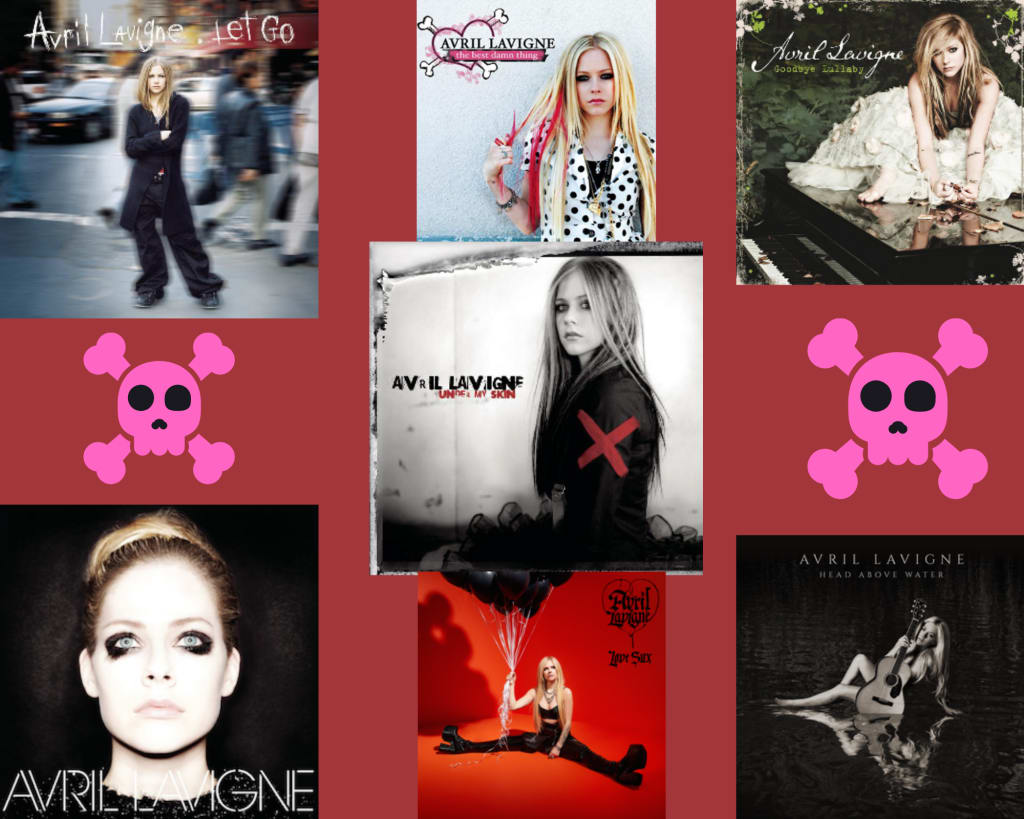 Avril Lavigne Albums
Intro: Hey, Black Stars, I've decided to rank all 7 of Avril Lavigne's albums from worst to best! She's an incredible artist, and she's had her highs and lows. So let's dive in and see how much you probably hate me after this.
Seven: Avril Lavigne 2013
This was a great album, but not her best. My first problem with this album is she waited way too long to do a self-titled; this shows laziness that she couldn't have picked an actual title. This album certainly has fewer bops than albums like Let Go or Love Sux.
Score: 2/5
Six: Goodbye Lullaby 2011
Sure it was good and had quite a few fantastic songs. I felt like, however, something didn't resonate with me about the album in general. I'd listen to like two songs, then skip it. There are more than two songs that are great; it's possibly the length that turned me away. The regular album already has 19 songs, while the special edition has 21. 19 is enough, and by the time you reach the end, you're about ready to move on from the era. Imagine the special edition saying well, here's two more.
Score: 3/5
Five: The Best Damn Things 2007
This album will always be in the top 5 for the reason simply being that it was monumental. Avril truly started to explore different styles and really have fun with her music. The best damn thing has plenty of bangers and a good mixture of slow and dancey songs. The only issue is this album is often overplayed, usually songs like girlfriend.
Overall: 4/5
Four: Let Go 2002
A classic, and while some may argue it should be higher, I digress. The only songs you really think about are Complicated and Sk8ter boi. Sure there's I'm With You and Losing Grip, but they are often forgotten about after one of the other two comes on. Then we are moving on to the next, and there's a good reason why. While it's a monumental album, the beginning of one of the greatest artists of all time, this album wasn't everything it could've been. However, for what it is, I've chosen to score it higher because I'd rather listen to this than 'Avril Lavigne' self-titled.
Score: 4/5
Three: Head Above Water 2019
I feel like I'm going to get hate for ranking two of her newer albums so high. Hear me out, though; this album was a masterpiece. Sure we can find fun head-bangers in the others, but head above water gives you a whole new vibe. It's a lot of pain expressed by an artist who suffered immense health issues, including Lyme's disease, this album is the story of true pain. She thought she was dying, and she chose to share it with us; you bet it's going to be in the top 3.
Score: 5/5
Two: Love Sux 2022
This album was like getting a blast from the past. It was a mix of Let Go and The Best Damn Thing. It was fun, and I even got to attend one of her concerts which was very exciting. This was fun and punky, and it reminded me of the reason I fell in love with Avril. She will always be the punk princess.
Score: 5/5
One: Under My Skin 2004
Under My Skin is the best album Avril has released. Sure, you can argue with me, but you're sorely mistaken. This album is like a more punkier version of Head Above Water. You can feel Avril's pain in songs like Slipped Away and Nobody's Home. This album was a masterpiece and a truly bittersweet experience.
Score: 5/5
Conclusion: Avril Lavigne is a fantastic artist, and she deserves the recognition she's received. I can't wait for more releases from this fabulous artist. What's your favorite Avril Lavigne Album?