Ode to my Morning Commute
My pockets have been lighter than usual.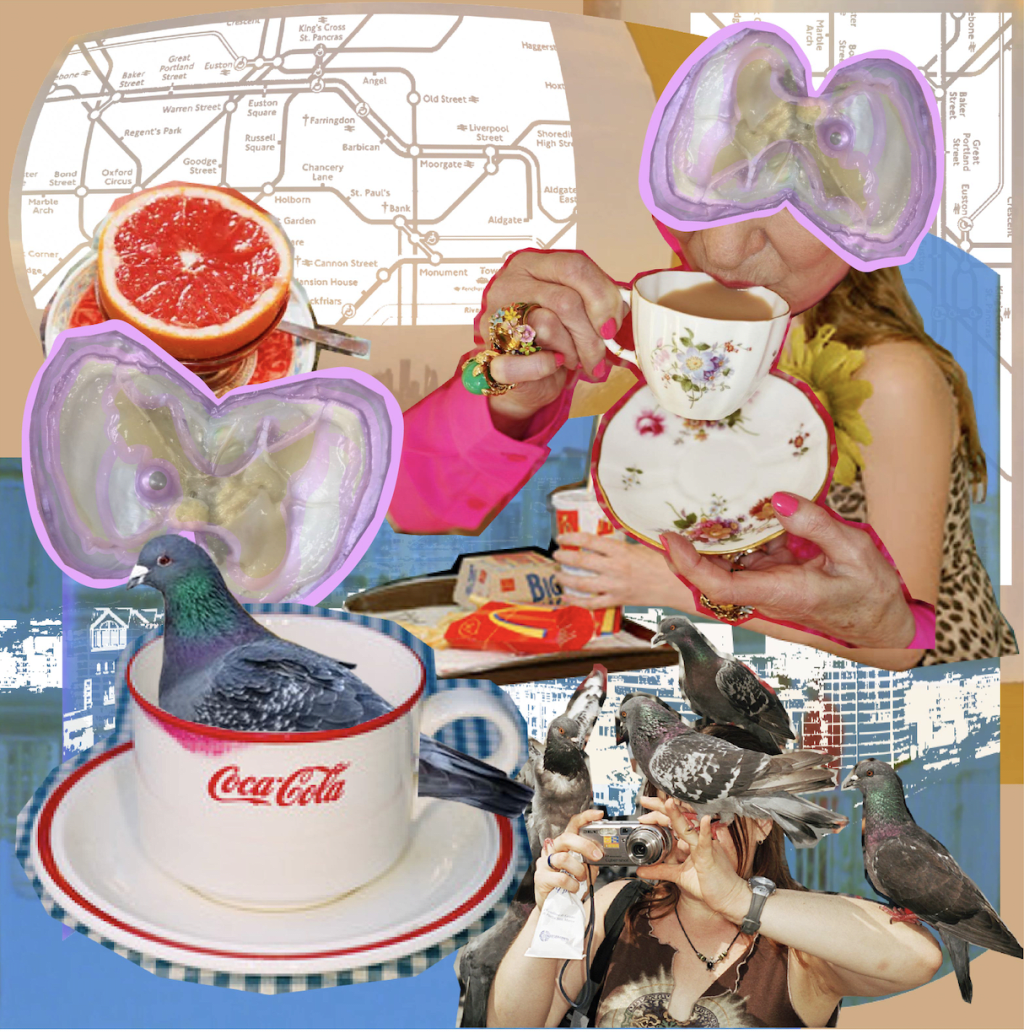 My pockets have been lighter than usual. Typically, they're filled with various key cards and IDs that get me to and through the places I need to be on a given day as a student in a city. But since I don't need an Oyster Card to get downstairs each morning to my kitchen countertop, which now doubles as my work place, or a work ID card to get me into my building, my pockets have been empty. My shoulder has been missing the weight of a bag on itself. My pants have been free of morning rush coffee stains.
I never thought I'd miss my morning commute. Victoria Station in the centre of London at 9:15 on a weekday morning feels as complicated to maneuver through as the level 74 of Crossy Road. More often than not, it's overstimulating, noisy, and speckled with discarded McDonald's bags. But now that I haven't had a morning commute for the past month, I've grown to miss that half an hour I have in my own headspace each morning, and the materials like my Oyster Card, pen-stained canvas tote, or leaky Keep Cup which surround that specific time and space. Having a place to be, even if pressed for time, now seems like a luxury of the past.
Now separated from them I realise that the physicality of these spaces of transit, despite how cluttered and suffocating they can often feel, have offered me a delicate space for my own thoughts to coalesce from the day before. I always have my earbuds in, as most people do, allowing me to sink briefly into my own world amongst the multitudes of other individuals also dipping into their own headspaces. It's equal parts annoying and exhilarating being surrounded by hundreds of anonymous faces, even though in the rush to hop on a tube you're often pressed uncomfortably into a lot of them. Instead of fidgeting with my phone throughout the thirty-minute commute, or in case of tight moments like the one above, for the past three years I've created a monthly playlist to fill and guide me through this physical and transient space at the start and end of my weekdays.
This playlist is a collection of songs on my commute playlist from last month, and songs that would be on it this month if I had one longer than the walk from my room to my living room downstairs. I didn't choose any of these particularly for a sense of journey or quarantine, but a handful which I'll outline definitely resonate with these themes and offer glimpses of hope despite the opaque future ahead .
"Sweet Time" by R&B singer Raveena is a liquid, silky ode to a new lover. Similar to Corinne Bailey Rae, Raveena's voice seems intrinsic to a still moment in the early morning or late afternoon; as if carried by the low sun's beams. The second verse traverses the joy of a new relationship, but also echoes sentiments that could be found in this reflective time of isolation. The R&B singer notes melodically that " I'm taking advice from the moon/I'm lost in melody, harmony, new family/They wrap me up in a cocoon." While this most likely isn't a time for new relationships, it can be a time to generate deeper connections in pre-existing ones. As the chorus repeats "I'm taking my sweet time," Raveena's track is ideal to play when you're taking your own sweet time, whether that be on a calming walk, trying a new gnocchi recipe, or answering a never ending list of emails.
Outkast's "Crumblin' Erb" from 1994 is largely about violence in African-American communities and the escape marijuana provides from this headspace. The soothing chords and assonance-laced lyrics of Big Boi and Andre 3000 create a dreamy atmosphere over the course of 5 minutes. It's no surprise that Big Boi even mentioned in a recent interview with Rolling Stone that the song is one of his favourites to play while barbecuing. However, the lyrics of the chorus resonate with our current situation. The pair sing: "there's only so much time left in this crazy world, we're just crumblin' erb." "Crumblin 'Erb" isn't only a perfect track to play for a belated 420 celebration, but also discusses difficult contexts with a lilting, relaxed tone that's easy to slip into in the hectic space of a busy commute or from the confines of your home during quarantine.
Suzi Wu's "Taken Care Of" is a bubbling sonic anthem, blending guitar chords reminiscent of an indie teen film with her unique, jolting voice. Written when she was about 15 or 16, the song emulates confident youthfulness and defiance as she sings throughout the chorus "Mama Papa love me, I think so anyway/Mama Papa love me, At least that's what they say/ Mama Papa love me, I am a beautiful disgrace/ Mama Papa love me, I am so beautiful." Though her aesthetic is a bit more grungy and brooding, Suzi Wu's lyrics capture a similar texture to Lizzo's kinetic tracks brimming with self-love. Since quarantine, social media has been saturated with sourdough recipes, bedroom selfies, as well as tendrils of online shopping sprees. Suzi's song dances around the although fleeting, sometimes much needed dopamine-boost shopping can often provide as she sings "Got some brand new shoes/I've got nothing left to lose/Baby don't you know I just cruise/In a place where I feel invincible." Though you're probably just wearing those new shoes around your house, and not wearing them down as you run to catch your departing bus, "Taken Care Of" inspires animated hopefulness, starting with the self and radiating out towards others.
Toro y Moi is known for his contributions to the West Coast inspired, chillwave movement which started around 2010 and signalled the popularity of all those low-fi beat study mixes perpetually playing on Youtube. However, his album Soul Trash (2019) displays a slight departure from these tropes by the end of the decade. "tron_new_rose_hifi_v2" featuring Portland-based multimedia artist Old Grape God, notably stands out from the other succinct tracks. Old Grape God punctuates the song as he raps "I think I'm feeling anxious/'Cause I'm tapping into shit that's supposed to stay ancient." As coronavirus has revealed insecurities and weaknesses at the various levels of individuals, communities, institutions and nations, and the lack of connection between these cohesive facets of a country, Old Grape God's lyrics demonstrate the anxiety-provoking situation we're currently in on a personal and social level. Toro's voice emerges, transformed with autotune as he remarks "I click it, I buy it/I ordered the roll/Shit's overpriced/You don't even know." Though in 2019 Toro most likely wasn't talking about the toilet paper shortages and inflated prices of everyday goods due to the pandemic, these lyrics are especially fitting and funny as they're listened to now in April 2020. The deep drums barrel throughout the song, propelling the listener through the ambient, curated headspace of the two artists.
Childish Gambino's "12.38" is the fourth track on his enigmatic 3.15.2020 released last month. At a time when there are little to no social events depending on your location, "12.38" serves as an adventurous antidote. Over the course of 7 minutes, the track documents a night between Gambino and a female character, saturated with relatable lines from a near past as the pair duet through a mushroom trip. The experimental drum pattern, autotune and flickered sampling audibly recreates the psychedelic experience of shrooms, allowing listeners to partake in this scenic headspace. The gooey pace of the song makes for a languid walking track. While some may have a stash of shrooms or other substances during this time, as recreational drugs have become more scarce Gambino's signature style oozes through this fluid track, serving as an adequate replacement for a night out for the time being.
Solange's "Binz" speaks to the vivid dreams, day or night, that you might be experiencing due to quarantine. As the world has been brought largely to a halt with an opaque, indefinite future unfurling as the year progresses, few, if any, can plan ahead, prompting indulgent daydreams for life after this period of containment and stillness. "Binz" celebrates Solange's melodic voice. After riffing briefly she launches into a series of sunkissed images; a stream of consciousness wishlist for post-quarantine holidays: "I just wanna wake up to the suns in Saint Laurent/Hundred thousand dollars on the fronts, hella blunts/I just wanna wake up on ya thigh, on a yacht/Or in the Rolls that's rented, windows tinted/We call that big spendin', big spendin'/ I'ma get back on my feet, give me a minute." "Binz" is not only a world away from confined social distanced times but also from the dreary, drizzled commute across the Thames. Like having a golden toasted cinnamon bagel lathered with peanut butter, bananas and honey, the sweet space of "Binz" provides an often simple but much needed indulgence in the morning.
Although no one's sure when they'll have to commute again, a moment to collect yourself in the morning, whether that be for 15 minutes or 15 seconds, is a simple way to start your day, but one that can provide inspiration and rejuvenation. This playlist has been the background for my alternating walks and runs since quarantine began here over a month ago. Although I still miss my commute, and being able to move around the city as I used to no matter how exhausting it could be, this playlist has been a reassuring soundtrack to remind me of other spaces besides the one I'm currently bound to.
You can listen to the playlist here on Spotify: