'New Miserable Experience' At 30: A Look Back at the Legendary Gin Blossoms' Album
It's a record that has only improved with age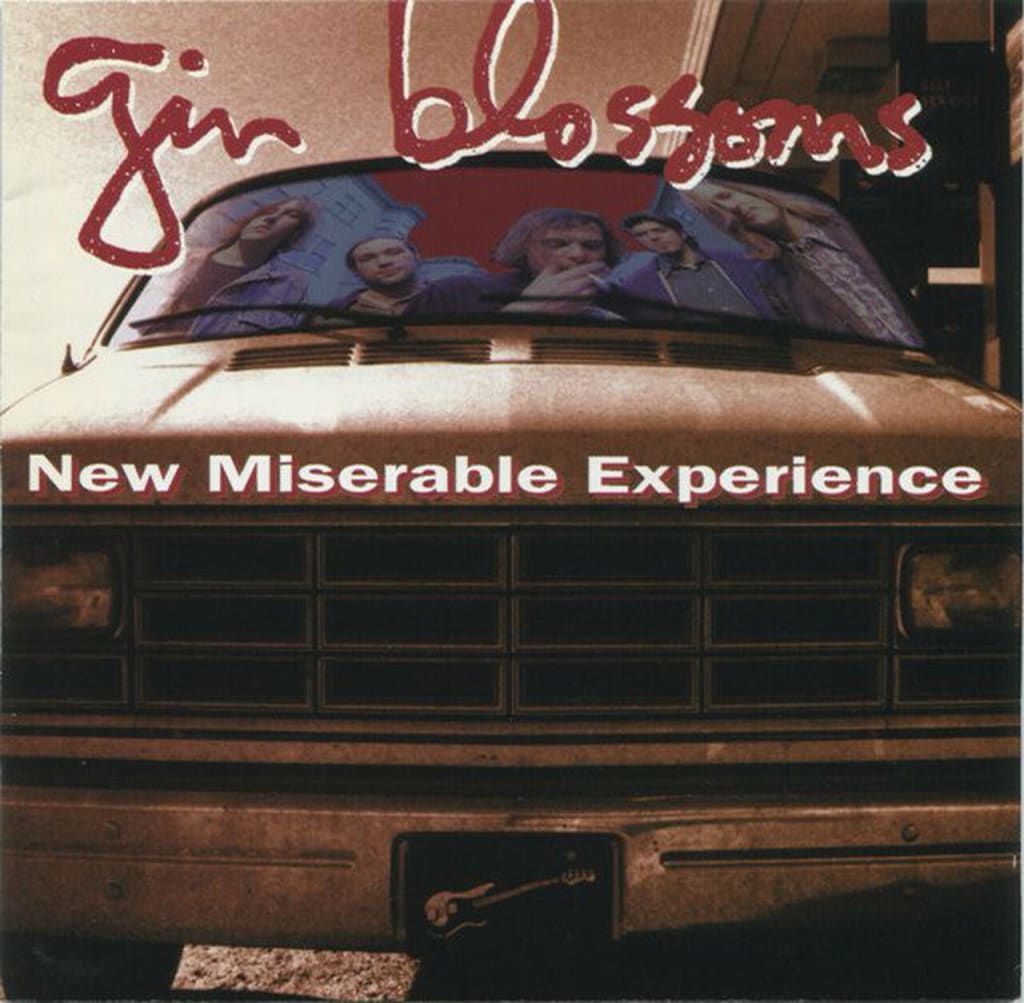 Image: A&M Records
If you are one of those people who (like me) still think that 1990 was ten years ago, this fact may throw you into an existential crisis: the now-legendary 1992 album New Miserable Experience by the Gin Blossoms turns 30 years old this year. Yes, the record that gave us "Hey Jealousy" and "Found Out About You" has been spinning for three decades now. This milestone anniversary is the perfect time to take a fresh look at an album that I can still remember hearing the first time like it was yesterday.
It wasn't yesterday, of course, and in researching this piece I started to wonder if my memory had become even worse than I feared (I can barely remember what I had for breakfast yesterday, but with events from my youth my memory has always been completely reliable). I clearly remember first hearing "Hey Jealousy" on the University of Georgia college radio station in 1992. It was Thanksgiving morning, and I was at my Army roommate's parents' house in Atlanta; I remember this clearly because it was the first Thanksgiving I had ever spent away from my family.
During my research, however, the never-wrong internet claimed that "Hey Jealousy" was released in June 1993, seven months after I know I first heard it. After digging a little deeper, I learned that both I and the internet were correct: the band's most famous song was actually released three different times. The first was on their indie debut album Dusted in 1989, a record that received little attention outside their hometown of Tempe, Arizona. The song was then released twice after the release of New Miserable Experience, first in 1992 (when I heard it) and again in 1993, when it finally caught on.
Their tenacity certainly paid off, since if you were around at the time it was most likely that summer of 1993 when you first heard "Hey Jealousy." The song was inescapable then; it was literally everywhere, from constant radio play to heavy rotation on MTV (back when they still played videos) to late-night talk shows from Late Night with David Letterman to the The Jon Stewart Show. Yes, Jon Stewart had a show before The Daily Show, as evidenced by the clip of the Gin Blossoms below:
"Hey Jealousy" has retained its popularity up to the present day, becoming a standard on those dreaded retail store playlists. Even Gin Blossoms guitarist Jesse Valenzuela has commented on this, joking to Rolling Stone in 2017 that "you can hear it at Lowe's hardware."
The commitment the band showed toward "Hey Jealousy" was true of the entire album as well. When New Miserable Experience hit record stores in August 1992, it suffered much the same fate as Dusted, going basically nowhere. In response, they did what every band has done since the beginning of the rock and roll era: they toured relentlessly in support of the album. It got enough early traction on college radio that A&M Records did something almost unheard of, essentially giving the album a second release in 1993 complete with new cover artwork (hilariously dubbed the New Miserable Cover).
This time the album took off, to put it mildly. New Miserable Experience reached #30 on the Billboard 200 and #1 on the Billboard Heatseekers Albums chart. Five singles from the album were released between 1993 and 1994, all reaching the Top 40 of the Billboard Mainstream Rock charts: "Hey Jealousy"(#4), "Found Out About You" (#5), "Allison Road" (#20), "Mrs. Rita" (#36), and "Until I Fall Away" (#40).
The band lineup on New Miserable Experience was Robin Wilson (lead vocals. acoustic guitar), Doug Hopkins (guitar), Jesse Valenzuela (guitar, mandolin, background vocals, and lead vocals on "Cheatin'"), Bill Leen (bass), Phillip Rhodes (drums). However, by the time the album was released Doug Hopkins had been fired from the band, and there is no way to tell the full story of New Miserable Experience without telling that story as well.
Exactly half of the twelve songs on New Miserable Experience, were either written or co-written Hopkins, who was a founding member of the band. He has sole songwriting credit on the album's two biggest hits, "Hey Jealousy" and "Found Out About You." Tragically, he was also in the midst of a battle with alcoholism and mental illness.
His ongoing struggles, battles with other members of the band, and increasingly an inability to even play guitar intensified to the point that the band made the decision to replace him with Scotty Johnson. His battle with alcohol and bipolar disorder would ultimately end on December 5, 1993, when Hopkins committed suicide. Robin Wilson told Rolling Stone years later that it was "still heart-wrenching to think about what could have been." Wilson went so far as to change the line in "Hey Jealousy" from "you can trust me not to drink" to "you can trust me not to think" because he just couldn't take another reference to drinking in one of Hopkins' songs.
Doug Hopkins's story is truly a tragic one, but the final album he was a part of is a monument to his incredible talent, a talent cut down in its prime. It's a monument to the talent of the rest of the Gin Blossoms as well. From the opening chords of "Lost Horizons" to the final strains of "Cheatin'" it is an exceptional album all the way through. Like Counting Crows' August and Everything After (another amazing early 90s album), there is not a song I would take off the album.
The band never reached the level of popularity of contemporaries like Nirvana and Pearl Jam, but New Miserable Experience will live forever. The Gin Blossoms continue making records and touring today, with the same lineup they had in the '90s except for drummer Phil Rhodes (current drummer Scott Hessel joined the band in 2012). Assuming that bassist Bill Leen's recently broken arm heals in time, I will see them in June with Barenaked Ladies and Toad the Wet Sprocket. Try to hide your jealousy and give New Miserable Experience a listen below:
First published on Medium.com.
album reviews
About the author
I'm a writer, podcaster, and bookseller whose ultimate goal (besides being a roadie for the E Street Band) is to make reading, writing, and books in general as popular in Texas as high school football. It may take a while.
Reader insights
Be the first to share your insights about this piece.
Add your insights