An assignment I had recently for my school's newsmagazine was to create the ultimate 80s and 90s throwback playlist. As a lover of older music, this task wasn't that hard. Making playlists is a common pastime for me.
The only issue is that I don't care for all of the songs on the playlist. I do love most of them, and my taste in old music is pretty broad, but some of them are just not my type of vibe. So here is my definitive ranking of the top five songs from my ultimate 80s/90s playlist.
1. Jessie's Girl
Rick Springfield is one of my all-time favorite singers. His voice fits perfectly with the music he creates, and he's still going strong with some more recent albums he's created. But none of his hits will ever beat the most classic - Jessie's Girl. My mother has played this song for me since I was in the womb, so it's no shock that it's a favorite of mine.
2. With or Without You
Another clear choice. This wasn't a commonly played song in my family, but because of Friends, I learned about it and have grown to really like it. Comparing it to Jessie's Girl, it definitely has an opposing vibe to it. While Springfield's song is more upbeat, U2's song hits you with a feeling of sadness and regret. A favorite to listen to if I'm needing a sad song.
3. Smells Like Teen Spirit
Nirvana isn't one of my favorite bands. Ridiculous, I know, but their most popular songs are popular for a reason - they're really good. Kurt's voice fits the songs and lyrics so well that you can't help but like this one. It's one of the most classic and timeless hits from its era.
4. Sweet Child O' Mine
Guns N' Roses certainly takes up a lot of space on my road trip playlist. Their songs are just perfect to jam out to on the road, especially this one. The speed and instrumentals of the song are just quick enough to headbang to while still not sounding totally obnoxious. It's one of those songs you just never skip.
5. Livin' on a Prayer
So many good road trip songs on this playlist! Bon Jovi kills it with all of his music, but this song makes the top five for a reason - it's so fun to sing while doing karaoke (or again, driving). Another classic that people will listen to for a long time (including my mother).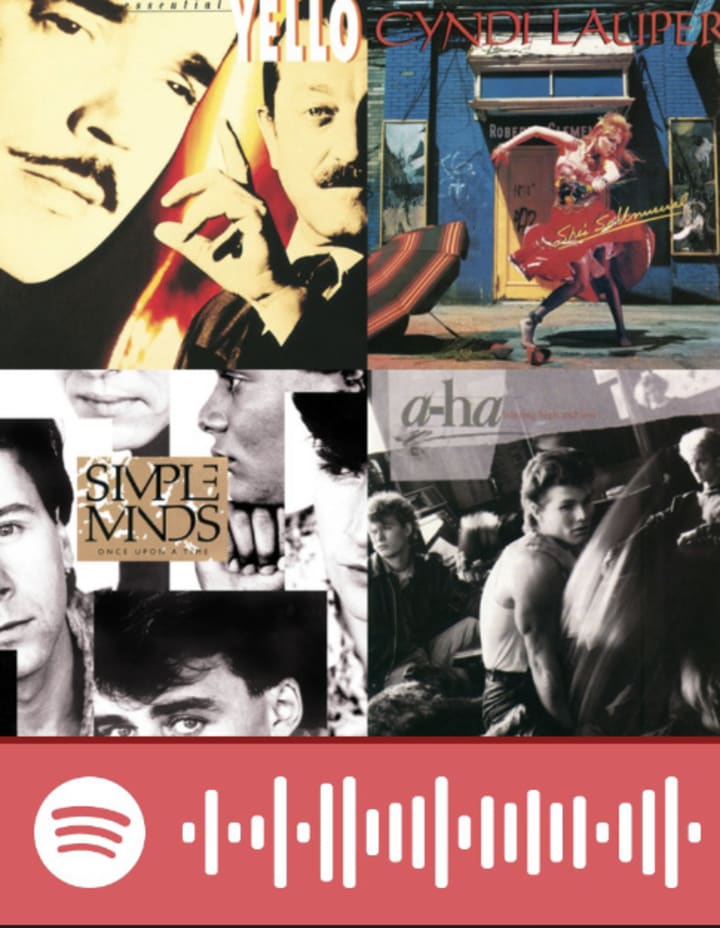 There you have it - my top five from the ultimate 80s/90s playlist I made! One of the best assignments for a class I've ever had.
To give the playlist a listen, just open your Spotify app, click on the magnifying glass icon, and click on the little camera at the top right. Point your camera at the little segment of lines at the bottom of the picture above, and boom! You got yourself a new playlist full of 55 songs to listen to.
I hope you enjoyed this article and found some new songs to jam out to (or remembered some old favorites)! Please consider leaving a like - it helps out a lot!