My Favorite Show of '18
It was a cold October evening...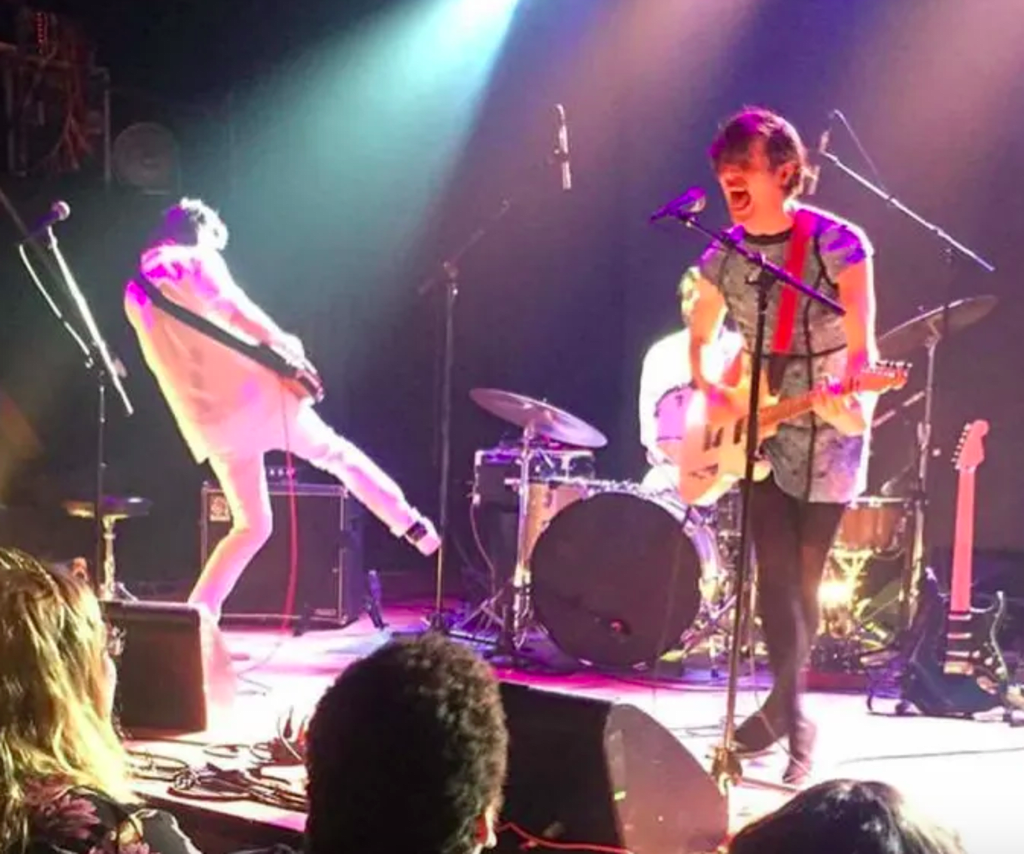 Ezra Furman and the Visions
I go to a lot of shows. A. Lot. In the past year I saw Radiohead twice, Nine Inch Nails at Radio City, Queens of the Stone Age in Atlanta for the Shaky Knees festival, and Portugal. The Man at Forest Hills to name only a select few. To list them all would require far too much effort than I have brain cells left for.
I like to get fucked up at shows. Like, really fucked up. I can handle myself 90% of the time but I was uncharacteristically sober, sans some pot pens, for The Warsaw's lineup that night. This was a special show for my fiancee especially, since her 30th birthday was only a tiny amount of time away. We got there very early. Suddenly, there he was, just walking down the block like everybody else in NYC. After a sudden shock I realized, holy shit, that's Ezra Furman. He cautiously approached us to ask if we'd seen anyone from security come out the door behind us recently who could let him in. I told him I honestly hadn't, but pointed him in the way of the main entrance and he was off and gone as quickly as he arrived. It was odd not seeing him in a dress.
That's who we were there to see, Ezra Furman and the Visions. An EXTREMELY underrated artist who is 7 albums deep but is so underground you don't know him until you see him. Then you're hooked. Everything is catchy as fuck, his lyrics are beautiful, his passion so fiery you can't help but scream with him (even if you don't know the words).
I had the fortunate opportunity of seeing Ezra one time prior, at the aforementioned Shaky Knees festival in Atlanta. It was hot. It was moist. It was Georgia in May. Us Yankees were dying of heat exposure but there was something so enticing about Ezra's performance that we found ourselves drunkenly sauntering closer and closer as he yelled and thrashed. The heat not seeming to be a factor for him or his incredible band. Watching this man lose his mind in front of us while cross-dressing and wearing bright red lipstick was right up all our alleys. We all knew who he was but had his performance not been so downright badass, I'm not sure we'd have made the effort to see him in Brooklyn that cold October night. We were hooked.
As we waited to see him that night, I was actually working my way through his 33 1/3″ book on Lou Reed's Transformer (which is a hell of a read, even if you don't know Ezra or the famous Lou's first solo album). It was an ironic read for the timing, given we were staying in an area one would certainly have avoided in Lou's day. It was gritty, sarcastic and prickish. Ezra did Lou proud. I hope he realizes this. The book really knocks it out of the park.
From note one it was a rockfest. A certified head bob of an hour and forty or so. In fact, in that picture (from NoneSuch Records) above you'll see my head to the right in the crowd. Aside from the impassioned performance nearly bringing us all to tears, Ezra lead us all in a Hebrew prayer for a mass shooting which was entirely racially driven and occurred at a Jewish center a week prior. It was a powerful moment. I happen to be Jewish but had no idea what he was actually saying. It made me feel included, though. As if someone actually cared that a mass shooting had even occurred in the first place. And as soon as he brought the room down a moment, he brought it right back up again. The bopping continued in full force.
As long as we waited for that show, time passed as it always does and before we knew it the performance completed. We decided to make our exit via the bar rather than the main entrance for convenience's sake. As we approached the doorway, he was visible to our left. Ezra, just sitting there. Looking a tad bit anxious by the passing fans trying to speak with him. He clearly wanted to just have a post-show drink, so I opted out of approaching him. Having seen him out front was plenty enough in my head. If I was to sit down with him, I'd need some time instead of a casual hello. I'd want to ask him about how his Judaism ties into his music, what his artistic process is like, and why he chose to wear the dress he picked that night. Clearly a deeper conversation than a narrow doorway's entrance would allow us. That and the whole not knowing me part of it all.
In the end, I believe the intimacy of the performance is part of what made it so special. The Warsaw is one tiny, tiny ass club. Ezra packed the place out but I don't believe it was a sold-out performance. Being right up front with little effort is my ideal scenario. I always end up next to the monitors and regret it 3 days down the line, but that's for Future Chuck to be worried about. Present Chuck wants to rock and does not wear ear plugs. No matter the patronage at the venue I'm sure Ezra would have put on the same incredible performance. He's clearly a man on a mission. Maybe he doesn't always know where he's going but as he picks up more mainstream notoriety, he certainly knows where he wants to be. If you get the chance to see him and the Visions, NEVER pass it up. I guarantee it will be a good time.
I hope you enjoyed this read and, as always, please feel free to leave any comments within that section of the page. Also, be sure to check out my website www.chuckw.com for more content like this. Keep on rockin', y'all!