Memories of Old and AM Gold (Part 1)
The golden days of radio and cereal box records.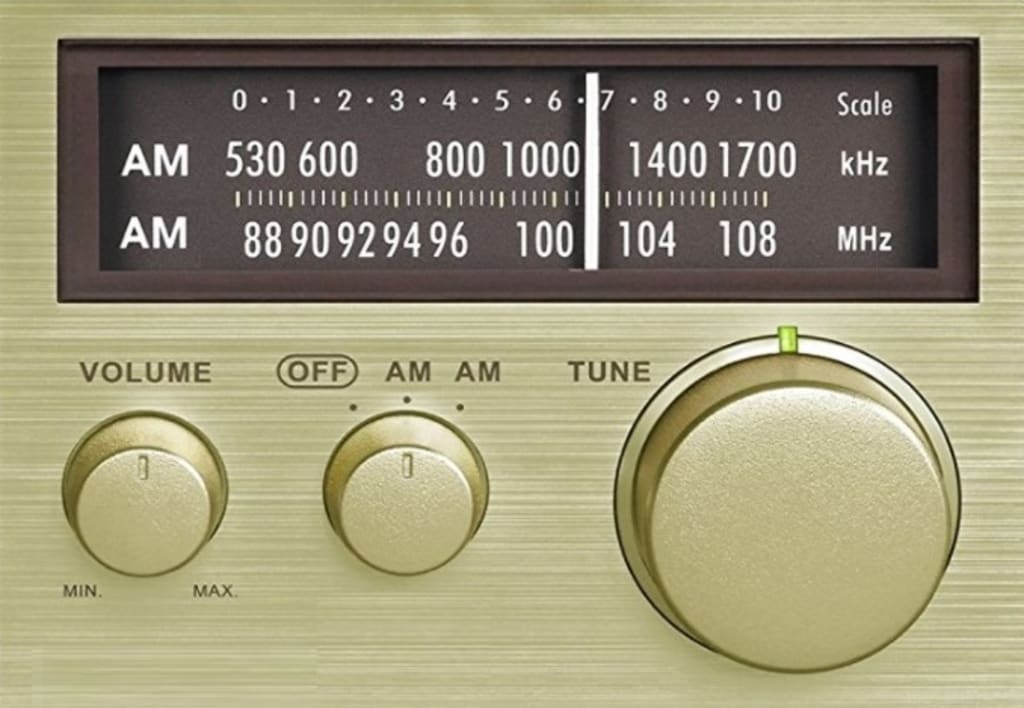 Whenever summer rolls around, it annually evokes fond memories of youthful days I'd eagerly spend counting down until the school year would finally end. The anticipation of long, lazy summer days, extended car rides, and family vacations was always palpable. That was the era of AM radio hits which often turned into road trip sing-alongs which served as a much needed reprieve from being cooped up for hours on end in the car. I'm referring to a time when portable electronics were almost non-existent and the only access to music was the standard AM radio that came factory installed in the family owned American automobile. Back then, everyone mostly subsisted on the familiar sounds of the most popular Top 40 radio hits of the day, unless you were lucky enough to have the infamous 8-track tape deck, which did NOT include fast-forward or rewind options.
These days of instant gratification and easy accessibility make tales of growing up during the 1970s seem akin to hearing my dad often regale us with his stories of what it was like growing up without indoor plumbing or electricity. As a boy, I used to distort my face in shock upon hearing such ghastly details.
Summertime also reminds me of how excited I'd get about routine trips to the grocery store when I was a kid. Yes, the grocery store, because back in those days, they used to print records right on the backs of cereal boxes, similar to flexi discs often found in music publications or instructional books. Nothing made me happier than picking out a brand of cereal I'd pretend to like just so I could get a new record by The Archies, The Monkees, or The Jackson 5. I can still recall being mesmerized and oddly entertained as I'd watch the phonograph stylus play over the faces of Betty, Veronica, Archie, Reggie, Jughead, and Hot Dog as I carefully memorized every word of "Everything's Archie" and "Nursery Rhyme." This was the very beginning of my record buying addiction that has lasted since my adolescence and continued throughout my adult life, and probably explains why I'm currently still drawn to novelty pressings of colored vinyl and pictures discs.
My cereal box record collection grew to include such radio staples as "Jingle Jangle" by The Archies, "Last Train to Clarksville" by The Monkees, "I Want You Back" and "Maybe Tomorrow" by the Jackson 5. All of these songs still bring a smile to my face as they instantly transport me back to my childhood days of summer.
Cereal box records were my introduction to record collecting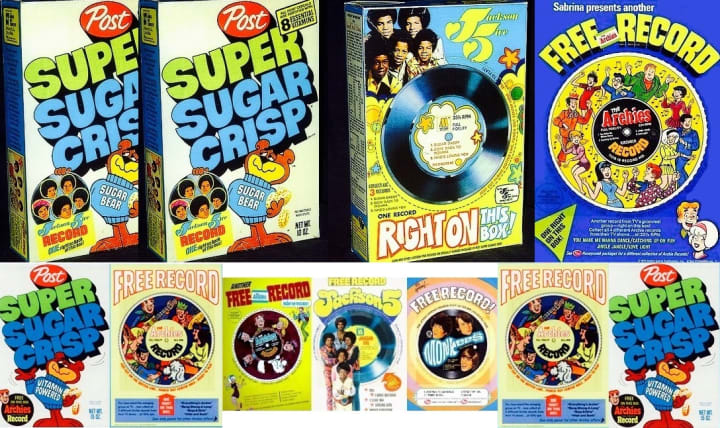 After the cereal box record era came to an end, my next record collecting phase commenced with 7-inch vinyl 45 rpm singles, or 45s, as I began to crave higher quality musical recordings. As a tween, my music collection continued to grow as I slowly upgraded from cardboard discs to actual vinyl records in the form of 45 rpm singles, or 45s.
This newly acquired desire for real records was also catapulted by receiving my very first record player that year as a Christmas present, which was a Kenner Close 'n Play automatic phonograph. You know, the kind where you'd place the record on the turntable, close the top and it would mechanically find the record groove for you. It also had a handle so I could carry it with me everywhere I went. I loved clutching onto that thing and it was my constant companion until I'd completely worn the needle down to a non-existent nub. I'd spend hours listening to that magical music machine that musically transported me to an entirely different plane of existence. Sometimes, I'd pretend I was a radio disc jockey and line up my 45s into what I considered to be the ideal playlists. Oddly, my parents never noticed my music catalog's slow, but steady growth spurt.
I was very proud of my ever-growing stack of 7-inch records, which included Carly Simon's "You're So Vain," Elton John's "Daniel," Cher's "Dark Lady," "Carole King's "Sweet Seasons" and Paul McCartney and Wings' "Listen to What the Man Said." My ears also began to venture into crossover territory with Ronnie Milsap's "It Was Almost Like a Song" and "Here You Come Again" by Dolly Parton.
However, my meager weekly allowance and annual birthday and Christmas gifts were hardly enough to allow me to keep up with the weekly pop charts, so I had to figure out a way to supplement my adolescent income. Then I had a brilliant idea pop into my head. All I had to do was start skipping lunch at school and use my daily food allotment to buy records, which of course I willingly did. Yes, I'd literally chosen music over sustenance.
I felt like a real grownup as I'd covertly save my lunch money from school and blow my secret stash on records. Of course, my parents were completely oblivious to my ingenious idea I'd concocted to supplement my allowance I'd use to feed my music addiction and finance new record purchases for my cherished bright red record player.
I still have most of the 45s of my youth and periodically dust them off and give them a spin. I still get a thrill from the tactile experience of spinning wax and listening to old favorites as I close my eyes and visualize my beloved Close 'n Play.
My very first phonograph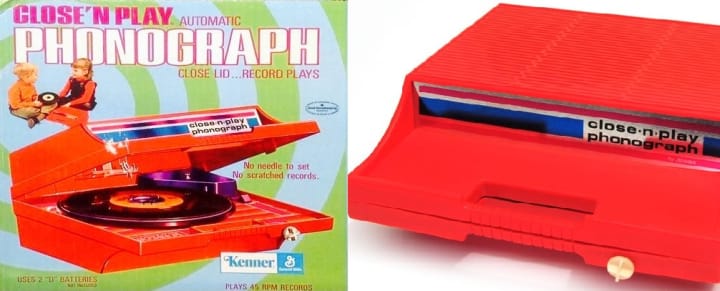 About the Creator
I'm a music journalist, blogger and crate digger. I began writing about music during college and again as a freelancer. Links to my published pieces can be found on my music blog at: popmartzoo.com and/or follow me on Twitter:@popmartzoo
Reader insights
Be the first to share your insights about this piece.
Add your insights