Mahalia Jackson is a music legend who stayed in her lane
Dubbed the Queen of gospel singer ever this black female has left a lasting legacy.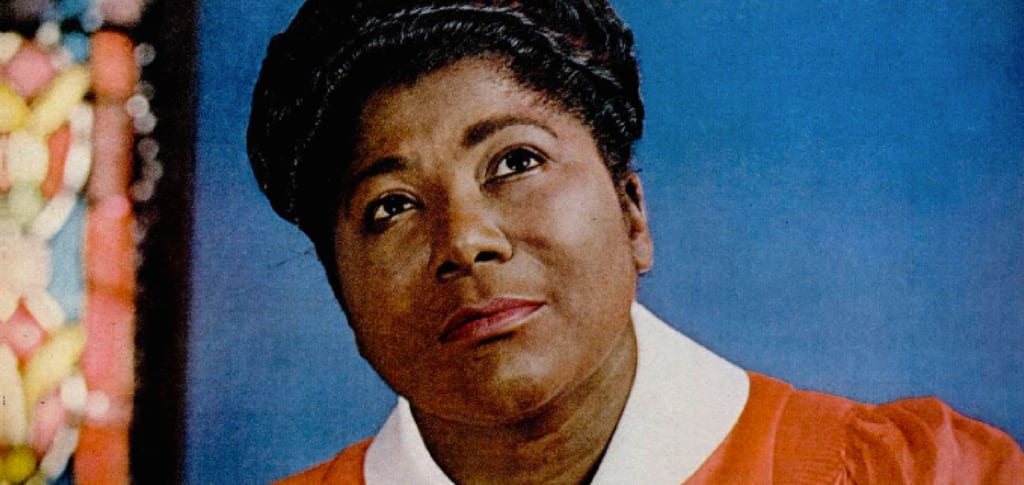 When you hear the name Mahalia Jackson, there is one train of thought regarding her career. She was a powerful singer of gospel music, a legend in her own time who received many accolades. She also left an important legacy that some artists today should consider. During her heyday there used to be a line of thinking that singers should stay in their lane and not try anything different. The old adage of "If it ain't broke don't fix it" seemed to be the order of the day. In our modern society within the music realm, there seems to be an anything-goes attitude, and for some, but not all, it works.
There are a number of artists who experiment with differnt genres. Country singers team up with rappers and Hip Hop artists cut pop tracks. Billy Ray Cyrus and Lil Nas had a big hit with Old Town Road. Singers today become entrepreneurs with their own brands of cosmetics, jewelry, and or clothing. Many have also branched out into acting. Mahalia Jackson remained true to her personal calling and never strayed yet is considered an icon in the music world. A number of today's gospel singers have become actors and even recorded secular songs seemingly attempting to become all things to all people and be accepted by the mainstream.
Jackson's unique manner of singing causes people to pause and take notice. Her renditions of hymns is a style that is no longer used but when you hear her there is something distinctive. There is no doubt that you are listening to "church music." Some of today's so-called gospel singers actually use the beats to secular dance tunes. This has led to worldly dancing inside of churches. I once saw 2 women doing the bump because the song that was being played sounded like 70s disco instead of a gospel tune.
Mahalia Jackson is known as the "Queen of Gospel" and never felt a need to try anything different. Her influence on her chosen genre can be understood from the moment you hear the soulful depth in a recording of her singing. Numerous black singers, male and female, over the decades who made it big singing R&B and Pop music, have admitted that they found their talent while attending church. They realized, however, that in order to make it big they would have to earn their money in the secular world. These artists either would have one gospel track on an album or turned their backs completely on Sadly there is a growing number whose fame was short-lived and in older age, they went back to their roots in the church to sing.
Mahalia Jackson, however, decided early on never to stray from her gospel roots. I admire that she knew who she was and did not change to impress anyone else. They had to accept her as is, and most did. Ms. Jackson is regarded as one of the most influential voices in all of U.S. musical history. She is well respected as an artist, period, even by those who did not agree with her religious views. Mahalia's grandparents were slaves and she was born in poverty in Louisiana in 1911. She began utilizing her voice at a very young age for her church.
At the age of 20, she moved to Chicago, II., in order to study nursing. While there, she found a church where she began singing. She also became a member of the Johnson Singers, who were one of the earliest gospel groups. Ms. Jackson was heavily influenced by blues singer Bessie Smith, adapting the same style with traditional Protestant hymns and contemporary songs. She made such an impression in Chicago churches, she was hired to sing at revivals, political rallies, and funerals.
Jackson said that for 15 years she functioned as what she deemed a "fish and bread singer". She worked odd jobs in between performances in order to make a living. Eventually, Mahalia was introduced to Thomas, (Tommy) Dorsey who was a trombonist and leader of a jazz band. Mahalia did not allow the allure of worldly trappings to turn her head and remained steadfast in her faith. She remained dedicated to only performing sacred songs in spite of tremendous outside pressure. Her then-husband was among the many people who tried to tempt her to perform secular music.
Ms. Jackson never lost sight of her talent or dedication to gospel music and for this, she should be commended. This causes me to think of the days when serious actresses refused to do nude scenes and held to their values. Today it's almost a given that an actress will take off her clothes and perform sex scenes without a second thought. While some celebrate the freedom to do whatever you choose, I believe there is something special about holding to one's values. It takes a strong person to now allow the pressure from others or the allure of riches to change their mind. It's easy to follow the crowd but difficult to stand alone.
I have mentioned this in numerous articles and will say again that I had female coworkers trying to get me to cheat on my husband. In their world view variety was the spice of life. They actually attempted to convince me that it was not normal to only have one lover in your lifetime. Just as they have the right to sleep with as many men as they desire, I the same right to honor my marriage vows. This is why I admire Mahalia Jackson because she stuck to her guns and did not let anyone sway her. There is nothing wrong with a set of values and more people need to know this.
Ms. Jackson recorded over two dozen albums, won 5 Grammy awards, and was inducted into the Rock and Roll, as well as the Louisiana Music, and also the Gospel Hall of Fames. There are probably some singers who have jumped through every hoop to comply with the music industry and they have not achieved this much acclaim. Mahalia Jackson did not lower her standards to please anyone and yet her gift made room for her. Perhaps she did not make the millions of dollars she could have by singing secular music, but she retained her dignity and garnered respect from around the world. This is why I believe she should be noted as a strong black woman in both the business as well as the music industries.
Mahalia Jackson received nationwide fame in 1947 with the release of "Move On Up a Little Higher", which sold two million copies. This recording reached the number two spot on Billboard charts. These were two firsts for gospel music and Jackson's recordings gained the attention of jazz fans in France as well as the U.S. She became the first gospel recording artist to ever tour Europe and regularly appeared on the radio and television. Jackson performed for many heads of state and also presidents. She even sang the national anthem in 1961 at John F. Kennedy's Inaugural Ball.
Mahalia was motivated by her experiences living and touring in the South and also integrating a Chicago neighborhood. She became active in the civil rights movement and in 1963 sang for fundraisers at the March on Washington for Jobs and Freedom. She was a loyal and very vocal supporter of Dr, Martin Luther King, Jr. and became a personal friend of his family. All of this was accomplished without Mahalia Jackson compromising her values or her faith and for that, I salute her as a black businesswoman, an activist, and a talented African American within the music industry.

Cheryl E Preston
Cheryl is a poet, freelance writer, published author and former Newspaper columnist. She has degrees in Psycology and Biblical studies. She enjoys sharing natural cures, and Nostalgia related info. Tips are greatly appreciated.
See all posts by Cheryl E Preston →