'Magic' Is the Best Bruce Springsteen Album You've Never Heard
We have to correct that immediately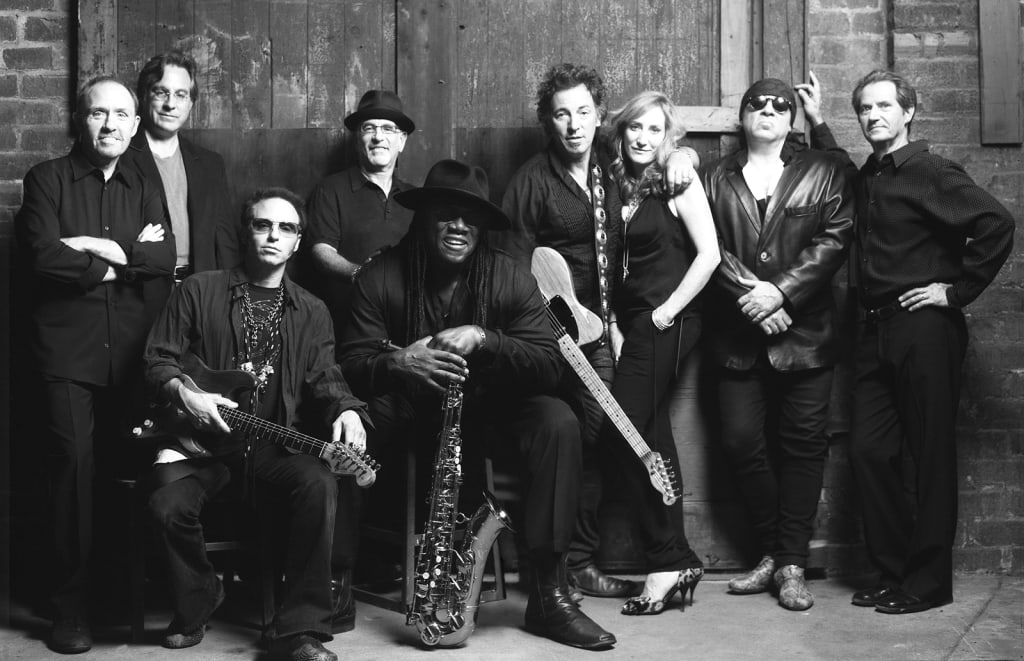 Image: Columbia Records
It has been entirely too long since I've done a story about Bruce Springsteen, so today I want to call attention to an album that rarely gets mentioned when talking about his best work. This is a shame, because 2007's Magic is one of his finest albums, and certainly the equal of The Rising as his best album of the last 20 years.
I realize that this is effusive praise for an album that contains maybe one song you've even heard of: "Radio Nowhere." Though the album debuted at #1 in the US and also reached #1 in the UK, Canada, Sweden, Norway, Denmark, Spain, Ireland, Italy, and Austria, no singles charted or received any significant airplay. When looking at the tracks on this album, that may not be such a surprise.
Springsteen often uses his songs to comment on the state of America at the time, but Magic took this farther than most of his previous efforts. Coming at the end of George W. Bush's time in office and 6 years into the War on Terror, he had a lot to say, some of it clearly too blunt for the corporations that run radio in America today. From the haunting story of a soldier killed in Iraq in "Gypsy Biker" to the pointed question "Who'll be the last to die for a mistake?" in "Last to Die," his views are not couched in mysterious metaphor. In "Long Walk Home" he returns to the theme of "Born in the USA" in describing a soldier's return home:
In town I passed Sal's grocery, barbershop on South Street/I looked in their faces, they were all rank strangers to me/Hey Veteran's Hall high upon the hill stood silent and alone/The diner was shuttered and boarded with a sign that just said "gone"
As always, he makes social commentary flat-out rock, but this album is more than social commentary. There is "Terry's Song," a moving tribute to Springsteen's longtime friend and assistant Terry Magovern who died on July 30, 2007. Though recording for the album had wrapped in May, Springsteen wrote and recorded this song as a hidden track that was added in time for the album's September release.
Another great track (maybe my favorite on the whole album) is "I'll Work For Your Love." Bruce has always said that while he is not particularly religious, "once you're a Catholic, you're always a Catholic," and in this song he pours in more Catholic imagery than in any song since "Adam Raised a Cain" or "Land of Hopes and Dreams," while still delivering a jammin' love song in the process. I was sad when this song didn't make the setlist for his 2008 Dallas show, which was, of course, otherwise amazing.
There is another thing that makes this one of my favorite Springsteen albums. On the far left in the image at the top of this page is Danny Federici, the keyboardist who was a founding member of the E Street Band and one of Bruce's oldest friends. Danny died from cancer on April 17, 2008, making this the final album that featured the full E Street Band. They added a new keyboard player, but Danny can never truly be replaced.
All things considered, Magic is the best E Street Band album between 2002's The Rising and 2020's Letter to You, and for me sits solidly in my Top Five favorite Springsteen albums. It features some of Clarence Clemons' best saxophone parts in years, certainly the best prior to his untimely death in 2011. It is an album that should not remain in the shadows, and you can fix that right now by checking out the playlist below.
Originally published on Medium.com.
album reviews
I'm a writer, podcaster, and bookseller whose ultimate goal (besides being a roadie for the E Street Band) is to make reading, writing, and books in general as popular in Texas as high school football. It may take a while.