Lyrics of the Past, Present, and Future
A collection of memories and specific ideas about songs.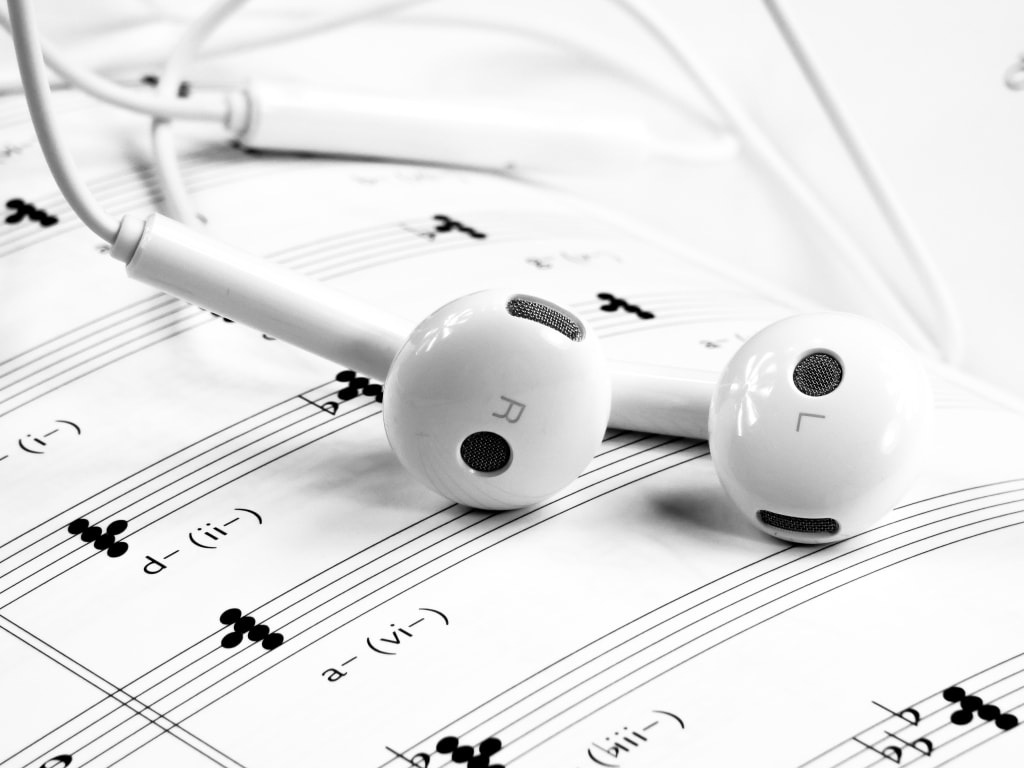 Pixabay
"Waves" by Imagine Dragons
https://www.youtube.com/watch?v=anLxLPzgIG4
I've screamed this song riding on a bike down the street, way too fast, with stars glowing over my shoulder, my fist pumped into the air, and the orange of lamps mingled with the trees, bright as tiny suns. I've drummed this song onto my steering wheel and played it with the windows down to taste the air rushing in, mingling with the pounding rhythm of bass in the background. By now, it plays as easily as my heartbeat and its lyrics pattern my walls, and it makes the bad emotions entirely impossible in the very best of ways.
...
"Jealousy, jealousy" by Olivia Rodrigo
https://www.youtube.com/watch?v=15RuCIbXE8A
I've never had social media but I experienced instances of 'better' walking around every day, watching girls representing 'better' dance through school hallways perfect in the knowledge that they were perfect.
It was remarkable to feel so understood by a song. To listen to it for the first time and realize, smile growing on my face, that the painful things in life, like girls prettier than me (allegedly), are actually quite wonderful in a strange way. After listening to this for the first time, I resolved to make sure that the bad emotions were to be felt as temporarily as possible before I pressed them down onto the page.
Oddly enough, a song about the bitterness of emotions taught me how much fun the worst feelings are when you know exactly how to handle them. Not that they don't suck to feel. But when you begin to realize how your brain works, you learn the strategies to banish those feelings eventually and recognize the value of giving them space to breathe.
...
"La Vie En Rose" by Edith Piaf
https://www.youtube.com/watch?v=kFzViYkZAz4
Three years of French and a state seal of biliteracy, bundled up into this absolutely perfect piece. I've never heard someone's voice tremble like hers does, singing about roses and Heaven and love in a way that's not cheesy, but holy; like love was born in a church, glinting through the stained-glass windows, Bible mapping out the path the story would take, knelt in the pews praying for a beginning, rosaries clutched tightly as wedding rings. A choir of angels above it all, singing out a new beginning, the one at the front wearing the face of Edith Piaf.
...
"The Real Slim Shady" by Eminem
https://www.youtube.com/watch?v=eJO5HU_7_1w
I can rap every single word to this song. I've been listening to it for nearly five years, in so many places: gazing out the window at an absolutely tiny, sea-sprayed English village tucked into the crack between cliffs; in the kitchen lip-syncing while doing the dishes; on walks with my dogs where I rapped at them and they stared at me, big brown eyes excited and curious, tails thumping against my legs.
...
"Cruel Summer" by Taylor Swift
https://www.youtube.com/watch?v=ic8j13piAhQ
This song is a very vivid memory for me. It encompasses my last year in Germany-- or more accurately a very particular moment over the summer. A lot of Taylor Swift songs and albums have greeted me in bad spots and defined patches of my memory, but this one in particular is everything to me. It's an evening at a beer garden with our other American friends, two hours of swinging on the monkey bars with my brothers while the adults chatted, and my mom's laugh ringing clear and loud in my ears. My dad standing there burly and official, sea-colored eyes crinkled, drink clutched in his hands. When I grow tired and a sunset turns the sky a glowing pink so bright it almost hurts my eyes, I recline in a chair and put my mom's phone next to me. Play the 'Lover' album for the first time.
If I picture that night and that song, I can still feel that same welling-up of emotion in my chest, the buoyant power of pure joy, the memories of Germany sweeping up within me more clearly than ever before. I can perfectly picture that sunset; somehow, with every listen, I'm thirteen again, tired and smiling, grateful for the present.
...
"Party in the USA" by Miley Cyrus
https://www.youtube.com/watch?v=VocyOtlNpqY
This is probably the only song on here that I don't like anymore, because I don't need it anymore. But in sixth grade we'd just moved overseas, and I trembled constantly with homesickness, at the 'newness' assaulting me from all sides. I listened to this and I felt much better. Clutching a pillow, I could whisper "Three years, just three years" and be reassured. Its rhythms tasted like the country I had left behind, a country I hadn't even thought I would miss.
...
"Istanbul, Not Constantinople" by They Might Be Giants
https://www.youtube.com/watch?v=xo0X77OBJUg
I went to four different elementary schools and stayed a total of three years in one (although we left for a year and came back). Every morning, they did a 'Just Dance' in the classrooms to wake us up and get us moving, and this one was absolutely my favorite. Listening to it brings back some pretty fun times, a defining period of my childhood that I hadn't realized I'd forgotten.
...
"Where Is My Mind [Piano]" by Maxence Cyrin
https://www.youtube.com/watch?v=XxthmuqWF1Q
I don't know what it is about this piece, but it's so incredibly relaxing. Even if it's not very exciting, or not a lot happens in the song, the title and the dreaminess of the notes speaks to me as a writer, conveying the slow sensation of losing your mind even as everything else hangs suspended in place. There's a mournfulness to this song, but also a sense of bliss; like the narrator recognizes the change going on in their psyche, but finds themselves embracing the loss of their sanity, arms spread to the heavens and face tilted up, a half-smiling challenge on their face to God even as tears travel down their cheeks.
...
"all the good girls go to hell" by Billie Eilish
https://www.youtube.com/watch?v=s_IwrqvM618
If this piece is a playlist about my life, this song is my teenage years and the slow growth of the personality I feel writhing within me, searching for outlets, extending long black tentacles through the cracks and crevices to interact with others despite me trying to keep it all at bay. There's a certain ugliness to teenagers, speaking as a teenager. It can be incredibly complicated when people treat you like a child, but hold you to the standard of adults.
I love this song because it's essentially about embracing the ugliness that we try to hide. It's a confession from a teen girl, Billie, to the audience: all the girls who are good and lovely on the surface will end up in hell anyway because of circumstances beyond their control. Because one day the real parts will break free from our wracked teen bodies, rear up roaring and ugly, send us hunting for those people, those soulmates and perfect matches, who won't mind the monsters as much as we do and whose demons may even get along well with ours.
...
"Twistin' the Night Away" by Sam Cooke
https://www.youtube.com/watch?v=zTArYTvpLZA
So many of these songs are just about the sheer love I have for them, and this one is no different. Sam Cooke is definitely one of my favorite singers and this song is at the top of my list of favorites. I like this one because it makes me hopeful for the future. There's such a vibrancy to the piece, for one thing, but I also love how most of the people described are very old or at least elderly. The future is something I wallow in from time to time; it's a terrifying premise having to grow up to fix a slowly deteriorating world. With this song comes promise; that humanity won't go to death so easily.
...
"Hey, Soul Sister" by Train
https://www.youtube.com/watch?v=kVpv8-5XWOI
This is a song for my family, another love letter to childhood but also to life with them. We went to a Train concert just before moving overseas, and it was such a joyous night, bouncing balloons across the crowd, eating too much popcorn, grinning at my idiot brothers and enjoying the reality that I was-- and am-- their 'soul sister' as my mom and dad put it. Not in any romantic sense; but there's something powerful about having siblings that you would willingly choose to hang out with, every day, and I don't think everybody has that.
...
"Mastermind" by Taylor Swift
https://www.youtube.com/watch?v=Tmz1lz0zcLQ
I have to include this one because it's one of those songs that has an impact on me as a writer. To be more specific, one line in particular: "I laid the groundwork and then saw a wide smirk on your face-- you knew the entire time. You knew that I'm a mastermind."
I'm obsessed with that line. I could listen to this song every day, if just to hear those words again: the dawning realization that the singer has met her soulmate, that they had willingly danced towards each other the entire time, that this piece wasn't a song but a lifetime ahead contained in a few catchy beats. This piece has had a masterful impact on my realization of how easy it is to encompass a story, and how willingly the imagination will fill in the gaps where few words were said.
...
"Galway Girl" by Ed Sheeran
https://www.youtube.com/watch?v=87gWaABqGYs
I lived in London for a year and this song takes me back to it. It's fast-paced, bright, charming, with references to UK life that I love. A British love story to a country I had to leave behind but plan to return to, a witty take on the adventurousness of abroad that's easy to enjoy, lyrics that transport me to grassy misted fields, pubs stained with the smell of beer and sweaty Englishmen, winding streets with markets that take turns into parks, a dozen, million instances of tiny, mystical shops with strange mystical people inside.
...
"Highway to Hell" by ACDC
https://www.youtube.com/watch?v=l482T0yNkeo
The last song on my short little playlist. This one encompasses the present. It's who I am right now (and yes that sounds a bit corny). I've got a big future to stress about and lots of little stresses along the way. I'm scared. I get sad. I get angry. I get lonely, even.
But I know the person I plan on being. I want to be edgy, fierce, untouchable, but friendly and easy to be around. I want to glare and tilt my chin dangerously and throw a punch harder than any man could, but empathetic, funny. I can cry about someone at home, but watch them coldly, feeling a smirk twitch its way across my cheeks, ruminating on the highway waiting for me.
This song is about being wild, living in the moment, enjoying the lifestyle of the sinner before it's time to be a saint. It's sunglasses and black nail polish and space buns and long, ink-stained notebooks of the future. It's the sound of my car running too loud, sun sizzling my skin, words that I occasionally have to take back, me screaming lyrics to the sky at night. A present where I recognize the inevitability of the future and rush towards it down a burning highway, guns blazing like the goddamn American I am, saying "What do you reckon?" to anyone who I pass by, going 180 when it should be 45. It's wicked, wicked smiles. Snark building in my soul. Words wrapping ivy over my heart. Fires at my fingertips, sparks on my tongue.
Screw the 'what-ifs'. Let's hunt them down and kill them.
About the Creator
17-year-old writer who hopes to write stories for a living someday-- failing that, I'd like to become a mermaid.
Reader insights
Be the first to share your insights about this piece.
Add your insights