Lighting Matches 'Against The Flame'
CD Review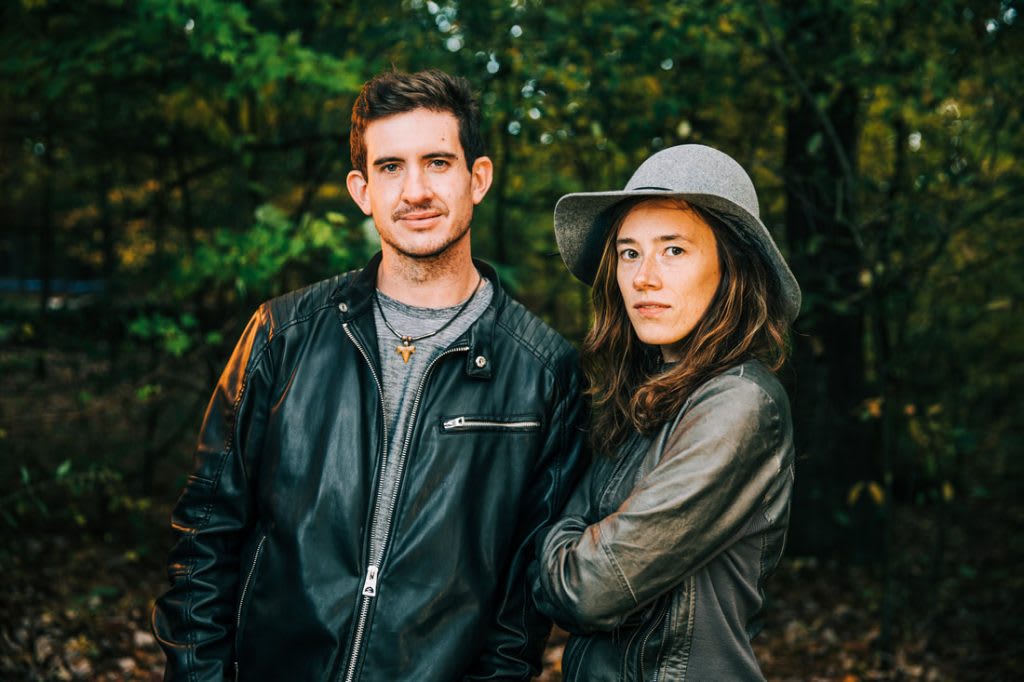 Matt Plessner and Rachel White of Lighting Matches (Photo by Jason Boulanger Photography)
Lighting Matches is a Grand Rapids' area based band that has been lighting up the music scene as more than just a band. A lot of the time when you catch Lighting Matches performing live you'll see the duo pictured above, the core of the group. They are Rachel White and Matt Plessner, two local musicians that went from solo performers to a duo, before forming a full band.
In a few short days (May 22), Lighting Matches are releasing their first album as a band, and playing a full-band show at Grand Rapids' SpeakEZ Lounge to celebrate this release. Against The Flame is a collection of rock tunes with a folk edge, and sometimes a bit of a country fusion. Their music is diverse enough that fans of any of those three genres will enjoy it, even if you don't like country music. They have that "new" country feel that blends so much more into the music, lacking that twang you think of when country music comes to mind. They are more rock and folk than anything, melding sweet sounding guitars with vocals about life experiences.
While he's not on the album, my husband (Dale Wicks) is filling in on drums for the band while they continue their search for a permanent drummer. He was able to get a copy of the new CD, so I borrowed it for this review (I'm all about transparency).
Before I get into all of the songs (or a few that stand out to me, anyway), take a moment to get a taste of Lighting Matches with this video:
Against The Flame opens with the title track. This song gives an excellent uplifting start to the album. It's kind of a musician's coming-of-age song. This song has a dancing, toe-tapping beat. It's an anthem for strong and determined women.
I'm not going to talk about every song, just the ones that really stand out to me. We all know you don't want to read a thousand plus word article on an album; you want to hear the music. I do want to say that you'll hear influences from White's life as a musician and photographer. She's not afraid to talk about her life experiences in her lyrics, and that makes the music by Lighting Matches that much more real.
The next track that really grabs me is "Love In Your Eyes," which is one of my favorites. It's the fourth track on this album of fourteen songs. Everything from the overall beat of the track to the individual instruments stands out. I think it's a great combo of Plessner and White's vocal talents. It's a song that almost everyone can relate to some time or another, especially if you've ever been in a relationship where the love has slowly died, and one of you starts looking elsewhere. You'll be singing along with this track in no time (I was).
I like "Eyes On Me (Not The TV)." I like it because it has a fun beat. I also like it because I hear some of White's Facebook posts in it. I like it because it's speaking to the crowd at the gigs. If you go to see a band, watch the band!
"Insecure" is another song that really stood out to me. As a closet Taylor Swift fan, I heard this as something inspired by her words and musical stylings. Maybe it's just that it's a song about failing relationships, maybe it has something to do with the beat.
"Bridezilla" is a fun song with a serious message. It's fun because of the title and the fact that I know White has a background story that goes with this tune. This track has a stronger country-vibe than the rest of the album, but I like that about it.
There's a lot of lyrics about love and failed relationships, but don't let those lyrics make you think that Plessner and White aren't a happy couple behind the scenes. "Born Again" is the track that will make you feel love again. If you checked out the video linked above, you know that this is a mesmerizing track that will make you fall in love with this talented duo, and their back-up players.
Speaking of that, working with Plessner and White on this album were Adam Parada, the band's bass player (who also hopped on the keys and piano for recording), Joel Ferguson filling in on drums and percussion, and Luke Lenhart lending his talent on the violin for "Born Again."
Every song on this album is worth listening to. Just because I didn't mention a song doesn't mean it's not worth your ears. I like that the album demands your attention, but it has a mellow edge to it that makes it easy to listen to. Relax, dance, clean your house, or share the music with your friends... just listen. There are songs with neat riffs, songs with jazzy bits, songs with pop-sensibilities, and songs that are just so truthful it hurts.
If you want to learn more about Lighting Matches, you can follow them on Facebook or visit their website.
Album Cover for' Against The Flame'