'Letter to You' is Bruce Springsteen's Most Personal Album Ever
And it slowly works its way into your soul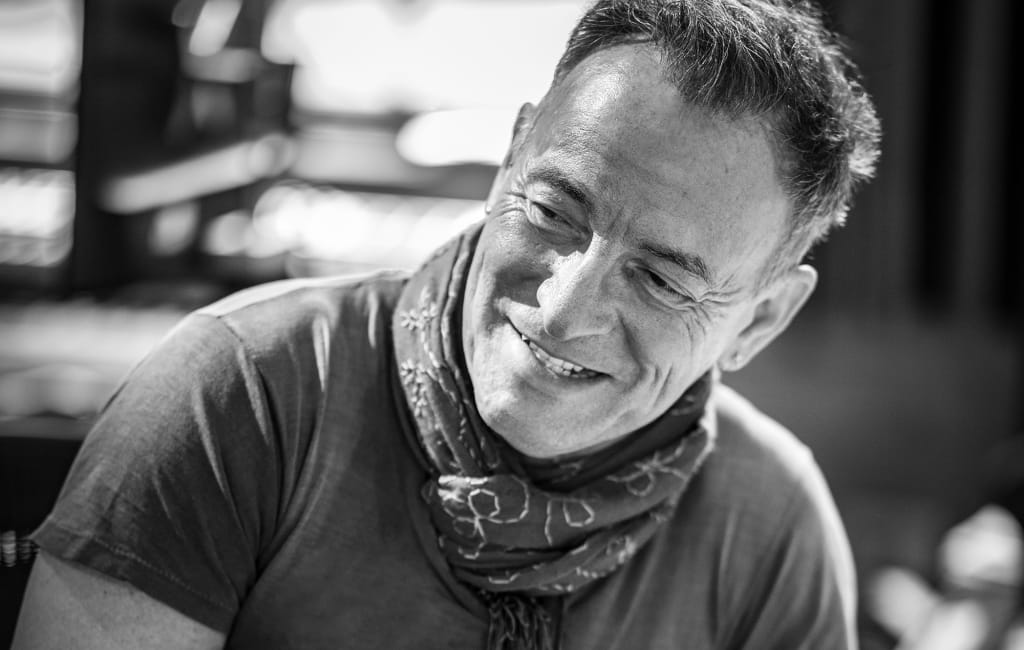 Image source: NME.com
Some albums impact you from the opening chords of the first song; I have written numerous times about how Bruce Springsteen's Born to Run was such a record for me ("impact" being nowhere near a strong enough word). Other albums take some time and multiple hearings to work their way into your soul, but once there are there forever; Springsteen's 2020 release Letter to You is one of those. That it came right when we needed it (in the midst of the pandemic) is simply further proof of Bruce's greatness.
My hopes were high for the album from the first rumors that Bruce was recording it at his home studio with the full E Street Band. It had been six years since the last album featuring the entire band (ironically titled High Hopes, given that previous sentence), with both his successful Broadway run and solo album Western Stars taking up the period between 2014 and 2020. The first time I played it all the way through, I liked it, but I can't say I loved it; this is solely because, as you all know, I'm a moron.
Over the past year, I have listened to Letter to You at least once a week and it has worked its way into my Top Ten Springsteen albums. It may not ever crack the Top Five (that's some rarified air), but as it is in no small part a musical meditation on our mortality, as I get older it may leapfrog an album like Nebraska. Time will tell.
Below is a brief track-by-track look at Letter to You, along with a playlist of the entire album at the end.
"One Minute You're Here." If forced to choose, I would have to say this is my least favorite song on the album; luckily, I don't have to choose. While it fits more in The Ghost of Tom Joad or Devils and Dust category of Bruce songs, it still kicks off the record nicely. Personally, I would have made "Letter to You" the first track but Bruce knows better than me, in all things always.
"Letter to You." The first single from the album, and the first song from the record I heard when the video was released just before the album. Not since 2007's Magic album have Bruce and the E Street Band sounded so much like, well, Bruce and the E Street Band. Any silly fear that the boys from Jersey had lost even half a step as they became septuagenarians is dispelled with this one song. It reached #1 on Billboard's Adult Alternative chart, which makes me wonder what they consider "alternative" these days.
"Burnin' Train." For those of you with an outsized love of the Born in the USA album, this one will make you smile. It has some of the best guitar riffs since Tom Morello was playing live with the band back in 2014, and Max Weinberg's drumming proves he is still Mighty.
"Janey Needs a Shooter." This is the first of three songs originally written before the release of Springsteen's debut album Greetings from Asbury Park, N.J. in 1973. It's an awesome song that should have made the record in place of "Mary Queen of Arkansas," though it would have sounded vastly different if released then. Bassist Garry Tallent is the only member of the original E Street Band playing on the Letter to You version of the song, and it would have been cool to hear what it sounded like when the E Street Band was Garry, Clarence Clemons (sax), David Sancious (piano), Danny Federici (keyboards), and Vini "Mad Dog" Lopez (drums).
"Last Man Standing." I can't explain why, but musically this song always reminds me of the Tunnel of Love album. It has none of the sad divorce overtones, however, rather being a look back at the bandmates Bruce has lost over the years. While this includes Danny Federici in 2008 and Clarence Clemons in 2011, the song (and perhaps the entire album) was triggered by the death of George Theiss in 2018. Theiss was a member of Bruce's very first band, The Castilles, and his death left Bruce as "the last man standing" from the band of his formative teen years.
"The Power of Prayer." Of all the songs on the record, the saxophone parts on this song are both the most reminiscent of the days when Clarence Clemons prowled the stage and an affirmation that nephew Jake Clemons was the only person on earth who could have stepped into his role. I have no doubt the Big Man is looking down approvingly at this one.
"House of a Thousand Guitars." This song comes at the exact midpoint of Letter to You, and that is no accident. In "House of a Thousand Guitars" Bruce brings us into the story with him, whether we've been fans from the early days or are hearing him for the first time on this record. He told the Irish Times in 2020:
"It's probably my favorite song because it attempts to define the world that I attempted to create with my audience and my listeners from the beginning…a world I create when I walk onstage at night and my audience walks through the door. We live in that world for two or three hours and then we leave and take that world with us and hope that it sustains us for as long as it can. The House of a Thousand Guitars is the house we built."
And what a magical house it is.
"Rainmaker." The one song on an introspective, personal album that falls into the category of social/political commentary. Despite that, it fits seamlessly into the overall whole, a feat few but Bruce could pull off.
"If I Was the Priest." In the second of the three pre-Greetings songs on the album, Bruce combines his love of Western themes with his penchant for biblical imagery, making Jesus the sheriff and himself a priest. It sounds crazy but it works, with a decidedly Seeger Sessions Band classic feel. It's fast becoming one of my favorite tracks on the record.
"Ghosts." Letter to You is clearly Springsteen's reflection on life, both personally and musically, as he moves into his 70s, and this is one of the most reflective of the songs here, right down to the title. Bruce himself described "Ghosts" as being about the "beauty and joy of being in a band and the pain of losing one another to illness and time." Just consider this verse:
I shoulder your Les Paul and finger the fretboard/I make my vows to those who've come before/I turn up the volume, let the spirits be my guide/Meet you brother and sister on the other side
"Song for Orphans." The final of the three songs from 1973, and the one that is lyrically most like the debut album that caused Bob Dylan to joke that Springsteen "better be careful, or he might go through every word in the English language." He really was (and sometimes still is) secretly a Beat poet with a guitar.
"I'll See You in My Dreams." Letter to You is Bruce's most personal recording from a fifty-year (and still going strong) career, and fittingly he saves his outlook after all those years for the final song. If you're over a certain age or have ever lost someone close to you, this song will have you smiling and crying at the same time, especially with verses like this:
I'll see you in my dreams/When all our summers have come to an end/I'll see you in my dreams/We'll meet and live and laugh again/I'll see you in my dreams/Up around the riverbend/For death is not the end/And I'll see you in my dreams
That's my look at an album you need to listen to today (not tomorrow, today). There are persistent rumors of an E Street Band tour at the end of 2022, and while I am always excited about the prospect of seeing Bruce in concert, the mere possibility of hearing these songs live is enough to make the year not so bad after all. Here's the full album:
All lyrics in this article can be found here on Bruce's website, brucespringsteen.net. And as always:
Tramps like us…
First published on Medium.com.
album reviews
About the author
I'm a writer, podcaster, and bookseller whose ultimate goal (besides being a roadie for the E Street Band) is to make reading, writing, and books in general as popular in Texas as high school football. It may take a while.
Reader insights
Be the first to share your insights about this piece.
Add your insights