Lauren Alaina - UK Tour 2019 - A Review
The Haunt, Brighton - July 23rd 2019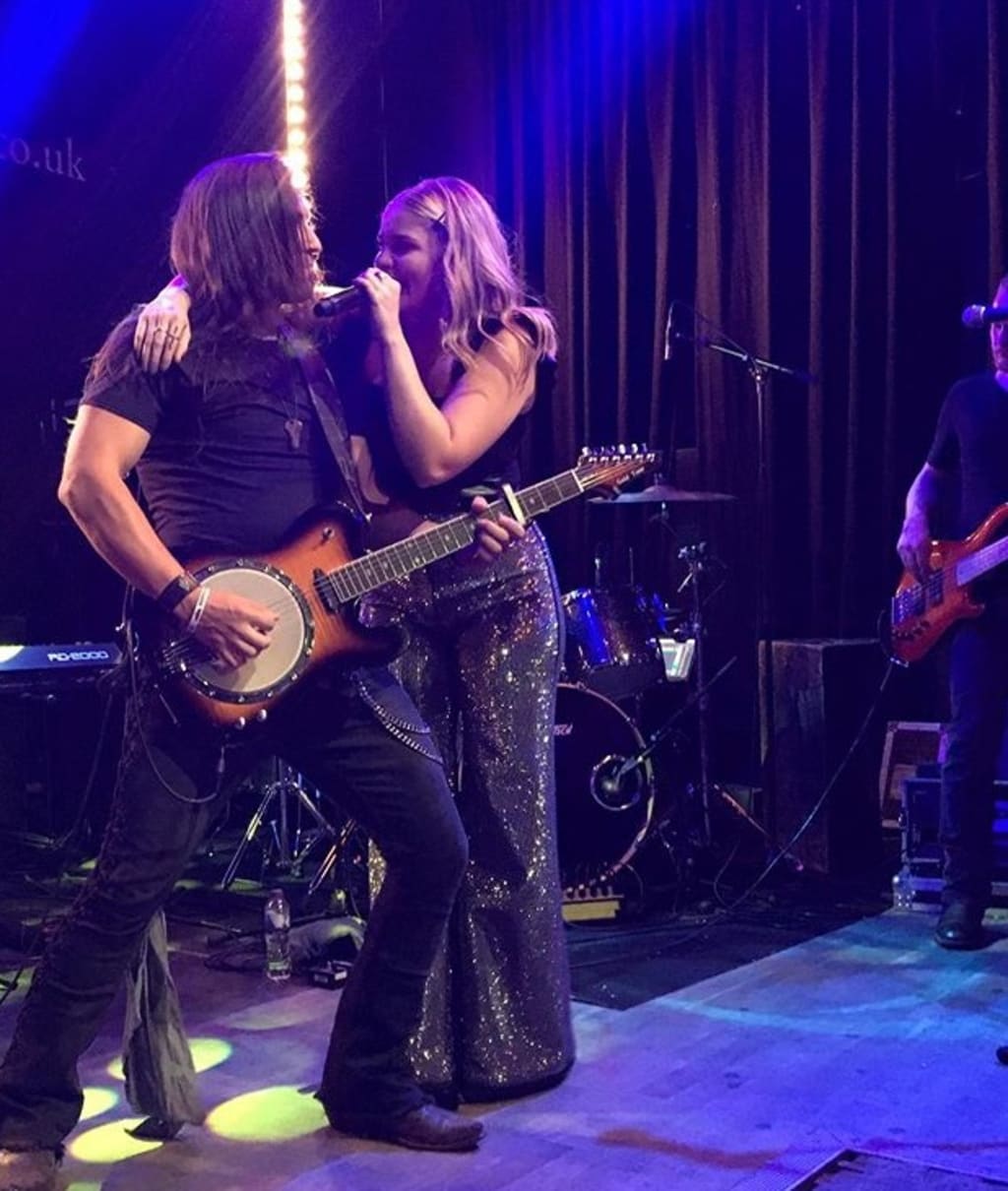 Many people ask me where my love of Country music comes from. Born and bred in England, with no Country influences in my life, how did I get into it? The answer is Lauren Alaina. Back in 2011, I watched the tenth season of American Idol, purely because Jennifer Lopez joined as a judge. The final of that series included Lauren duetting with Carrie Underwood, and the series winner Scotty McCreery performing with Tim McGraw. Those two duets were the first Country songs I ever downloaded, and the rest, as they say is history.
Embarking on her first ever UK tour, Lauren Alaina is travelling the Country playing small intimate venues, and headlining two festivals whilst she's at it. I got the pleasure of seeing Alaina at The Haunt in Brighton, an old cinema converted into a live music venue and nightclub. Many will argue that Country in the UK doesn't work because the venues are too small and they don't get the biggest crowds, but I would disagree. Smaller venues are so much better, and the shows become so much more personable - plus the artists get to see close up how much their music really affects fans! With a fantastic opening set from up and coming UK Country star Twinnie, who sang her new single "Social Babies," songs from her new EP including the title hit "Better When I'm Drunk" as well as an incredible cover of Lewis Capaldi's "Someone You Loved," the crowd were warmed up and ready to go. A quick switch of bands and we are ready for the main event.
Starting with a backing soundtrack of nineties hits, Alaina's killer band enters the stage. I spoke with guitarist Tico after the show who exclaimed how great it has been to see so much of the UK and also play a full set of their own, as many of their recent gigs have been opening for larger artists in the US. Lauren waltzes onto the stage with sequined trousers that you could see from the moon, and the beaming smile on her face lights up the entire place. Kicking off with her song "History" followed by "Queen of Hearts" she interacts with the crowd like no artist I have ever seen—keeping eye contact and playing up to cameras in the best way, something that not many people do. You can't help but love her infectious energy and looking around, it is making everyone smile. A quick change into her second single 'Georgia Peaches' mashed with a cover of Guns N' Roses "Paradise City" she showcases her undeniable vocals, whilst rocking out alongside her four piece band.
If you are a fan of Alaina, you know she hasn't had the easiest of rides to get to where she is today. Success came after Idol, but faded quickly, and within the time it took for her to get back on the charts, she went through some crazy family drama. Starting her next hit with the lyrics "Daddy got sober, Mama got his best friend" is just the start. Before Lauren sings, she relates with the crowd on a personal level about how mad families can be, but we wouldn't change them for the world. Something many of us know all too well. "Doin' Fine" is performed, and the crowds energy is lifted even more. "Next Boyfriend" follows, a song in which she grabs an audience member to join her on stage and dance. Brighton's lucky fan was Chris, whose moves shocked Lauren to the core—especially when she found out what a 'slut drop' was—her reaction was priceless! After trying the move herself, and making the crowd promise not to post it, because her "mama will kill me" she then slows things down with song "Tupelo" which once again makes me melt inside the way she hits them high notes.
"What Ifs" is performed next, her second number one single that is a duet with fellow Georgian, school friend, and Country music sensation Kane Brown. She manages to sing for the both of them on a level that pushes so many vocal boundaries in the best way. She continues to cover other artists as she transforms the set into a medley of hits from legendary female artists including Shania Twain, Britney Spears, and Carrie Underwood—my favourite of this medley in particular was her sassy take on Reba McEntire's "Fancy" which brought the house down. Now nearing the end of the show, Lauren sings her latest single "Ladies in the 90s." Alaina was raised on 90s music, where "females were unstoppable" and honours these iconic women within the song. With an immense amount of gratitude on her face, you can feel the appreciation and astonishment from both her and the band when the crowd sings along.
A quick thank you and goodnight, she is back minutes later for two final encore songs. First is "Three." Possibly the most personal and emotional of tracks on her album, she tells us how amazed she is that a girl from small-town Georgia, is playing in venues the other side of the world. But she didn't get here without a fight. The song encompasses her journey with what she has given up, and how she has spent "six years of missing home, for three minutes on the radio" but that she does it for her fans because "that girl was me." It truly is a song of hopes and dreams, and her incomparable voice is highlighted beautifully within it. Ending the night with her biggest hit, and first number one single "Road Less Traveled," every single person in the room is dancing—even the bartenders who have probably never listened to Country music in their lives! She leaves us with a note that she will do a signing at the end of the show, but due to a strict curfew can't stay too long. Never have I attended a gig before in which an artist has done a voluntary signing after a show. The gratitude and graciousness she possesses is unlike anyone's I have ever seen - and it makes me love her even more.
Recognising me from the meet and greet before the show, she apologises for not asking my name beforehand, signs my setlist, and poses for more photos (we'd already taken a few!) Country music stars are known for being fan-orientated and sweet, but Lauren Alaina is truly one of the loveliest people I have ever met. You can tell by the team around her, including her management and band, how great she is to work with, and boy can she back it up with a great show along with one of the best voices in the industry. Lauren headlines "Nashville Meets London" this weekend, where I am sure she will gain even more UK fans, before embarking on her first US headline tour in September.
If you get the chance to see Lauren Alaina, take it. She may not have had masses of hits, or be the Worlds biggest star in Country music, but the respect and regard she has for her audience is a reason in itself. Plus she is hilarious, so even if you hate the music (which, how could you?) you may as well go just to be entertained. But don't argue with her about biscuits though, it's a touchy subject!
You can check out clips of the gig on my Instagram page. Follow me for daily Country content and to be the first to hear about my latest blogs—@leahsherlock97.
concert