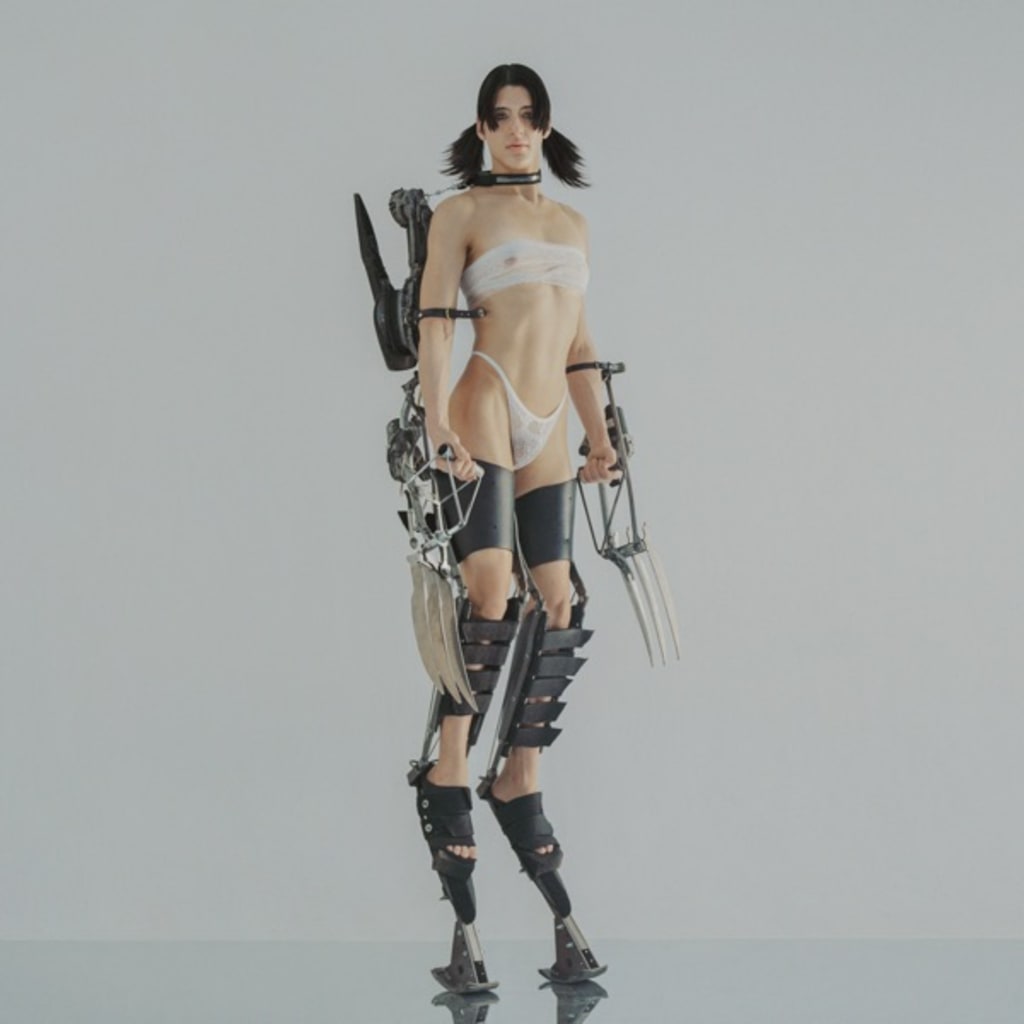 'KiCk i''s album cover.
'KiCk i' is an album by Venezuelan electronic music producer Alejandra 'Arca' Ghersi, which in itself is part of a collection of albums, all with the same name, but in ascending order up to number five.
The main differences between the first album and the rest, are that 'KiCk i' is the only one that was a surprise release, and also the only one that doesn't contain Frederik Heyman in the cover production team, a graphic designer Arca works a lot with, apart from Jesse Kanda.
Now, most of the 'kick' releases (referred to in quotations marks from this point forward when talking about the album to avoid confusion) can be labeled with a single genre, for example, 'Kick ii' is usually referred to as experimental reggaeton, while the third 'kick' is more of a deconstructed club release, and going to the end of the spectrum for a more ambient album on 'kick iiiii'.
Yet, that doesn't apply to 'KiCk i'. Wikipedia defines Kick I as an 'avant-pop, IDM, electronic, deconstructed club, and experimental pop album that takes influence from reggaeton, techno, bubblegum electro, industrial, electropop, trap, R&B, psychedelic music, and PC Music, and while containing both power ballads in the form of 'Calor' and 'Machote', taking an ambient turn for 'Afterwards' and heavy reggaeton influences for 'KLK', it also keeps those experimental roots Arca stands on for 'Watch', 'Rip the Slit', and 'La Chíqui', which brings me to my next point.
Not only is 'KiCk i' the most commercially successful one, being Best Dance/Electronic Album at the 63rd Annual Grammy Awards, as well as for Best Alternative Music Album at the 22nd Annual Latin Grammy Awards, but it also contains a vast range of collaborations which the other 'kicks' lack, with a repertoire consisting of Björk, Shygirl, ROSALÍA, and SOPHIE, in order of appearance, and one of the tracks being credited in writing to Antonio Machado. Not only are most of these names already recognizable enough by themselves, but they also manage to take the listener through a trip of various emotions, instead of the straight-lined journey the other 'kicks' take.
To put it this way, you could perfectly be listening to the album on shuffle and find yourself in 'No Queda Nada', which goes in at six minutes, to then be intercepted by the sweaty Latin track that is KLK, but even with such a drastic juxtaposition, the album is designed in such a way that it still feels transporting instead of just an interruption, as it would be in many other albums.
Or, even if you're just playing the album regularly, beginning to end, you could be at the end with 'La Chíqui' and 'Rip the Slit', both very IDM-y, experimental tracks, and then be totally let loose with the almost ambient ballads that 'Machote' and 'No Queda Nada' suppose,
Arca herself does have 'constant-play works', as in a release that blends in perfectly from beginning to end, to put the majority of the Mutant LP as an example, but KiCk i doesn't need to start and end each track seamlessly to feel like an interrupted experience.
Especially with KiCk i particularly being made right after Arca's transition, her experience with gender has a lot to say here, with that statement being made by 'Nonbinary'.
I, personally, also love the use of Antonio Machado's 'Anoche Cuando Dormía' poem, sung by none other than Björk, which not only gives the poem a brand new, even refreshed look, but also gives the track itself this beautiful crossing between Arca's modern, maybe even futuristic music and the classic, modernist art that Antonio Machado takes on.
To end this on a good final note, I would like to reiterate that this is merely a personal opinion and that any and all (respectful) feedback is greatly appreciated.
Until next time!
Elliot (Malísima)
http://malisima.es
http://malisimalive.me
About the Creator
it/she/they, elle/ella
I write. Sometimes. (Mostly about music, art, or social media stuff.)
Sometimes articles, sometimes poetry, sometimes literature. Always a mystery.
Reader insights
Be the first to share your insights about this piece.
Add your insights