June 2022: Musicians Law Of Attraction Reading-Law Of Attraction In Action
June 2022: Musicians Law Of Attraction Reading-Law Of Attraction In Action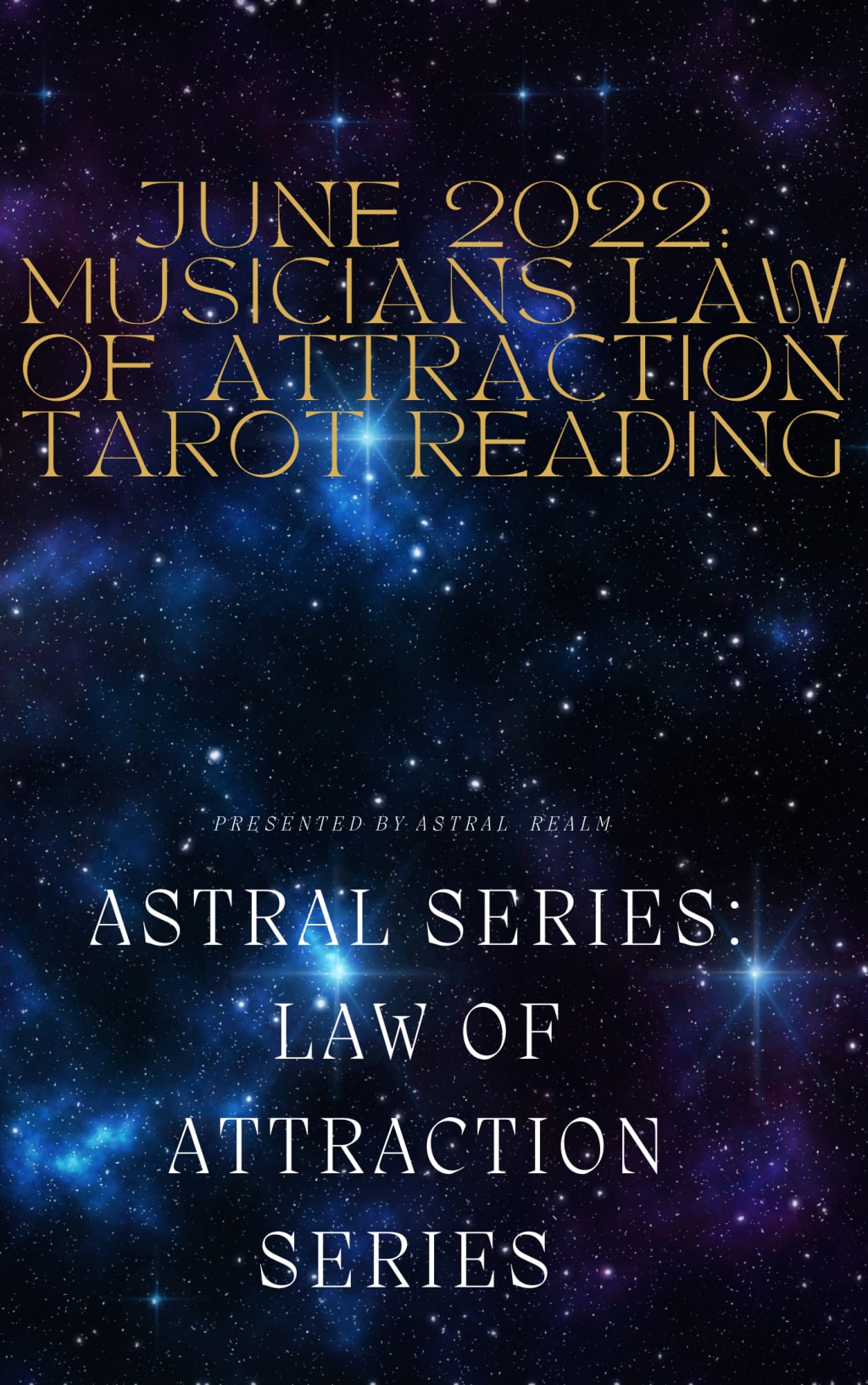 Law Of Attraction In Action
June 2022: Musicians Law Of Attraction Reading-Law Of Attraction In Action:
The Law Of Attraction can give you a successful music career and to help you build your music career the way you want to manifest it. I used my law of attraction practice to manifest and continue to build my music with the law of attraction.
The law of attraction can be used to manifest benefits for your music or to manifest more gigs or studio time to help grow your music career.
A Win-Win Outcome Is Forecast/Full Moon In Libra: I'm picking up that it is a time to see doors of opportunity open and close for your music. So, this month, you could see an opportunity whether it is studio time or gigs that could fall through only to see a better opportunity come along. So, be prepared that it may seem a bit undecisive at this moment, but it's a sign from the universe and your spirit guides that everything is coming into alignment with your music.
Life Is An Expression Of You. Life Is More Than Existing: This is a reminder from the universe and your spirit guides that it's time to expand more of your creativity in your music at this time. Perhaps, you are looking into other genres of music to see if they fit your style of music. Usually, when you start getting inspiration, it means that the law of attraction is working in your favor. New inspiration could lead to more manifestation and new opportunites to grow your music career.
Citrine: Bring In The Light: This is a confirmation from the universe and your spirit guides that it is time to open your heart to new ideas and suggestions about your music. Perhaps, it is time to work with a vocal coach or start going back to school for a music degree. This could be audio engineering or music production to expand your knowledge. With the law of attraction, expanding your knowledge could manifest more for your music career, by getting your foot in the door in the music industry.
I got an internship as an assistant open mic host by getting my foot in the door by performing at open mics. I networked with other musicians and the other open mic hosts, that are my friends in my local music scene. I used the law of attraction to manifest positive connections with other musicians and more opportunites in my local music scene.
Forge, Don't Follow: Pave a new path. Be the leader you wish you had: It is time to start taking control of your music. You deserve to have creative freedom in your music and might be getting out of a record deal at this time. You could also be seperating yourself from those that may come off as unsupportive and you could be seeing what energies align with yours. With the law of attraction, it could be that you need to release negative relationships that no longer serve you in order to make room for positive connections with other musicians.
Leap: You go first. The universe will catch you: This is a confirmation from the universe and your spirit guides that it is time to be more open minded when it comes to expanding your network in your local music scene. Being able to take suggestions on how to improve your music production or vocal technique from music mentors or vocal coaches.
Akasha: Your guidence is divinely guided: The universe and your spirit guides have your back at this time. You may have gone through obstacles with your music, but you are breaking through what appears as a dark knight of the soul. With the law of attraction, it is the universe's way of making room for things to come into alignment. The universe will have things fall apart in order to fit the right pieces of the puzzle.
Cosmic Emerald: Create perfect health. Access divine abundance: This is a time for to take it easy with resting your voice if you are a vocalist or resting your fingers if you play guitar or piano. Sometimes, we have to regain our energies in order to continue on our manifestation path.
Ascension Flames: Merge with light. Ignite keys and codes: This is a confirmation from the universe and your spirit guides to practice being open minded and start accepting constructive critisim. There is a difference than receiving approperiate feedback and receiving insults. Follow your heart and your intuition to know what feels right to you as you continue growing as a musician.
You Have A Sensitive Antenna. Sensitive People Collect Emotions Of Others: You could be connecting with your emotions heavily at this time in your music. I'm picking up piano ballads or soft vocal recordings.
Turquoise: Priortize Your Health: This is a time for you to rest and take a break from your music in order to allow inspiration and start making final decisions regarding your music.
Agate: Get Back Into Balance: Start finding your authentic self as a musician. Figure your place in the music industry and allow yourself to feel in control of your music career.
pop culture
About the author
I'm Calyx Kre, I'm an opera, musical theatre and classical music vocalist and music producer/composer. I'm also an astrologer and astrology tarot reader. Astral Realm is a publishing company that works with music astrology content.
Reader insights
Be the first to share your insights about this piece.
Add your insights