Jonathan Snipes
Composer of Sundance 2021 Horror Documentary Hybrid Film A Glitch in the Matrix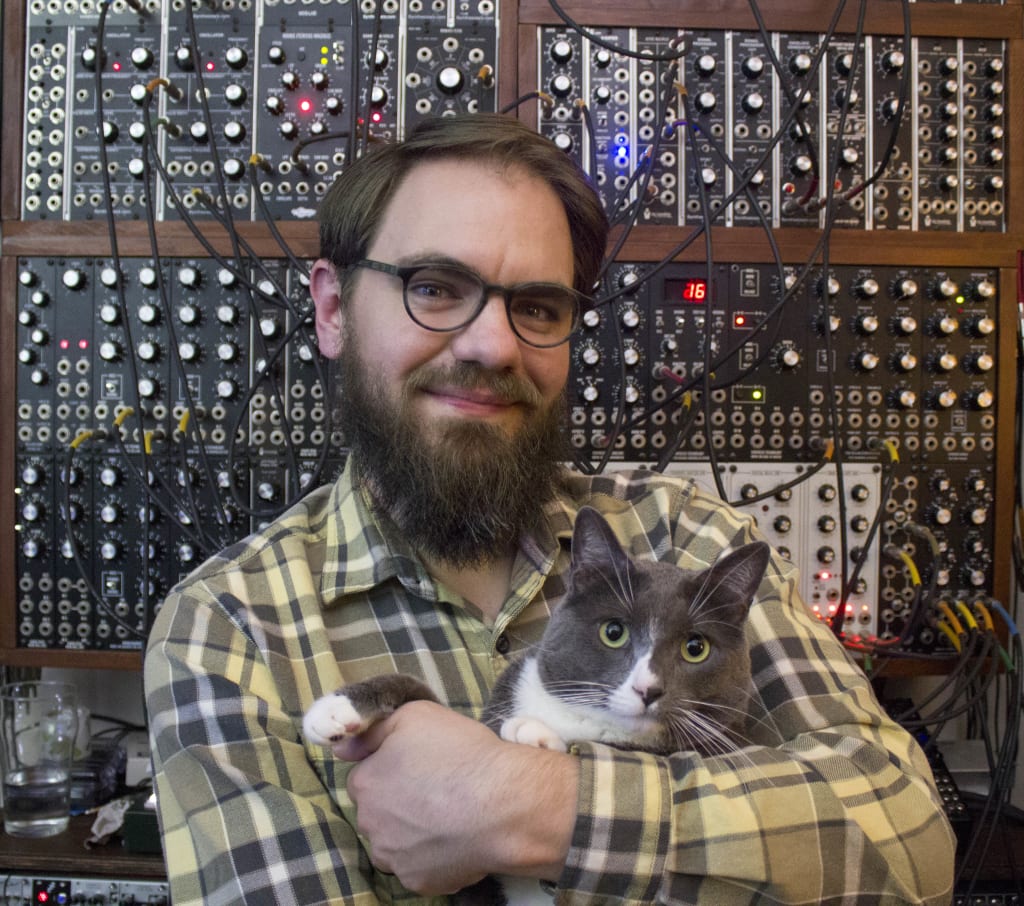 Composer Jonathan Snipes (Provided Photo)
Jonathan Snipes recently scored the Sundance 2021 horror documentary hybrid film A Glitch in the Matrix. Jonathan is also a longtime collaborator of Hamilton star Daveed Diggs, through their freestyle rap group Clipping, and producing Daveed tracks including "Rappin Ced" a song from the 2020 Disney/Pixar film, Soul, and Disney's Puppy for Hannukah song.
A Glitch in the Matrix which was selected and showcased at the 2021 Sundance Film Festival takes audiences on a journey through science and philosophy to examine the theory that humans live in a simulation and the world as people know it is not real. It is a documentary-style animated horror and composer Jonathan Snipes emulated the theme of the film into the score.
Jonathan wanted the score to sound like the hacker movie music in the 1990s while also leaning into the very contemporary sounds of streaming audio and digital transmissions.
The score of the film is very digital and contemporary. Jonathan was inspired by 90s electronic beats and used those throughout the music. Beyond being the composer of this film, Jonathan also held the role of sound designer, sound supervisor, and re-recording mixer, an unusual and impressive feat in audio for visual media.
Alongside his work in film, he also works extensively as a theater sound designer, especially in Los Angeles' Geffen theater. He also teaches a course on sound design in UCLA's theater department.
Vocal readers, please enjoy our interview!
Tammy Reese: What inspired you to become a film and theater composer?
Jonathan Snipes: It was never really the "plan" I guess. I always had a strong interest in the performing arts and all through high school I was sure I was going to be an actor/writer/director, all the while learning to make music on my computer.
When I got to theater school college and discovered that sound design was a field, I started doing that too and never looked back. I found myself working a lot in the small LA theater circuit in the early/mid-2000s, during which time I was also making music on my own, performing at bars, and then found my way into scoring friends' films.
A few "real" jobs later I looked around and realized I was a film composer. But I've always just done what I loved and said yes to every opportunity. There was nothing calculated about this path.
Tammy Reese: What was your first reaction when you heard "A Glitch in the Matrix" film was selected to showcase at Sundance?
Jonathan Snipes: I was thrilled of course! This is my fifth (I think?) feature film in Sundance, and I've always loved the festival.
Tammy Reese: How did you become involved with the project?
Jonathan Snipes: Rodney Ascher and I have done four features together and numerous other short films and projects. He once told someone else that he and I were "married" so I'm not sure I could have gotten out of doing this project if I'd wanted to! I think at this point we just assume I'm working on whatever he's doing, so I always know about the projects really early on and can provide input usually before any footage is shot.
Tammy Reese: Why do you think Sundance attendees should watch A Glitch in the Matrix?
Jonathan Snipes: The film feels even more relevant than when we started making it, thanks to COVID. We're all spending (even) more time in screens these days, and I think a lot of the ideas in this film - what is "real"? - what does "reality" even mean if we experience everything through our imperfect senses? - are more and more on everyone's minds.
Tammy Reese: What do you hope the audience takes for the film?
Jonathan Snipes: The film provides more questions than answers. This is not an "info-dump" documentary that gives its audience a neat summary of the ideas in simulation theory. It's about people as much as it is about ideas. I hope people walk away with a renewed sense of skepticism and curiosity about their realities and a greater sense of empathy for the other inhabitants.
Tammy Reese: As a Sound Design teacher for the UCLA theater department what do you love most about the work that you do?
Jonathan Snipes: Teaching really keeps me on my toes. I have to be able to explain a lot of core concepts of sound that by this point I sort of take for granted.
I'm also constantly inspired and influenced by my students. I think it's really important for every artist to have a 'no-stakes' place to experiment. I almost end up viewing UCLA as my own personal R&D Department.
I've learned so many exciting techniques and ideas by trying things I didn't think would work.
Tammy Reese: What has the experience been like collaborating with Hamilton star Daveed Diggs?
Jonathan Snipes: To me, he's still just "my friend" Daveed Diggs. He's basically the hardest working, most talented person I know. Always has been one of my absolute favorite people to work with, and his success with Hamilton didn't change anything about that.
Tammy Reese: What do you think is the future of the film industry?
Jonathan Snipes: Given that I work in theater, film has always felt a little young and new by comparison. We're still barely 100 years into the history of film, yet we have thousands of years of theater development.
So, on the one hand, film feels more current and part of the zeitgeist than theater, but it also feels weirdly limiting in ways that theater is not. I'm hoping that filmmakers can break out of naturalism, for example.
The theater has also always by its very nature been site-specific. An audience *always* acknowledges that they're in a theater space, watching actors, and film rarely makes that leap which I think is interesting. I'd like to see more site-specificity in film, and more breaking of the fourth wall. Fewer three-act-heroes-journey stories would be nice too!
Tammy Reese: Who is your favorite film composer?
Jonathan Snipes: Too hard to pick favorites! There are too many greats.
From the past: Ennio Morricone (of course), François Eudes-Chanfrault, Shirley Walker, Bruno Nicolai, Stelvio Cipriani, Jóhann Jóhannsson, Jerry Goldsmith, Lalo Schiffrin, Daphne Oram, Alan Splet, Toru Takemitsu.
Currently working: Brian Reitzel, Mica Levi, Carter Burwell, Geoff Barrow/Ben Salisbury, Clark, Blanck Mass, Ryuichi Sakamoto, Adrian Corker, Fatima Al Qadiri, Dan Deacon, Martin Stig Anderson, Cliff Martinez, Dean Hurley, etc etc etc .
Tammy Reese: What film for you has the best soundtrack ever?
Jonathan Snipes: Again, impossible to pick! But some that I love and that are hugely influential are A l'Interieur (Inside) - François Eudes-Chanfrault, The Vagrant - Christopher Young, Unstrung Heroes - Thomas Newman, Il Sorriso Del Grande Tentatore - Ennio Morricone, All the Colors of the Dark - Bruno Nicolai, Inside (video game) - Martin Stig Anderson, Never Cry Wolf - Mark Isham, Hannibal (TV) - Brian Reitzel, Under the Skin - Mica Levi, Rikyu - Toru Takemitsu, The Fog - John Carpenter/Alan Howarth, Profondo Rosso - Goblin/Giorgio Gaslini, Cat People - Giorgio Moroder, etc etc etc.
Tammy Reese: What else can we be on the lookout for from you?
Jonathan Snipes: There's an album of my score for The El Duce Tapes on its way from Burning Witches records. I also release an album every month on my bandcamp page.
Tammy Reese: What advice would you have for anyone who aspires to become a composer?
Jonathan Snipes: I didn't really follow a traditional path, so I guess it depends on what kind of composer you want to be. If you want to play the game and write for big orchestras, you sort of have to go to a music conservatory.
There's a whole language you just won't really learn any other way. But if you want to create your own sound and make something that's uniquely *you* I guess my advice is just to do that! Start making music and never stop.
To keep-up-to-date with Jonathan Snipes and his career journey please visit https://jonat8han.bandcamp.com.
interview
Filmmaker/Actress/Writer/Journalist/Publicist
Award Winning Multimedia Creator
IG @TammyReeseMedia