Joan Jett Does Ten Cover Songs Better Than the Original
She Makes Every Song Her Own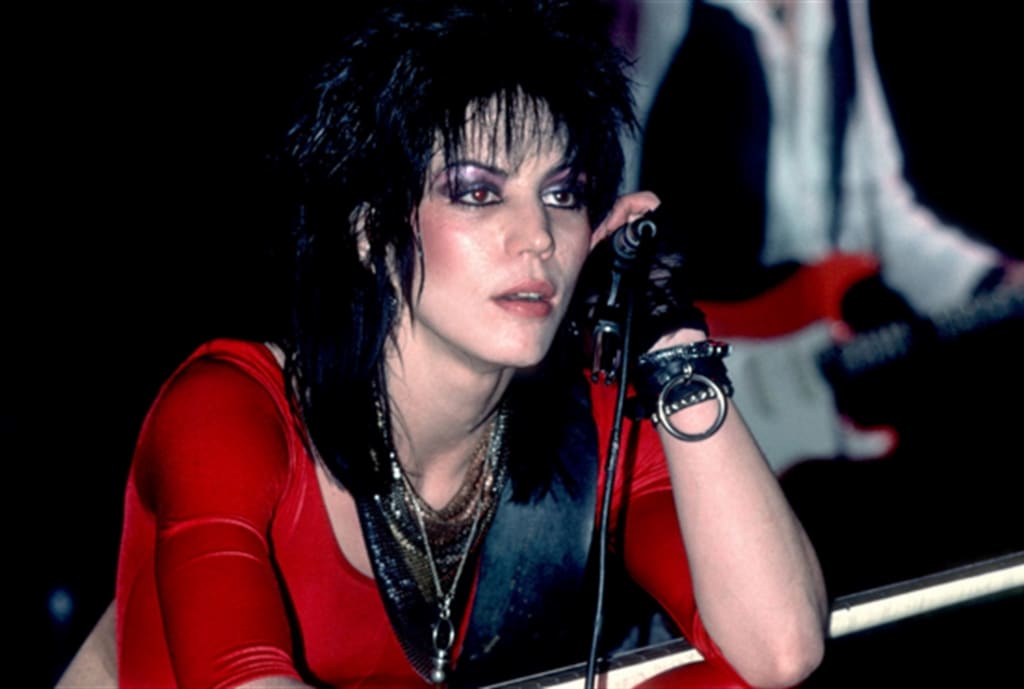 Joan Jett (Image source: Imgur.com)
Cover songs are a staple of any band; they all start out playing them before they have their own music, and most will continue playing at least a few in concert even after they make it big.
During the first concert I ever went to (ELO in 1978), the opening act played, of all things, a cover of Paul McCartney's "Live and Let Die." It's been true of most concerts I've been to since, with Springsteen covering "Twist and Shout" and "Do You Love Me?" in '84 and Tom Petty covering "Needles and Pins" in '85. Even All Time Low covered Green Day's "American Idiot" at their 2015 Dallas show.
Playing the occasional live cover is one thing; actually recording them is another thing entirely. One legendary artist has made a career out of mixing covers with original material: Joan Jett. Her secret seems to be an ability to make any song she plays her own. Unless you were a big Tommy James and the Shondells fan, you never knew that Jett's "Crimson and Clover" was a cover of their song that hit #1 in early 1969. Or that her "Do You Wanna Touch Me" was originally a Gary Glitter song that reached #2 in the UK in 1973.
Even her biggest hit, "I Love Rock 'n' Roll," was a cover of the Arrows' 1975 original. But whereas you've probably never heard of the Arrows, Jett's 1981 version sat at #1 on the Billboard charts for 8 weeks and sold millions of copies. It's the song she is best known for to this day.
Those are the ones you know, even if you never knew they were covers until now. The playlist below has 10 you may not know she covered, though you likely know the original. Listen to both and see if I'm not right about her putting her own stamp on each one.
While you listen, consider the sheer diversity of the songs she's covered. There's a classic TV show theme song, two punk anthems, and one from the greatest soul singer that ever walked the planet. Oh, and she also played "Smells Like Teen Spirit" with the surviving members of Nirvana at their Rock and Roll Hall of Fame induction while pictures of Kurt Cobain flashed on a giant screen behind her. No pressure there.
I will likely do a more in-depth article on Joan Jett's massive impact on rock as we know it in the near future, but for now, let me just express my position on the issue this way; The next time you hear someone say she's one of the greatest female rockers ever, punch them in the fucking face until they take out the "female" qualifier. Dave Grohl has repeatedly called her one of his heroes — not female heroes, just heroes — because he gets it. She is one of the greatest rockers ever. Full stop.
Here's the list with the original artist in parentheses to make looking them up a little easier:
1. "Love is All Around" (The Theme from the Mary Tyler Moore Show).
2. "Real Wild Child" (Iggy Pop).
3. "Fun, Fun, Fun" (The Beach Boys).
4. "Smells Like Teen Spirit" (Nirvana).
5. "Light of Day (Bruce Springsteen).
6. "Have You Ever Seen the Rain" (Creedence Clearwater Revival).
7. "Pretty Vacant" (Sex Pistols).
8. "Rebel, Rebel" (David Bowie).
9. "Tush" (ZZ Top).
10. "Bring it On Home" (Sam Cooke).
I know the title says: "better than the original," and for nine of the ten songs that is absolutely true. The one exception is number ten. Joan is amazing, but I bet even she would never claim that her cover of "Bring it On Home" is better than Sam Cooke's original. Some things just can't be improved upon.
First published on Medium.com.
playlist
About the author
I'm a writer, podcaster, and bookseller whose ultimate goal (besides being a roadie for the E Street Band) is to make reading, writing, and books in general as popular in Texas as high school football. It may take a while.
Reader insights
Be the first to share your insights about this piece.
Add your insights