Jen Clarke's Evening of Drummers Rocks to the Beat in Shenorock
Annual Event Showcases Drum Teacher's Students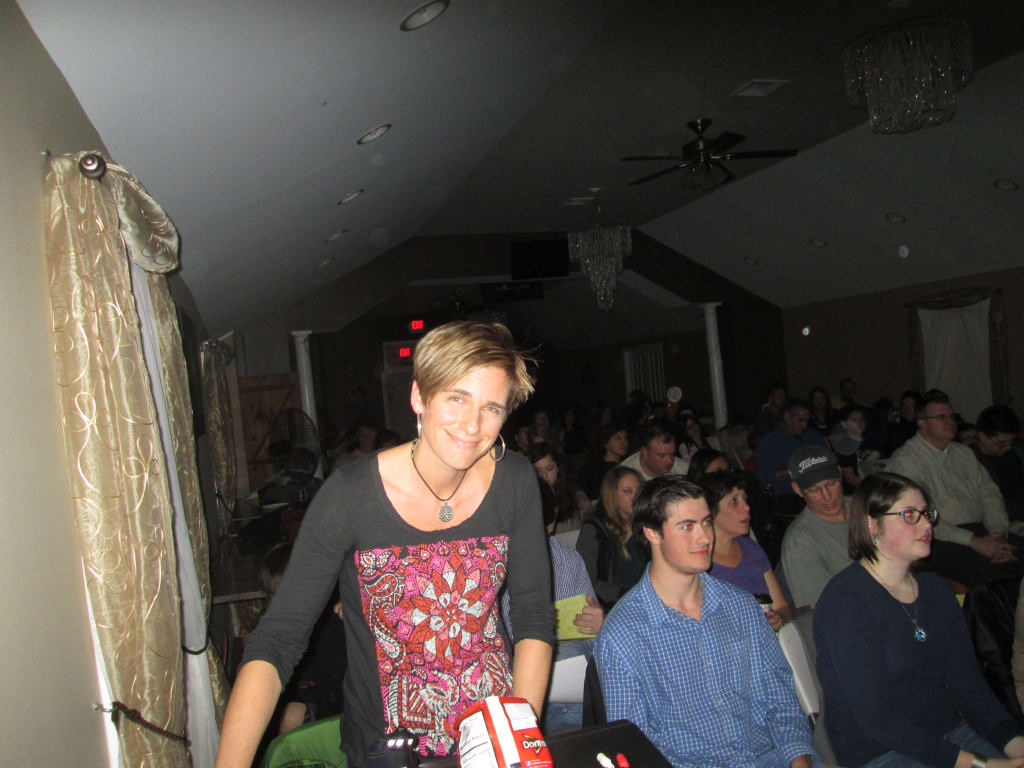 Last Saturday Night, Jen Clarke held her annual Evening of Drummers at the Shenorock Clubhouse. The format had the background music and vocals blaring in range from Led Zeppelin, Greenday, Van Halen and Blink-182. But it was the beat her students filled in that rattled the beams. The elevated pride of family members couldn't be missed either among the revelry.
The spirit of the original artists who first shook our souls seemed to have a presence too, and Rich Celik was clearly in step with both the beat and the aura. So much so, that he couldn't contain his dancing feet, while watching his grand daughter Natalee Ricca resurrect John Bonham of Led Zeppelin in The Ocean.
Still, it wasn't Natalee's pounding that really got Grandpa's heart skipping a beat or two. "You can tell when you're looking at a good drummer because they are completely relaxed, and that's exactly how she looks," said Celik.
For her part, Natalee attributed the ease to an advantage girl drummers have over the boys. "Attitude," she implored the feeling in a word.
The prodigy was referring to a happier disposition girls have behind the drum set. The sentiment couldn't be missed as Kate Andres took the silverware for her turn. "I love the feel and everything about music and drumming," said Andres after chopping out a piece of Still into You by Paramore.
Drummers Give the Sound Something Extra
Emma Shapera, on the other hand, cooked her own creation before Feeling This by Blink-182 got its rendition. "A drum solo puts a lot of pressure on the drummer, because they have to rev the audience up. So you can't rehearse it. You just have feel it," Shapera asserted.
But Clarke's drummers get their fill of improvisation in every single lesson. Referring to "the fill" a drummer has to hit before performances, Clarke left it to one of her 11 year olds to clue the vernacular. "Besides the main beat, it's that little something extra that the drummer adds to the song," said Vincent Stellio, who hammered out Honky Tonk Woman by the Rolling Stones.
His mom kept it in the family - even if keeping up with her son wasn't quite in the cards. "The better drummers go first," said Deb Stellio who was two slots behind Vincent in the playbill.
However deferring to her son was easy for the Bedford mom. "The self-confidence drumming gives him is really an important part of him progressing," said Deb Stellio.
Even so, Stellio wasn't shy about her place in the lineup when the evening rolls around again. "Next year, I'm going to smoke him," she joked.
You Have to Love It
Seamus Carey was another matter on this night. "Last year, Seamus rushed to the show after interviewing with Berkley, and it turns out, now he goes to Berkley," said Clarke.
A year of higher learning and Carey's advice was simple for his juniors. "It doesn't matter where you go, how you start or how you finish – you just have to love it," said Carey.
Nonetheless, his Dad Jim gave Clarke her deserved due. "She comes right up underneath a kid's limit, and pushes them up until they hit the next level," said Jim Carey.
At the same time, Clarke still puts it on her students, and that makes all the difference for Ben Sisko's mom. "The audience may miss your mistakes. But you know when you screw up, and you have to take ownership," said Cat Allesio of Clarke's credo. "That makes him focus."
By the looks of all the sawdust that was falling from the ceiling, Ben obviously wasn't the only one on point.
Please like my page on Facebook