Is Grimes the Best Artist of the Next Generation?
A Review of Grimes' New Songs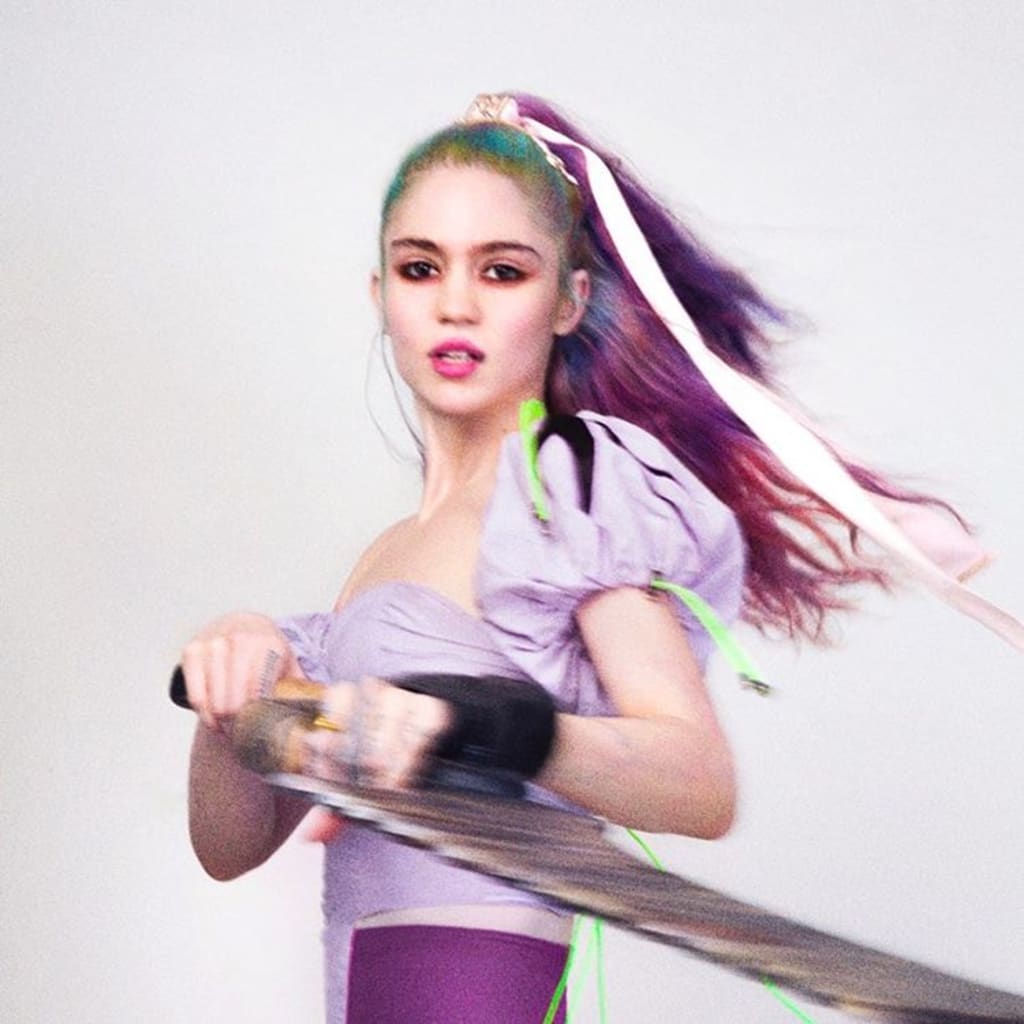 What I mean by Grimes being the best artist of the next generation is that her ahead-of-its-time sound will leave a legacy for the next generation(s) to come. Ever since she started making music in the late 2000s, her sound received mainly positive reviews and soon rose to fame with her Visions album in 2012.
Fast forward to 2019 and she's still breaking the moulds in the music industry. "We Appreciate Power" and "Pretty Dark" are the two new teasers she has birthed into the world. The former is an official single whilst the latter just a demo from a musical she's working on. Her last album, Art Angels, was released in 2015 so I'll take what I can get! But what can we expect for her upcoming album? Will there be more "too indie for pop, too pop for indie" music?
It seems that most music critics have trouble labeling Grimes' musical style. She's been described as "witchy goth, art pop, and synth pop," and the truth is, she is all of those things and more. Spotify refers to her music as "a nu-metal, K-bop," making it quite hard to pinpoint the artistic tendencies. And the thing is, no one can come up with a definite genre for Grimes because she doesn't play by the rules. She has curated her own personal music genre and remains faithful to her sound without becoming predictable or uninteresting—something that other artists can't boast about. One thing we can all agree on is that her music transports the listener into a different world of fantasy in a mesmerizing sound journey.
But let's not get ahead of ourselves, we can only work with what we've got. And boy, has she delivered!
The beginning of her first single "We Appreciate Power," released in November 2018, sets the mood for an energy-charged music video. Within seconds and without preambles, our ears and eyes are greeted with screams, and with the image of Grimes wired to a misty spacecraft, holding a plushy toy. The dirty electric guitar riffs playing in a crescendo sequence throughout the song sound like an electronic war cry, similar to the intro of an action movie trailer. These riffs are paired harmoniously with her signature soprano vocals—a radical nymph fairy in a virtual reality universe. Or as Grimes refers to it, the simulation, which she believes is the future. The verses full of synthwave chords and hardcore metal vibes teleport you into a robotic utopia in a futuristic world dominated by AI overlords. And you love every second of it.
Latex bodysuit clad Grimes and friend/artist Hana make sure you do. They act as warriors of the superior race, holding several deadly weapons whilst rotating in poses worth Vogue Magazine editorials. Amidst sounds reminiscent of a spiritual fantasyland, they want you to "submit" and "plug your brain into the hard drive." In Grimes' own words, this song was:
"Written from the perspective of a Pro-AI Girl Group Propaganda machine who uses song, dance, sex, and fashion to spread goodwill towards Artificial Intelligence (it's coming whether you want it or not)."
Perhaps more raw and less ominous, her second song "Pretty Dark" is a window into Grimes' current romantic state of mind. Released a few days ago on March 13th, "Pretty Dark" is a vulnerable and honest love poem where she expresses how much she wishes her lover was as love-struck as she is. Cyber-inclined electro tones are sprinkled with breathy autotuned vocals. A chill, minimalist rhythm is mixed with low-res Snapchat selfie videos and neon collages of double-exposed images. There's also an element of manga-inspired drawings and wet, sensual poolside dancing. In essence, a quintessential Grimes video.
After watching both music videos, it is clear to see that these are classic Grimes-y pieces of art. Grimes takes full creative control over her aesthetic and becomes the conceptual artist, director, and editor in order to create beautiful and symbolically charged music videos that stay loyal to her vision. She has vouched to release one song per week and I haven't been this excited for a countdown since New Year's Eve.