I Went to a Nickelback Concert and It Was Actually Great
The world's most hated band is surprisingly alright.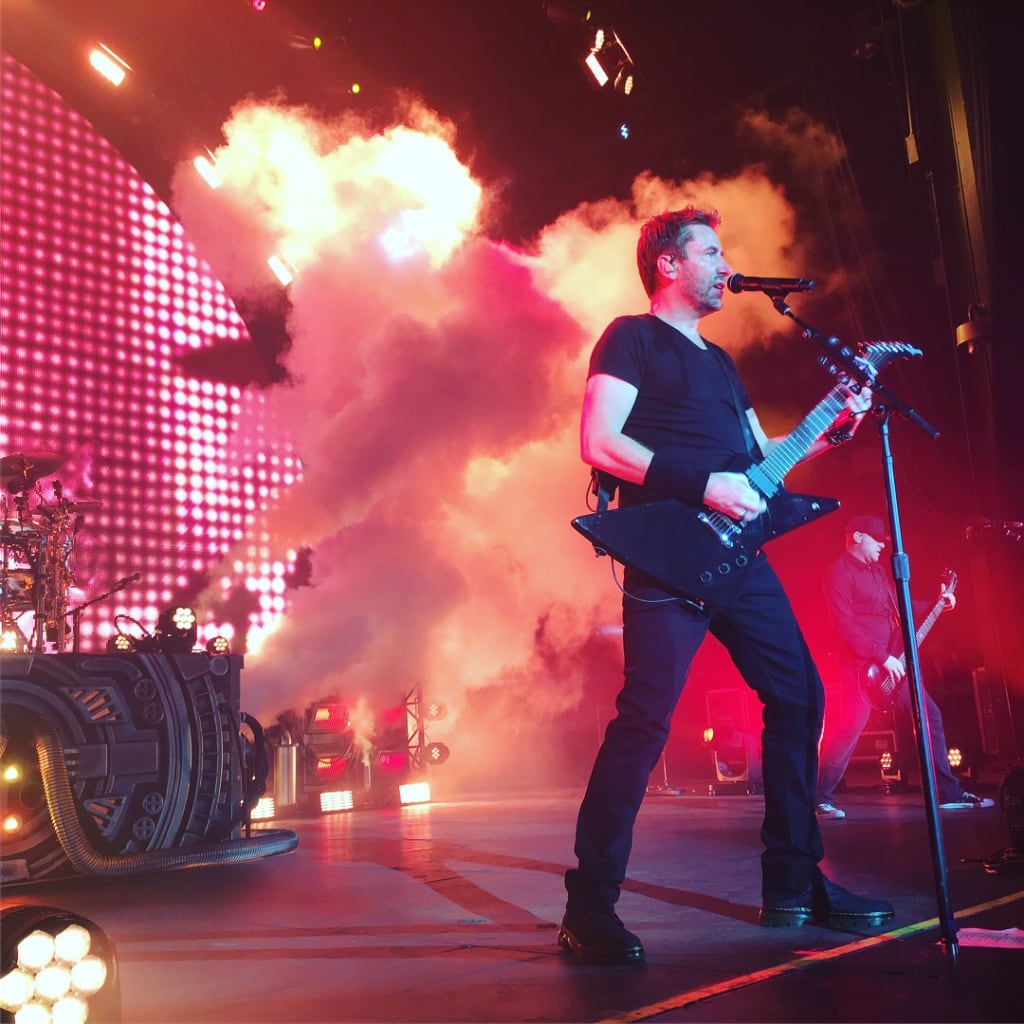 Yeah, I took this.
This summer the world's most hated band gave me front row tickets to one of their shows. Yes, I'm talking about THAT band, Nickelback, the one responsible for countless memes and jokes that plague the internet. All of my friends didn't believe me when I said I was going, and they incessantly made jokes about how Nickelback was the "worst band of all time." But what many don't know is that Nickelback is actually one of the most commercially successful acts of all time. It is sad to see that they've become the subject of every joke ever, but hey that's the price they have to pay, I guess. But Nickelback still finds a way to overcome the constant barrage of memes and jokes. The band is actually still doing a lot, and in fact, they just released their ninth studio album, Feed The Machine. They even somehow managed to pull Chris Daughtry (that dude who was on American Idol back in like 2006) from whatever hole he's been hiding in for years and got his band to open up.
Look at this Photograph
Yeah, they played that song at their show. Contrary to popular belief, they actually have a lot of songs. I noticed several things when I was front row contemplating how the hell I was front row at a Nickelback concert. #1: I knew every single song that they played, and #2: The only thing funnier than the reputation of the band is the fans that actually PAID to be front row with me. One lady (who refused to be named for obvious reasons) told me that she paid $900 for her ticket and that she's seen the band a total of 12 times. Another individual actually shed real-life tears when the band took the stage and nearly passed out when she caught a guitar pick. At one point, the band invited two fans on stage to sing a song with them and people legitimately started climbing over each other and fighting to have the chance to get on stage. Who would've thought that a band that is hated this much would still have die-hard fans? A girl that was next to me was actually the one to get chosen on stage and the second they put a microphone in her hand she yelled "YOU'RE MY FAVORITE BAND EVER," to which the lead singer replied "you should listen to more music, then". As the show went on I slowly started to realize why their fan base loves them so much. Nickelback is really just a bunch of dudes doing dude things. This is fairly easy to tell purely based of off most of their lyrics that involve hot chicks and alcohol (speaking of alcohol, they took a break in between nearly every song to throw back shots with the crowd). The band knows that they are the butt of the world's biggest ongoing joke, and I think they love it. They don't even take themselves seriously and that's why its so fun. I would recommend to everyone that they see this band live at least once. The tickets are like $20, so you can't complain about price, but in all honesty it is 100% worth it. You get to see real-life living memes in person! Also let's be real, their songs are super catchy and not even that bad.
Nickelback's Setlist (if you care)
1. "Feed the Machine"
2. "Woke Up This Morning"
3. "Photograph"
4. "Far Away"
5. "Too Bad"
6. "Someday"
7. "Lullaby"
8. "Savin' Me"
9. "Song on Fire"
10. "Something in Your Mouth"
11. "Rockstar"
12. "When We Stand Together"
13. "Animals"
14. "Figured You Out"
15. "How You Remind Me"
16. "Gotta Be Somebody"
17. "This Afternoon"
18. "Burn It to the Ground"
Reader insights
Be the first to share your insights about this piece.
Add your insights