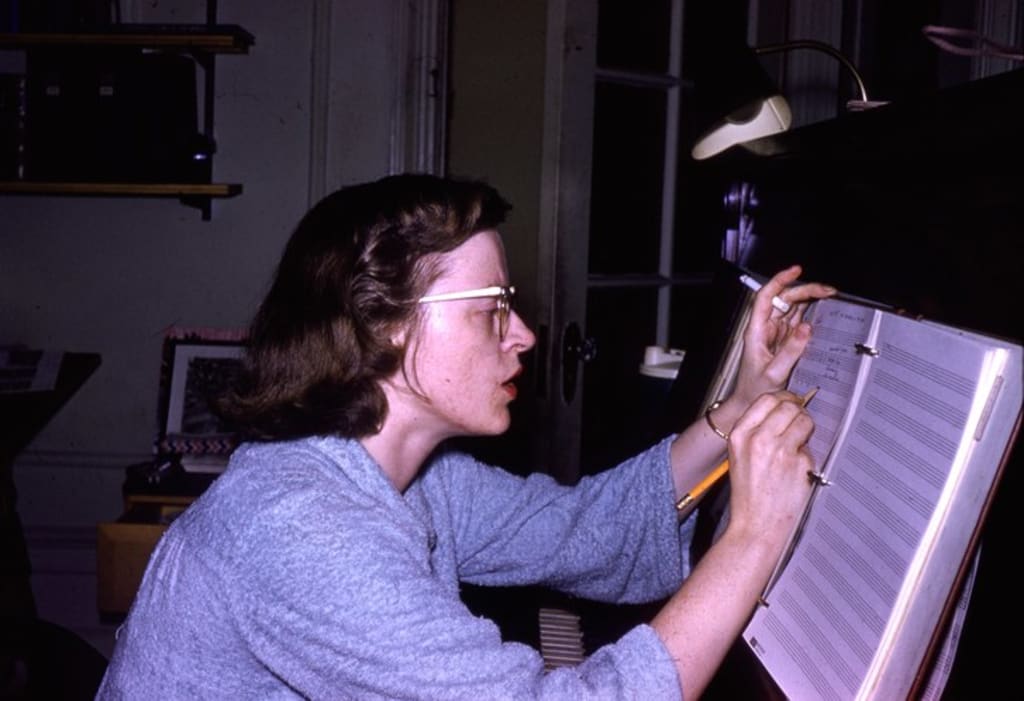 Making quiet music for a small audience that never got bigger, Connie Converse was a sharply intelligent and fiercely independent, albeit lonely woman who sang throughout the fifties and into the early sixties. You can hear the brooding depression in her music– ornate and poetic lyrics, melancholy flats, minors and sevens, and intricate and vast scenery. Her voice was somehow both delicate and tremendous, a vessel of immeasurable pain nobody will ever be given the opportunity to understand.
In the summer of 1974, the 50-year-old Connie Converse packed up her Volkswagon Beetle, left goodbye letters to her friends and family, and was never heard from again. The disappearance of Converse remains a tragic mystery, although it's speculated that she took her own life.
Born on a holy Sunday in 1924 to a Baptist minister and his wife, Connie was a gift from God. As a child, Connie was an objectively remarkable student, artist, and person. Despite her intellect, Converse dropped out of school and headed for New York, where she would start writing music and find nothing but failure and rejection at every door.
She is considered to be one of the first singer-songwriters, at least in a modern sense. Her progressive folk music was about fifty years ahead of its time. Every word in a Converse song is clever. Every note means something. She is the pinnacle of folk music, stripped to its bones. She was incredibly prolific and talented, a self-taught guitarist whose songs were not necessarily complex in theory, but haunting nonetheless. Subtly spooky, somewhat hollow, and completely naked, her songs consist of her guitar, her voice, her misery, and that's it.
Converse was very vulnerable in her songwriting and her worsening depression was evident. "How sad, how lovely/ how short, how sweet/ to see the sunset at the end of the street." In this excerpt from the song "How Sad How Lovely", Converse writes of fleeting joy; a sunset that quickly disappears, leaving her cold and lonely once more.
She had made it to New York determined to find success, resolute to create a home for her music. She was brave to go to the city and when it was cruel to her, it cut her deeply. She took up smoking and drinking, became estranged from her father, and continued to lean deeper into her sadness.
In a note found after she disappeared, Connie Converse wrote, "Human society fascinates me & awes me & fills me with grief & joy; I just can't find my place to plug into it."
Most likely clinically depressed, or, at best, doomed to chronic and infinite sadness, Converse's music meant something real and important. In her song "The Witch and the Wizard", a piece both whimsical and morose, we hear the line, "A witch there was and a wizard as well, moved into a rose covered cottage in hell." Obviously a reflection of her own internal turmoil, with biblical themes reminiscent of her upbringing, there is a yearning for connection that is demonstrated in her work. It is important to note that there is no evidence to suggest that Converse had ever been involved in a romantic relationship at any point in her entire life. As far as any of us can tell, Converse died alone.
Sometimes I look at pictures of Connie Converse and stare into eyes like a lover or a close friend and her sad, lovely face can bring me to tears. She was so beautiful and special looking– somebody that the universe failed to treasure adequately. Don't die like her father did, without ever hearing one of her songs.
Connie Converse is dead now, probably by her own hand. But she can live on through us. We will never know what her dying wish was, but it was probably for her music to leave a legacy that she might have failed to set the blueprints for. Honor her, keep her close, remember her, listen to her sweet and harrowing voice; honey has never tasted so bitter.