Geri Halliwell: Scream If You Wanna Go Faster
A retrospective review on the album's 19th anniversary.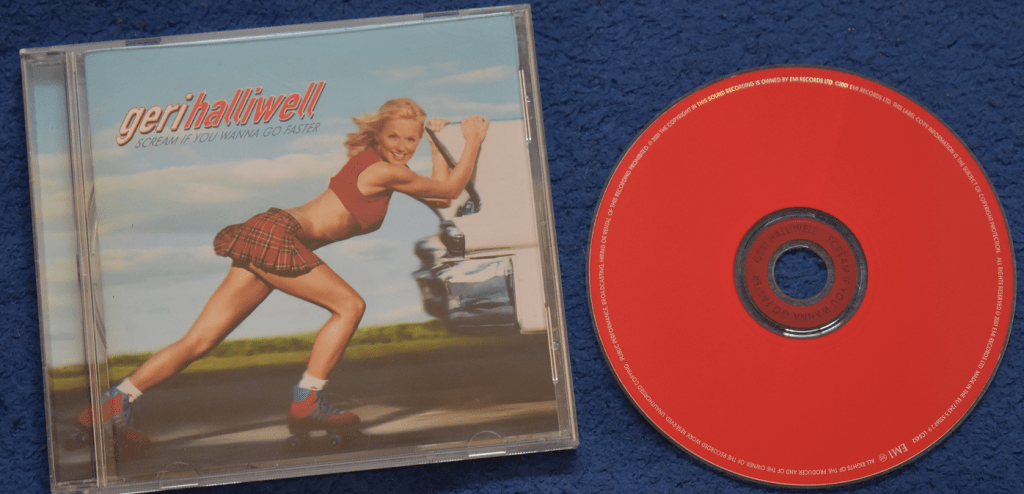 Cover of Geri's Scream If You Wanna Go Faster, next to the compact disc.
Geri Halliwell released her sophomore solo album ''Scream If You Wanna Go Faster'' on this day back in 2001.
The album represents the very essence of Geri Halliwell music - a pop record that is ''all over the place''! In doing so, it meshes styles and genres in a way that is distinctly Geri.
The album opens with the title track, which is more rock orientated than anything else Geri had ever done—complete with slightly distorted guitars. The song is still very much pop though, and its spacey synth sounds and funky organs give it an almost discotheque feel. It also contains the cheeky and cheesy (but almost classic) lyric ''have a nice day, as Americans say.'' But Geri sings it with such charm and intensity that the listener embraces all of the zany notions and it works. 
This is the magic of Geri Halliwell, an ability to take sometimes loony concepts and pieces and turn them into something spectacular. 
This is essential, because the second track ''Shake Your Bootie Cutie'' is beyond ridiculous with lines like ''lizard man I know you can'' and ''I'm Mr. Big baby, Can You Dig.'' It is fun, upbeat, and brilliantly ludicrous! The perfect song for a drunken dance-house party!
But Geri is not a one trick pony. Bombastic and outrageous pop numbers are not her only strength. The record shines equally well when she strips it back for the sentimental mid-tempo tracks. On ''Lovey Dovey Stuff'' her vocals are as smooth as syrup and it's saccharine lyrics flow beautifully over the reggae inspired instrumentation. Equally as endearing is ''Circles Round The Moon'' and ''Don't Call Me Baby'' which are so delightfully catchy and lively, that even the most contemptuous of pop haters would be hard pressed not to tap their feet along to them.
The mix of beautifully crafted ballads, over the top show-stoppers, and unbridled pop numbers makes for one of the most enjoyable record journeys a listener can take. There is no filler here, each track has it's own merit and unique flavor.
The album campaign for ''Scream If You Wanna Go Faster'' was launched with Geri's cover of ''It's Raining Men.'' In the video, Geri showcased her ultra-slim and toned new look. It was a great departure from her image in the Spice Girls. The shocking transformation caused a media storm in the U.K.
''It's Raining Men'' shot to #1 in the U.K, Poland, Italy, Ireland, France and Belgium. The song would go on to sell over 3 million copies worldwide.
On the week of the record's release Geri did a large autograph session at the HMV record store in Manchester. She was greeted by legions of fans, many who were seen crying and hysterical. A similar scene of fans was on display during an event at the Virgin Megastore in Piccadilly, London.
Upon it's release, ''Scream If You Wanna Go Faster'' debuted in the U.K Top 10 and quickly went Gold for it's successful sales. It also reached the upper portions of the charts in countries all across Europe and went Gold in France.
However, Geri's success was not praised by everyone. Her unique style was clearly lost on some critics. For example influential music magazine NME declared about ''Scream If You Wanna Go Faster'' ...''If you like this, you're clinically insane'' and gave the album less then one star. Entertainment.Ie stated ''Scream If You Wanna Go Faster is an unmitigated disaster.''
However, the very reasons that many critics have criticized Geri are actually what makes her an amazing and utterly one-of-a-kind pop star! For those who are interested in an absurd but brilliant journey across the pop music landscape, Scream If You Wanna Go Faster is highly recommended!
Now have a nice day...as Americans say!

.Blake
Happily married! Well traveled (Paris, the Swiss Alps, Zurich, New York City and more)! Writer & reviewer of music, video games, and movies.
See all posts by .Blake →