'folklore': Album Review
Taylor Swift's new album 'folklore' is a soothing collection of stories. Her dreamy lyrics transport you into a world of fantasy that you won't want to leave.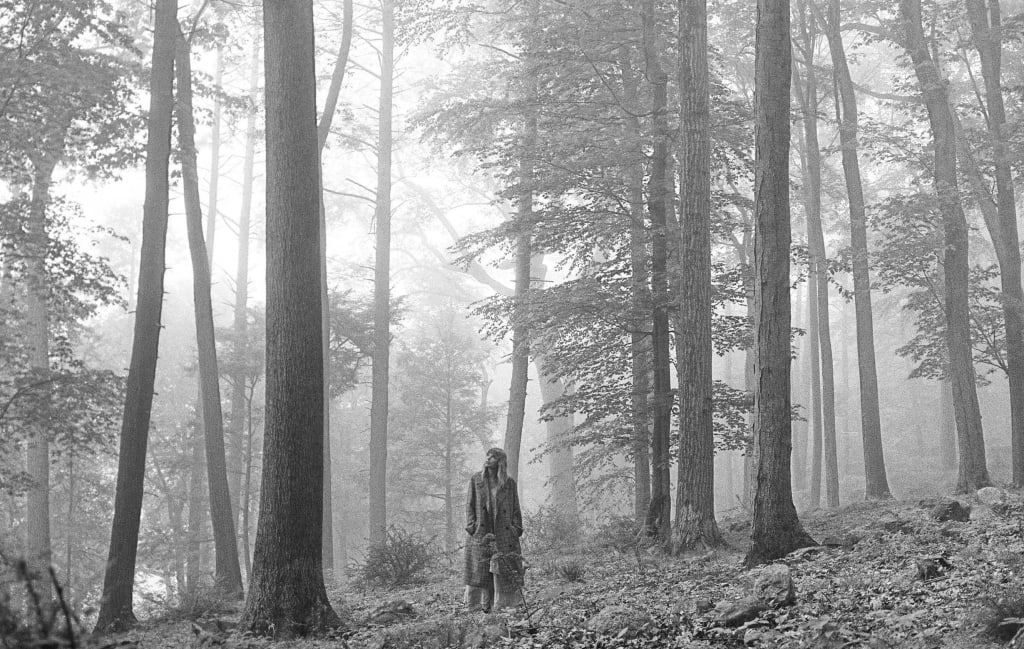 Image by Beth Garrabrant (Taylor Swift/Republic Records)
Earlier this week, Taylor Swift surprised the world with the announcement of her eighth studio album, folklore. This comes less than a year since the release of Lover.
Taylor has written an album of wonder and escapism in a time of madness and tragedy. folklore is full of illusory tales of love, hope and fear. It's a clear reflection of Taylor's wild imagination. The toned-down, earthly aesthetic evokes a distant memory of 'Safe & Sound' from her cherished Red era.
folklore consists of 16 new songs – with track 17 'the lakes' available on the deluxe edition. Taylor has collaborated with music producers Jack Antonoff and Aaron Dessner as well as co-writer William Bowery (who fans are speculating is a pseudonym for her partner, Joe Alwyn).
With mellow tones and soft sounds, folklore transcends the pop genre. Taylor has already proved her ability to seamlessly ease into different genres as she switched from country to pop with her 2014 album, 1989. Now she can add alternative to her list of genres as folklore has been labelled indie folk.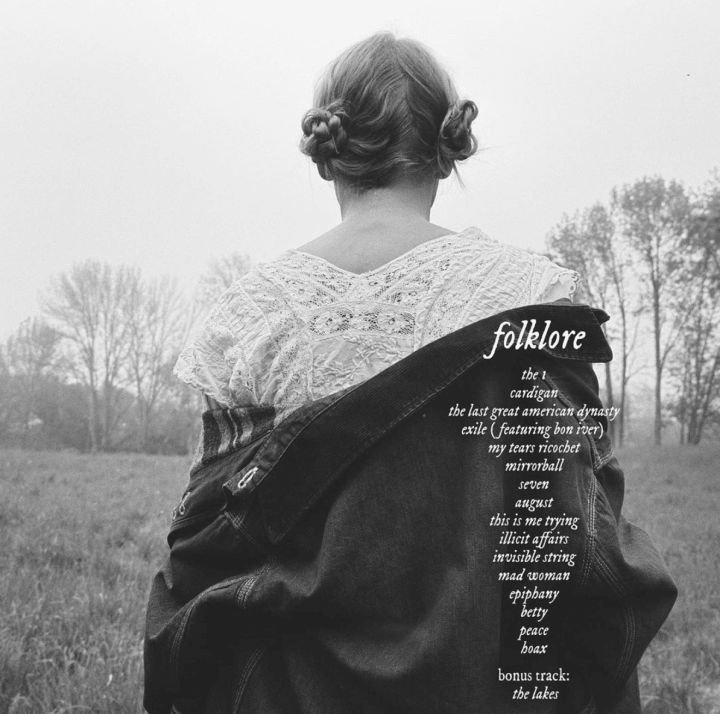 This album proves that, first and foremost, Taylor is a storyteller. Whilst a number of her new songs retain an element of confessionalism that dominates her previous work, many blur the line between fact and fiction as she explores the perspectives of different characters.
'It started with imagery. Visuals that popped into my mind and piqued my curiosity […] Pretty soon these images in my head grew faces or names and became characters, I found myself not only writing my own stories, but also writing about or from the perspective of people I've never met, people I've known, or those I wish I hadn't.'
The lead single is 'cardigan'. She wrote and directed the music video which immerses viewers in an enchanted landscape with the help of special effects supervisors David Lebensfeld and Grant Miller, as well as cinematographer Rodrigo Prieto who worked on films such as Brokeback Mountain (2005) and Silence (2016). It's a warm song with a catchy chorus – one you'll find yourself singing to in the car.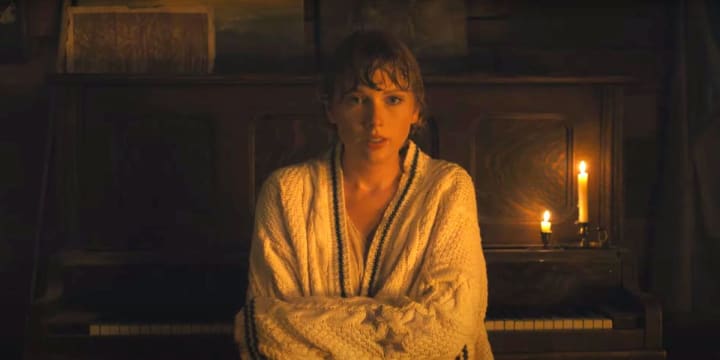 There are three songs Taylor refers to as 'The Teenage Love Triangle' which explore a love story from three people's perspectives 'at different times in their lives.' Fans put their keen minds to the test and have concluded that the trio is 'cardigan', 'august' and 'betty'. It seems that 'cardigan' is from Betty's perspective after learning that her lover, James, had been unfaithful to her: 'chase two girls, lose the one.' The breezy love song, 'august' is from the perspective of the other woman as she remembers a passionate summer before it all fell apart. Finally, 'betty' is from apologetic James's perspective. This track reveals Taylor's country roots; it will give you flashbacks to her debut album.
Whether the three characters are entirely fictional or inspired by her own experiences, there is no denying that Taylor is a lyrical genius for the way she ties together three fragments of one story.
One of the biggest differences between folklore and her previous albums is the absence of (mind the musical slang) bangers. Her most cheerful, upbeat songs include 'the 1' and 'invisible string'. They centre on the themes of lost love and fate. Another bop is 'the last great american dynasty' where Taylor details the colourful life of Rebekah Harkness, the previous owner of her Rhode Island mansion. This one will get you bouncing your head to the beat.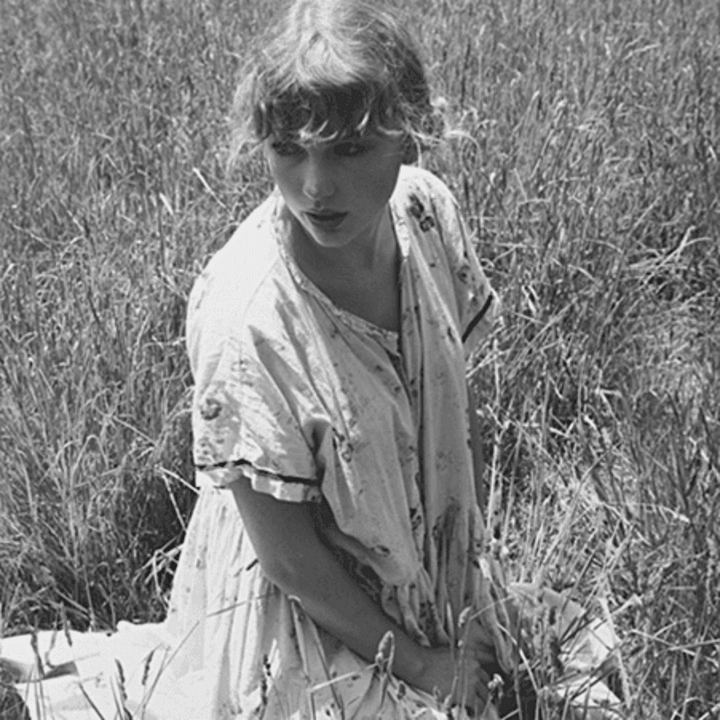 Her collaboration with Bon Iver on 'exile' is a career highlight. The song is a beautiful, heartbreaking ballad that reveals two sides of a sad story (not dissimilar to her song 'The Last Time' with Gary Lightbody from Red). Justin Vernon's deep tone moulds effortlessly with Taylor's mesmerising voice. It's the darkest song on the album as the pair reflect on their past love with sorrow; offering a contrast to her lighter, more hopeful tunes.
The revealing songs 'this is me trying' and 'mad woman' put Taylor's songwriting skills on display as she explores the themes of regret and revenge. In folklore's prologue, she outlined that her emotional track five, 'my tears ricochet', is about an 'embittered tormentor showing up at the funeral of his fallen object of affection.' Her most socially conscious song is 'epiphany' which addresses her need to escape from the world through her dreams.
Taylor balances the heavier themes of despair and uncertainty with tracks like 'mirrorball' and 'seven'; both of which showcase Taylor's sweet, dulcet tones. The latter being one of the most mystical songs on the album as Taylor underlines a childlike innocence with the lyrics, 'And I think you should come live with me / And we can be pirates.'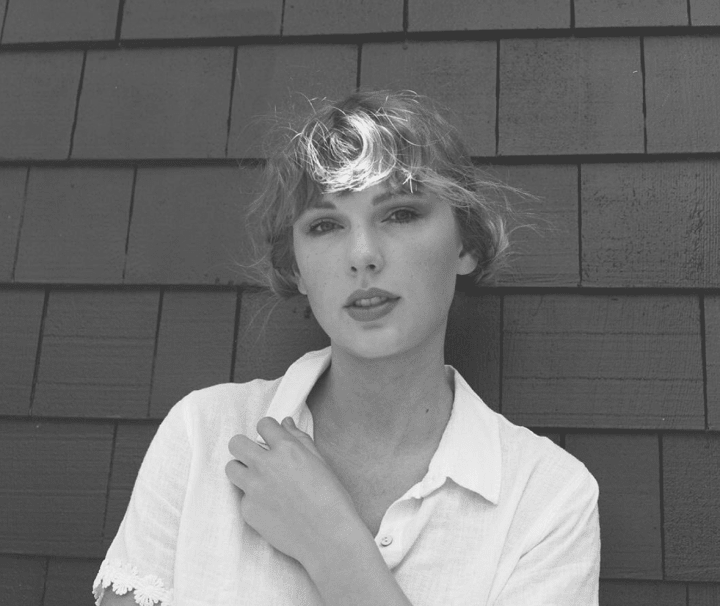 She speaks honestly in 'peace' as she shares her hope that her partner will stay with her even though she breeds chaos. There is no shortage of metaphors in this track: 'But I'm a fire and I'll keep your brittle heart warm.' The simple instrumentals paired with her hypnotic voice produce a calming atmosphere – one that you could sink into for hours on end.
Her vocals in 'illicit affairs' are exquisite. The song parallels Lover's 'Cruel Summer' where Taylor mentions sneaking in through a garden gate to secretly visit her partner. Another parallel to Lover is the motif of the colour blue which often represents sadness. This is evident in 'hoax', the final track of folklore: 'Don't want no other shade of blue but you.'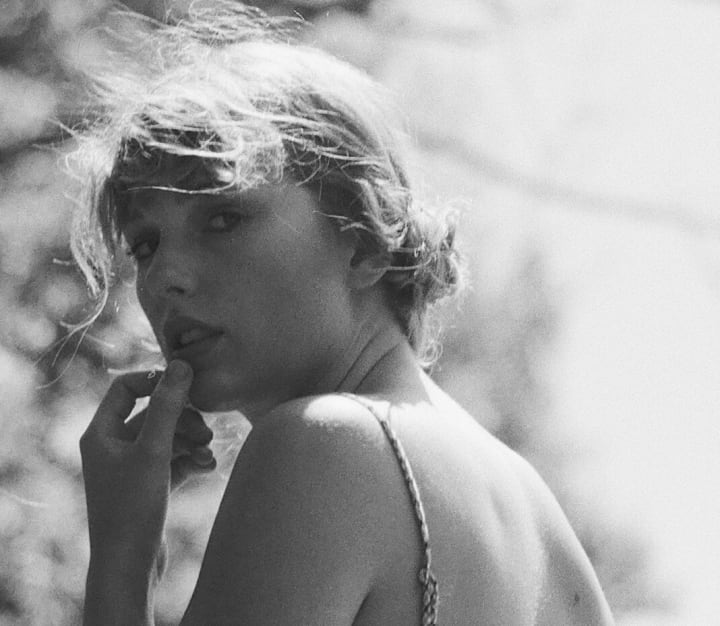 The ethereal folklore is another success for Taylor. She delivers a unique sound with each song whilst maintaining a tranquil mood. Her vocals are divine and her lyrics are as strong as ever.
'Picking up a pen was my way of escaping into fantasy, history, and memory. I've told these stories to the best of my ability with all the love, wonder, and whimsy they deserve. Now it's up to you to pass them down.'
Taylor Swift doesn't just release new music. With each album and era, she constructs a new version of herself. You'll find this one in a forest, wearing flowy dresses and plaid blazers; sitting under tall trees and running through green grass; singing the stories she wrote beside her lover.
Stories that will become folklore.