"Dixie Chicks" change their name to "Chicks"
The country trio is following in the footsteps of Lady Antebellum who is now Lady A.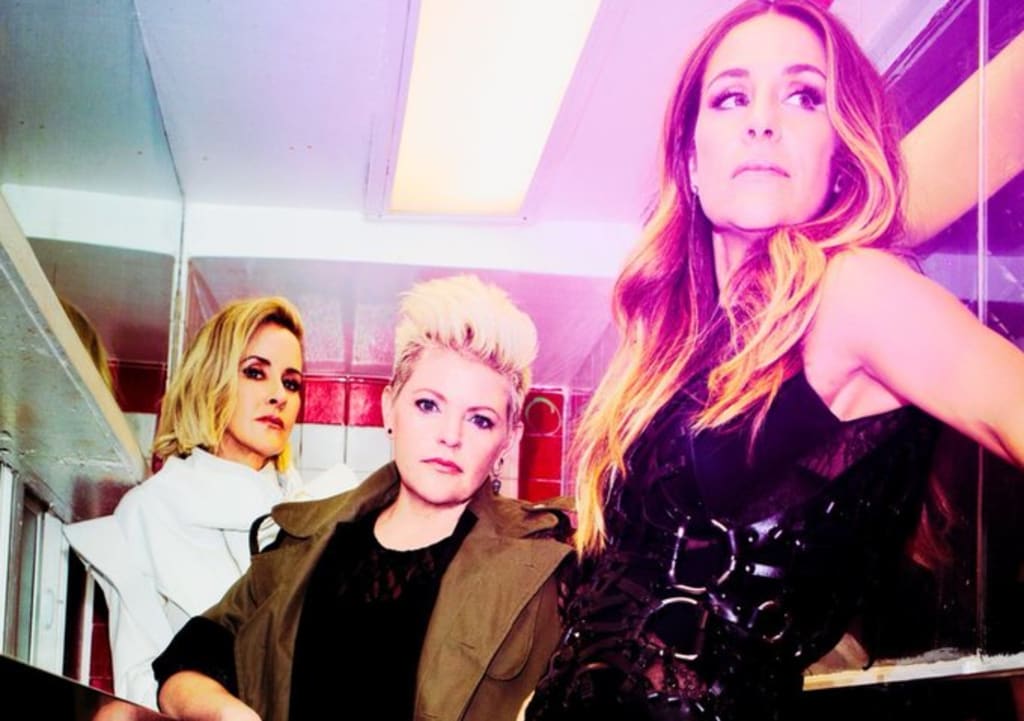 The Chicks.
"The Dixie Chicks" announced on Thursday June 25, tht they have changed their name to "Chicks." Like the former Lady Antebellum, the country trio no longer desire to be associated with a pre-Civil War south where black people were enslaved. For many people, the word Dixie simply indicates the south. Since the murders of Ahmaud Aubrey and George Floyd, an increasing number of Amerians are rethinking things that they have been doing for years. There will no doubt be a backlash from fans because old habits die hard. NASCAR received a lot of hate when they decided to remove all Confederate flags and Christian singer Natalie Grant said she and her spouse lost over 1,000 social media followers because they spoke out against racial injustice.
The group has already changed the name on its website where the motto is: "If your voice had no power they would not try to silence it." The group has also released a new anthem song titled "March March." The main lyrics are "March March to my own drum, I'm an army of one." As a person of color, I find it refreshing that so many non-black entertainers are standing up for justice. It is unfortunate that far too many in this nation are expressing outrage instead of supporting positive change. I continue to see people on Facebook saying they are against Black Lives Matters and that they wanted nothing to do with Juneteenth, or their(black people) holiday.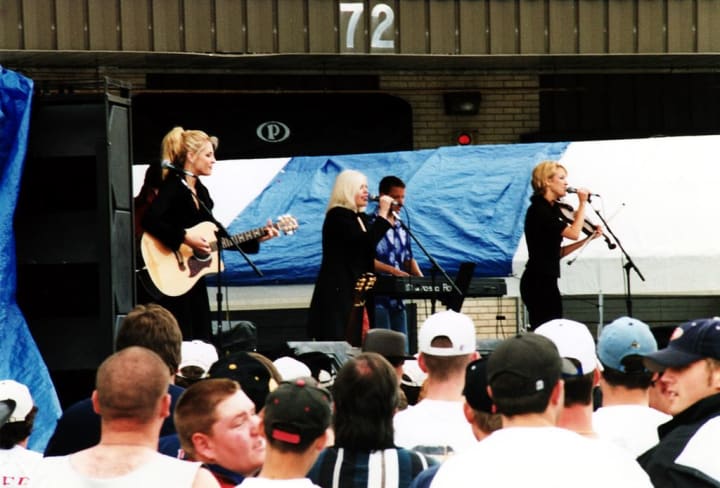 There are also black people saying that they will not observe July 4 because our ancestors were still in bondage at the time. The celebration of June 19 is not an African American celebration. All Americans should observe the day that the last of the American slaves,(in Texas) found out they had been emancipated. US citizens of every ethnicity should celebrate the nation's freedom on July 4. It's a good thing that there are more Americans who think like "The Chicks" and are taking stands for justice than those who are in opposition.
"The Chicks" are comprised of singer Natalie Maines and sisters Emily Strayer and Martie Erwin McGuire who are talented multiinstrumentalists. This is not the first time this trio found themselves embroiled in controversy. In 2003, a few days prior to the invasion of Iraq, these women spoke out saying they were against then president George Bush's decision to start a war. Their honesty led to fans turning against them, boycotts, and losing endorsements from businesses. The group laid low during the rest of the Bush years and began touring again in 2010. Having gone through this before, and understanding the backlash that will come their way, indicates how strong this trio is and that they stick by what they believe.
The "Chicks" are to be commended because they are not afraid to speak out and take action regarding what they believe. This brings to mind the song by Aaron Tippin, "You've got to stand for something or you'll fall for anything. This statement can be a two-edge sword because many who are standing for hate, intolerance, and injustice are standing up for what they desire. This is why all Americans who believe like "The Chicks" and desire justice for all must speak out because silence indicates being complacent with those who desire to keep things the way they were. The South lost the Civil War, the Confederate soldiers were rebels who did not support Abraham Lincoln the legitimate president of this nation. It is hard to understand why anyone would desire to cling to that, or be angry that others want nothing to do with it.
The trio's Twitter feed thus far indicates that most fans are in agreement with their decision. Following is a sample.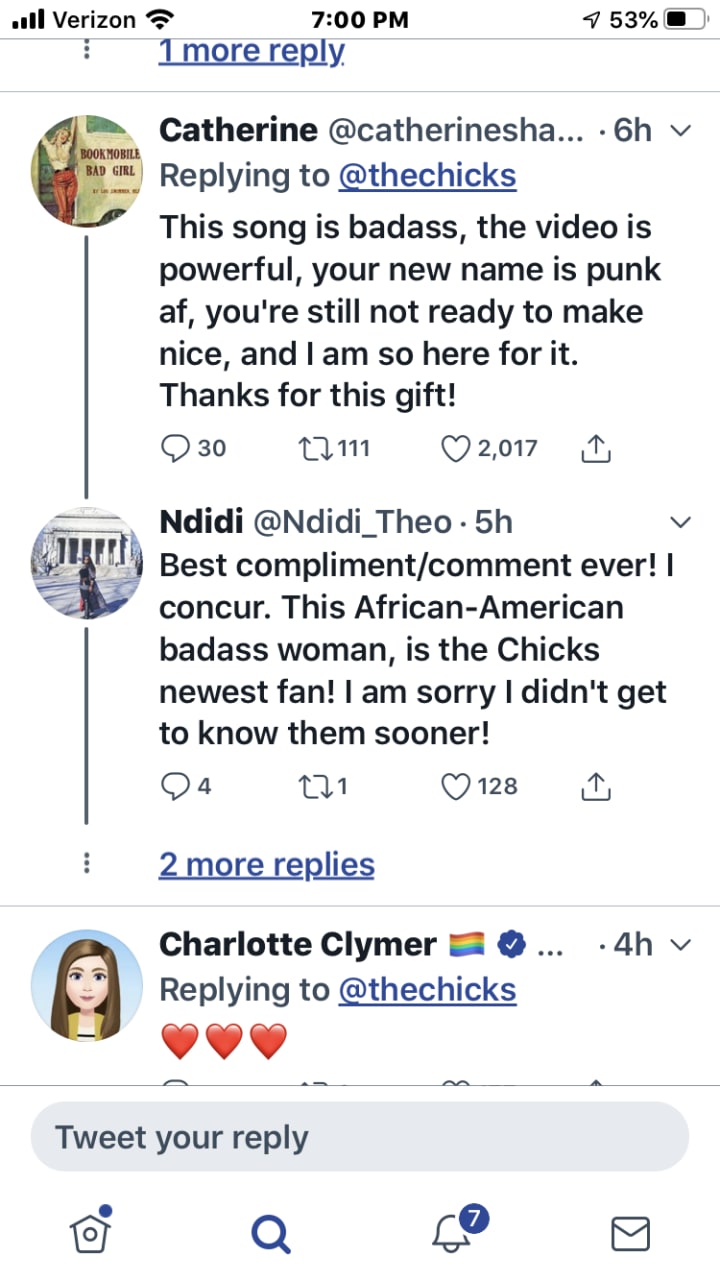 There were a few naysayers but that is to be a expected. It did not stop them before and probably will not hinder this trip now. The Chicks have won 13 Grammy Awards, during their career and in 2007 they took home 5 for Taking the Long Way. By March 2020, they had sold 33 million (certified) albums with 27.5 million in the United States. alone. The Chicks became the bestselling country group and best selling female band in the U.S. during the Nielsen SoundScan era which was from 1991 and continues now.
Those who hold on to the past remind me of Granny Clampet on The Beverly Hillbillies who kept saying " The South shall rise again," and became belligerent whenever anyone told her the South had lost. It's really time to move on and live in the heat and now and perhaps The Chicks and others are leading the way.

Cheryl E Preston
Cheryl is a poet, freelance writer, published author and former Newspaper columnist. She has degrees in Psycology and Biblical studies. She enjoys sharing natural cures, and Nostalgia related info. Tips are greatly appreciated.
See all posts by Cheryl E Preston →