Digable Planets: Peace Be the Greeting of the Insect Tribe
The Underrated Jazz Fused Hip-Hop Group That Got Overshadowed by Gangsta Rap in the 90s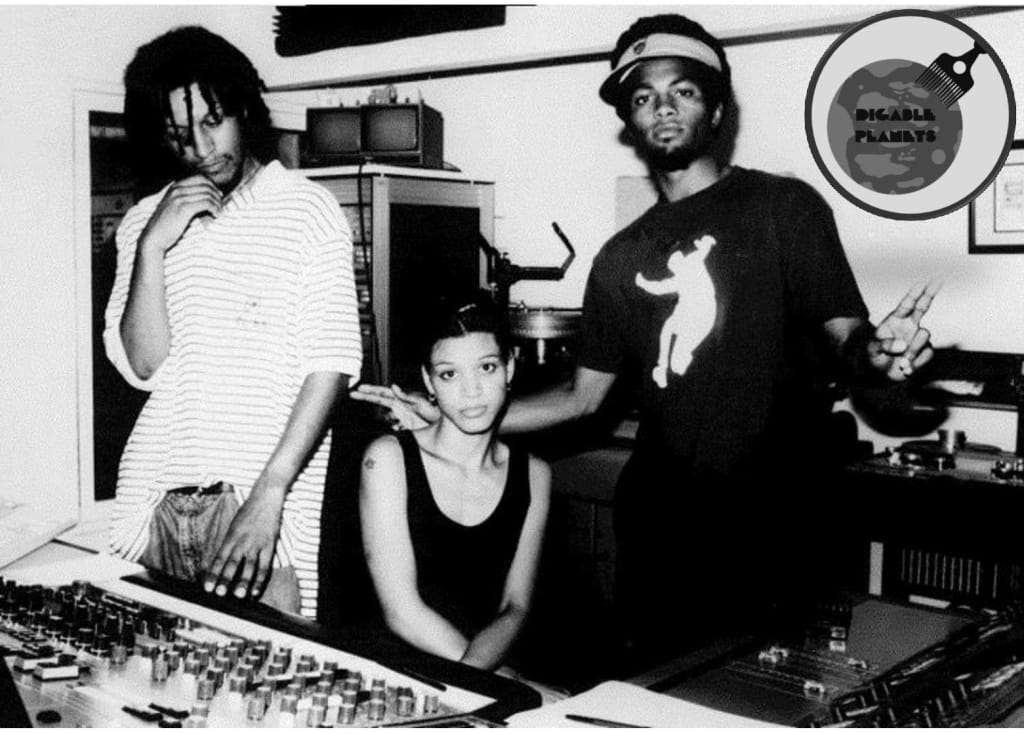 Doodlebug (left), Ladybug Mecca (middle), Butterfly (right)
Digable Planets is a Hip-Hop group from Brooklyn, NY consisting of members Ismael "Butterfly" Butler, Mary Ann "Ladybug Mecca" Vieira, and Craig "Doodlebug" Irving.
All three members are fans of Jazz music, and they sampled those type of records while putting their albums together. Butterfly and Doodlebug introduced Labybug Mecca to American-Jazz music, because she was already familiar with Brazilian-Jazz music.
According to Ladybug Mecca, while the group were hanging out during the music scene in New York. They would talk about music, life, philosophy, ideology, different religions, and different schools of thought.
Once the group realized they had a lot in common, they connected on a deeper level musically and created Digable Planets.
According to Butterfly, the name "Digable Planets" comes from the ideology the group came up with. For instance, they feel every person is a planet because everybody has something to offer the world, and "Digable" is an adjective that best describes the group as planets.
The group also refer to themselves as insects due to the insects nature to stick together and work for mutually beneficial causes. This concept was inspired to be a useful principle for African Americans in low-income communities.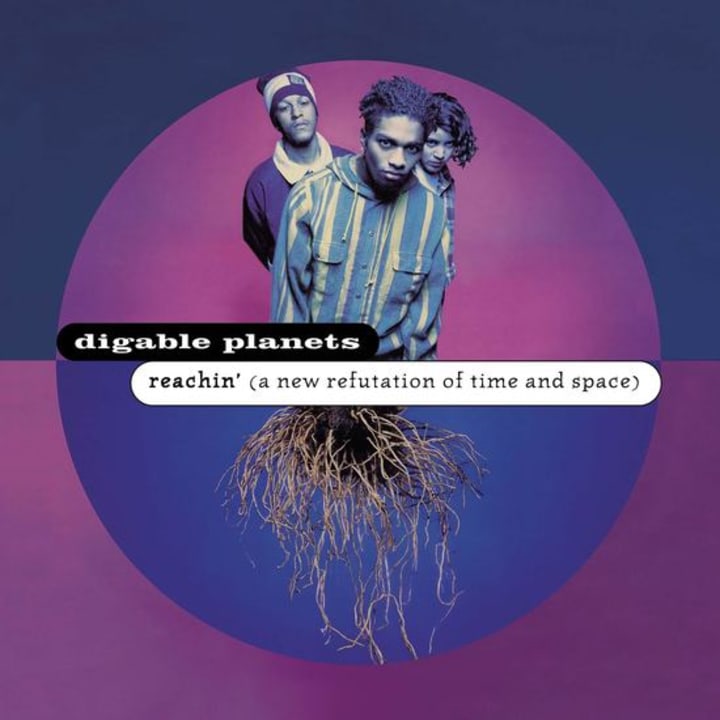 Digable Planets burst on the Hip-Hop scene with their debut album Reachin (A New Refutation of Time and Space)."
Reachin' was released in 1993, and the album was a critical success due to their breakout hit "Rebirth of Slick (Cool Like That)," which broke into the Top 15 on the Billboard chart and won a Grammy for Best Rap Performance by a Duo or Group in 1994.
The album was also certified Gold by the RIAA in 1993.
According to Kevin Powell of Rolling Stone,
"Reachin' (A New Refutation of Time and Space) is everything hip-hop should be: artistically sound, unabashedly conscious and downright cool. And Digable Planets is the kind of rap act every fan should cram to understand."
After the success of Reachin', a year later (1994) Digable Planets released their sophomore album, Blowout Comb. During the recording process of Blowout Comb, the insect ideology was abandoned. According to Butterfly, the group felt like the concept got misconstrued on Reachin'.
The group also changed their individual names. For example, Butterfly changed his name to "Ish," Ladybug Mecca changed her name to "Mecca," and Doodlebug changed his name to "Cee Knowledge." They also decided to have features on Blowout Comb like Guru of Gang Starr, Sarah Ann Webb, Jeru the Damaja, DJ Jazzy Joyce, Monica Payne, and Sulaiman.
Digable Planets Newspaper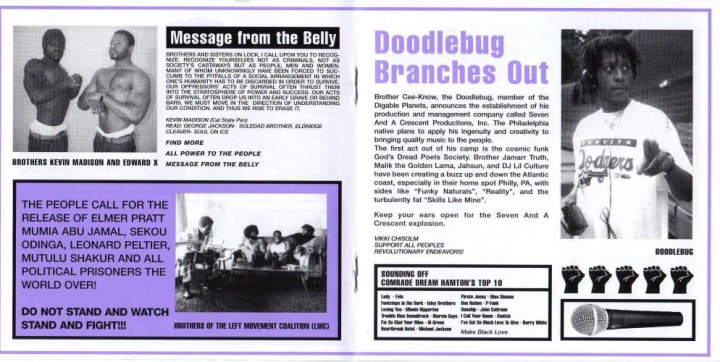 Blowout Comb was much more ambitious than Reachin', because they chose to use electric samples with live instruments. Before recording Blowout Comb, Ish visited family members in Watts, Los Angeles, CA, and some of his elder family members were highly educated in black history.
He observed all their teachings and reflected about his parents, who were Black Panther members. He wanted to incorporate what he learned within the lyrics of the Blowout Comb album.
Digable Planets Newspaper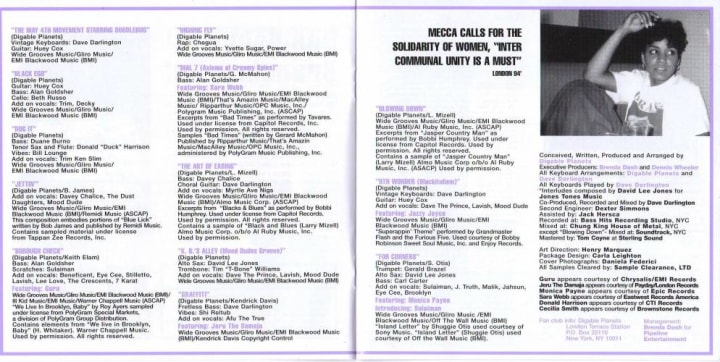 The lyrics have many references to The Nation of Islam, The Black Panther Party, Afrocentricity, black nationalist text, incarcerated freedom fighters, and African American artists.
The artwork inside the CD booklet also took inspiration from the official Black Panther Newspaper, which Ish came across at his relative's house.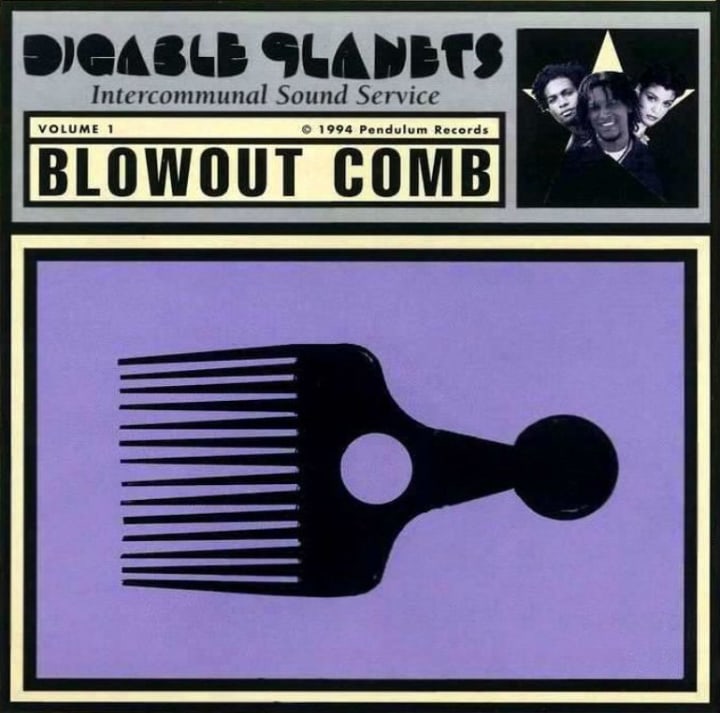 The blowout comb was a popular grooming product of the 1970s when Afros gained popularity. Digable Planets named their album Blowout Comb to remind them to keep their "natural style."
Blowout Comb received mixed reviews from critics because of the black-nationalism theme that was present throughout the album. Blowout Comb was a commercial failure because it didn't match the same or better success as Reachin'.
Greg Kot of the Chicago Tribune wrote the tension between the group's dreamy delivery and the seriousness of their questions about the African-American community gives substance to the music's elated mood.
Eric Berman of Rolling Stone magazine found the music sluggish and formless, despite the group's admirable experimentation and "creamy" raps.
In 2001, one fan of Digable Planets' Blowout Comb from Amazon said, "Probably the Most Slept-on Album Ever."
This has got to be the most underrated, slept-on album in the history of hip-hop. I consider myself to be an avid hip hop fan, yet I slept on this album until November of last year!! I have heard that this album was a classic time and time again, but I never considered buying it until recently. This album is dope from the beginning to end.
The production is reminiscent of The Roots, but I think it is much more mellow and organic. All of the songs are nice, but my favorites are Jettin', Blowing Down, The Art of Easing, Dial 7 and Four Corners. 1994 was one of the best years in hip-hop.
Illmatic (Nas), Sun Rises in The East (Jeru the Damaja), Word...Life (O.C.), Resurrection (Common), and Southernplayalisticadillacmuzik (Outkast) were released during the year, but in my opinion, Blowout Comb ranks up there with those albums because it is just as good, if not better in some cases. If you do not have this album, you are missing out on a masterpiece.
In 2007, another fan of Digable Planets' Blowout Comb from Amazon said, "The Quintessential Rap-Jazz Fusion Album!"
I first got hooked on this album in my college days in the mid 1990's. It's awesome: rap, jazz, hip hop and infectious grooves all mixed together. I loved it and subsequently went to their concert. The concert was an out-of-this world experience, 25-piece band and all.
The first of this album that I bought was a cassette tape which got played so much that it broke. I then went out and bought a CD: it got played so much that my CD player damaged it. I've yet gone out and bought the CD yet again and this time play it on MP3. This is the only album that I've ever bought a record 3 times! It's that good!
Now years later, I have yet to hear anything quite like this. Long live the Dig P's!
Soon after the release of Blowout Comb in 1994, Digable Planets broke up due to creative differences, and displeasure with the music industry.
After splitting, each member pursued solo careers and formed new groups like Ish's Shabazz Palaces, Mecca's Dino 5 and BROOKZILL!, and Cee Knowledge's Cosmic Funk Orchestra.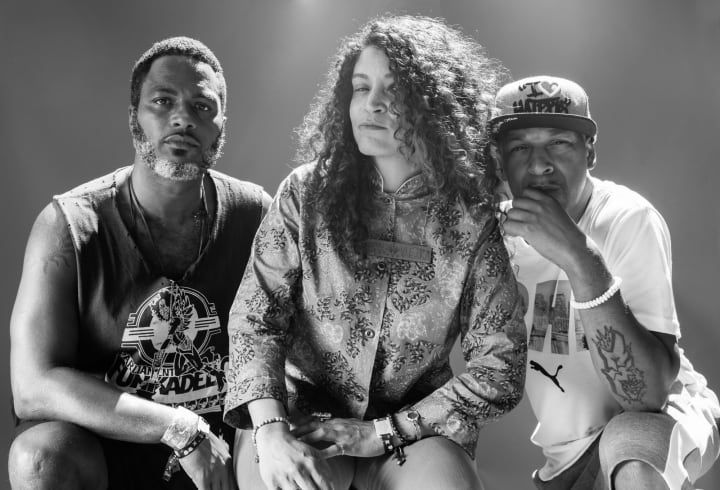 "This is a dedication to my whole crew (Mary Ann), the ones that's true (Knowledge), we all know who. Dedication to my whole crew."- Butterfly, Dedication, Beyond the Spectrum: The Creamy Spy Chronicles (Compilation Album, 2005)
In an interview with Current TV in 2007, and WORDSnTUNES in 2008. Digable Planets spoke about their breakup, why they left the music industry, their thoughts about Hip-Hop music after they left the music industry, and a possible reunion album.
Butterfly said,
"We just wasn't into the music back then and didn't consider what was going to happen after the albums came out. The industry, fame, and busyness took its toll. It feels good to be back together, if you ever dropped out of a class in college, and you always wanted to finish. Now we back and we about to finish. It's destiny. It's where you should be, it's like home. Coming back to a place that is familiar."
Labybug Mecca said,
"I feel like the underground music of Hip-Hop is dealing with more substance, and more consciousness. That is kind of on the top right now."
Doodlebug said,
"The key thing is the group has to have an understanding between themselves, like this is what we're going to do, this is our goal, and our goal is to make good music."
In 2017, Digable Planets released Digable Planets Live, which are live songs from both Reachin' and Blowout Comb albums. The album is currently available to buy and stream on your favorite music platforms.
About the Creator
Inspirational Speaker, Author and Blogger looking to inspire with my story of being a two-time cancer survivor and hip amputee. My focus is to share my pain, struggle and accomplishments with the world.
Reader insights
Be the first to share your insights about this piece.
Add your insights