Playlists
Dark Matter, White Noise
The Genius of Sean Lennon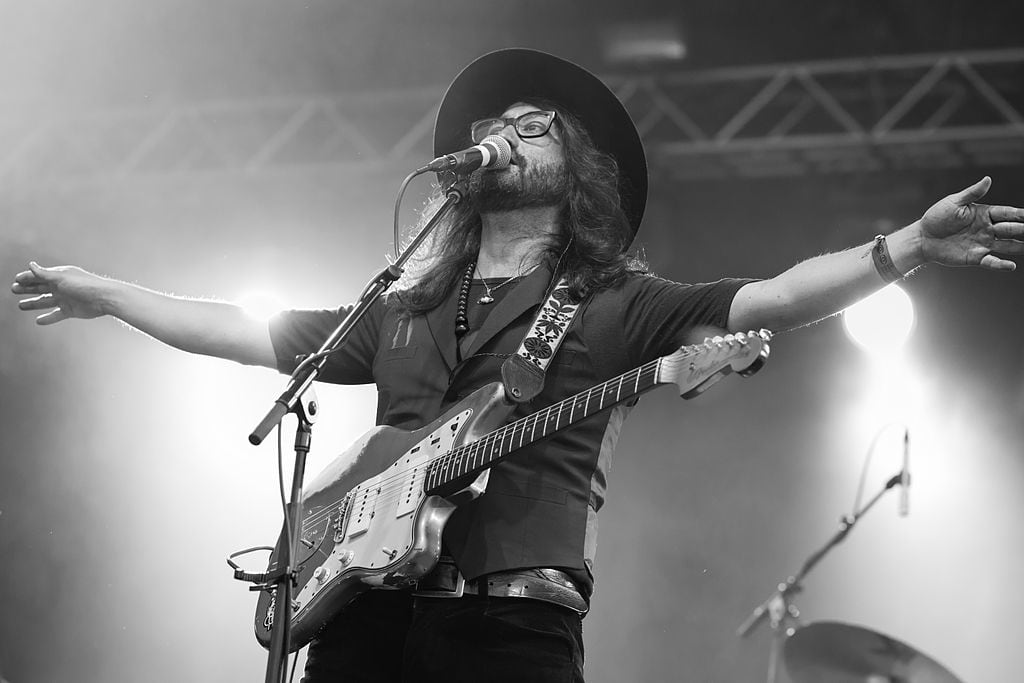 As collaborator Les Claypool put it, Sean Lennon is a "musical mutant," something to treasure in the music industry, which seems to be stultified by the desire of powerful executives to make a lot of money quickly. It's not that the talent isn't there anymore, it's just that it gets obfuscated by the dross. And in Sean's case, as is the situation for his brother Julian, there is also the ever looming comparison to his father that frequents the press, as well as the unrealistic expectations and demands thrown at him from the more boggle-eyed element of Beatle fandom.
It is an unfortunate side effect that in the past, much of Sean's music has been either automatically written off without being listened to, by virtue of him being a "son of," or the last thing on the agenda of reporters when there is a new release because the preferred topic of discussion is his family and The Beatles. To put it bluntly, Sean Lennon is a brilliant musician and his work is an absolute treat to listen to. Here are just a few highlights in his rather prolific career.
From Sean's debut solo album, this seems at first like a very chirrupy song to kick back to on a balmy beach. But then you listen closer and hear the lyrics. It seems positive, but it's also unsure, hinting at that self doubt that lurks within us all: those moments where we question ourselves. It's subtle, but something you can't miss once you find it. Somewhat unsettling, but in a good, challenging way.
Another from Sean's debut that stands out for several reasons. It has an apt title, as the trip it takes you on is something of a mystery. The lyrics encompass a fight with a lover, introspection and a touch of the philosophical. And it seems to be about three songs in one, moving from a gentle acoustic ballad, to grunge, to something that can't quite be defined. It points to the many directions in which Sean would eventually go musically, and highlights his strengths as a lyricist:
"Dreaming is a singing of the mind
And taste is like seeing to the blind"
Enjoy.
From Sean's second solo album, this song is nothing short of brilliant. Of course, I have to say that as it's one of my favourite songs. The melody is an earworm, and an interesting side effect is humming or singing it without realising whilst pottering about the house. And it is a very pleasant earworm at that. It is a love song with several stand out lyrics, and one to ponder on, for instance:
"Love is like a hurricane
You know it's on the way
You think you can be brave
Underneath the waves
If life is just a dream
Which of us is dreaming
And who will wake up screaming."
Basically, just listen. The album itself is accompanied by a film of music videos that are also worth checking out.
A quiet classic, that again highlights Sean as an emotionally sensitive artist. The best way I can think to describe this is as a song for when, to paraphrase Bob Dylan, "the bottom fell out." Music, when you are feeling depressed, can be a very healing experience. And this is one of those songs that is balm to the soul, in that it lets you know, you're not the only one who feels bad. There is a power in empathy of the right song at the right time.
This was a great surprise when I came across it relatively recently. Songs can mean different things to different people, and that includes the songwriter. For me, I find it is a good track to come back to time and time again in dealing with anxiety disorder, something I've dealt with since my late teens. It can be crippling, sometimes you can't explain it. The lyrics in this nail the experience on the head for me. That's when you know a songwriter is one to stick with and hold dear.
A short backstory to this is that in 2005, Sean met his current partner, Charlotte Kemp Muhl. In order to spend more time together, they formed The GOASTT, or The Ghost of a Sabre Tooth Tiger. And it is a brilliant partnership in terms of the quality of music that has resulted. There are several more songs I could add to this list from The GOASTT, but it would probably take up eye watering figures. "Schroedinger's Cat," from their first album, captures everything that makes The GOASTT great. Lyrics that read like top quality poetry, blending in a bit of science and philosophy. The song itself made Neil DeGrasse Tyson geek out on StarTalk, a science podcast that Sean has occasionally guested on. For the record, Sean himself has been described as a "Science Groupie" by Carolyn Porco. Charlotte, a wonderfully talented musician, has proven a great creative partner for Sean.
A song so good, The GOASTT did it twice! First was the folky tinged version on The Acoustic Sessions, then it was given a make over in 2014 for the Long Gone EP. The later version was perhaps best described by a good friend of mine as "deadly." It is a powerhouse of a song, in which Sean and Charlotte duet. It's certainly a soundtrack to the modern age, the refrain of "Wake me in a thousand years, when computers can shed tears" hitting a chord for the more IT fatigued moments of existence.
This is where The GOASTT hit their stride, becoming an all out 21st-century psychedelic rock band, miles away from the turgid mainstream, and in my case, reinvigorating an interest in current music. Lyrically, it is brilliant and musically, it soars. The video is a take on the madness of the 1960s Flower Power era, albeit a fond one. Listening to this leads to one conclusion. The GOASTT is definitely one of the best bands to come out of America in the last decade.
And a warning to those who get their knickers in a twist about such things —video features some nudity.
It's perhaps putting mildly to say that when Les Claypool, of Primus, got together with Sean to collaborate on Monolith Of Phobos, an explosive match in music heaven occurred. They toured all over the States in 2016, leaving many fans slavering in anticipation for more. Somehow, the two gelled in a way that's just right. Boomerang Baby demonstrates how far Sean has come since his debut and his prowess as a lyricist of observation, this particular track being a scathing commentary on the way in which people can be addicted to living life through social media, the gutter news and just how isolating life in the 2000s can be.
The only cover version to feature in this list, purely because it's great. Satori was originally released by Japanese psychedelic group The Flower Travellin Band. One thing The Delirium has become renowned for is their interpretations of psychedelic and prog classics, which make up the EP this song features on. Les Claypool is already highly regarded as an innovative bass player. What this particular track shows is that Sean is also of similar formidable excellence as a guitarist. Lime and Limpid Green is due for release on August 4, 2017, in a rather fetching green vinyl and as a digital download.
alternative
bands