Daddy Stingray Returns with his Sweet Talkin' Symphony
Mt Kisco Dad Release CD of Songs that Definitely Sting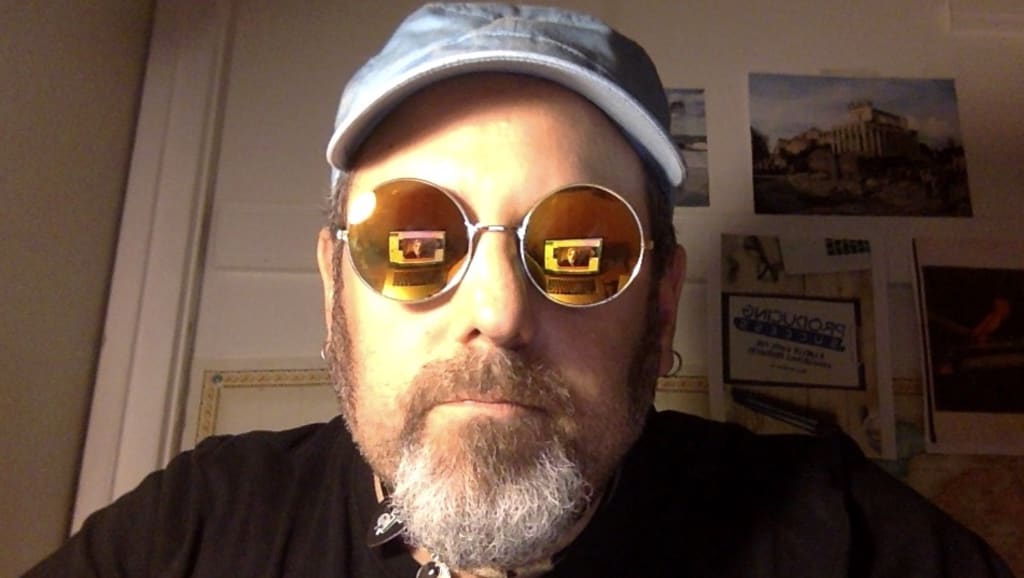 Who knew that without Daddy Stingray the world we know would barely exist. All the more remarkable since his musical sting and songwriting only blesses us every 15,000 years. In the desolate interim, Daddy Stingray lives in a cave nestled beneath a volcano. But he does at least make frequent appearances as Dave Hoffman - father, husband and entertainment scene professional.
Subverting the domestics and professional duties, Hoffman recently emerged from the ashes and took to the studio with Gorilla River Records. "I have all these ideas in my head that I have to get out," Hoffman's alter ego took over.
The blessing this time returned the five song CD, Sweet Talkin' Symphony. "It blends theatrical hard rock stylings, sensitive storytelling, and meditations on work and home life," said Daddy.
Sweet Talkin
As expected, the title track stings. Sweet Talkin' piles on the hurt and Daddy's rasp aids an undertone of anti-authoritarianism.
Out here in the garden/Where every day is as if on cue/We give you a list of things you can do
A little 2+2=5 and Room 101 of everyday life prevails. On the other hand, Daddy refuses to let state sanctioned rule rub it in. "Here in the asylum, don't go looking for the door/We're playing a hit so get out on the floor," the guitar grinds hard alongside Daddy's coarse...
Fireplace Feeling
But real life provides a reprieve in Fireplace Feeling. A folksy twang, Dylan and Guthrie are evoked, and let's us know that things aren't so bad. This especially if there's someone to chill with.
You don't have to be alone/Outside it's cold/And I hope I have the fireplace feeling when I'm old.
If the message is missed, Daddy makes sure to shed light.
You're not alone, You're not alone/When that feeling comes upon you/You feel the the warmth/You see the light/Just put your head upon my shoulder and take some shelter from the night.
I Don't Wanna Go to Work
Of course, a sense of humor is necessary when spending multiple millennia under all that magma. "Unless you have job like Captain Kirk - let me hear you say it….….I don't wanna go to work, Go to work, go to work! I don't wanna go to work," the refrain titles this entry.
His guitar strum of quirky rock is just as irreverent, and there's plenty of playful throw-ins. "Work is no place to meet chicks/everyone at work are dicks," his childish whine serves a purpose.
But true to form, Daddy Stingray can't hold back when it comes to doling out a little social commentary.
Don't be stupid/Don't be mean/Working oils the machine.
He does like this particular job, though. "But there's nobody I'd rather work with than you," he praises his audience.
Don't Be a Fool
However, being inspired by the "Gods of Creation and Chaos," the stinger back tracks on the adulation and questions loyal fans who look to him for guidance.
Woke up this morning and pulled the hair from my face/Looked at all the people who were lying around my place.
Don't be a Fool, Daddy doesn't hold back and really hits the blues guitar hard to get the message across. His harmonica blasts leave no doubt either.
Worried About You
Daddy does let up and returns the laid back strum for Worried about You. Nonetheless, you can feel him pulling at your heart strings with haunting lyrics.
She prayed for me and stayed up late/And asked me why/What were the reasons she made herself bleed/And threw away the knife and said for sure/This is the way it has to be.
Worse yet, when others add to the normal trials and tribulations, matters are always complicated.
They were all pushed aside when you were late/But behind their worry lies hate.
Still, Daddy knows love can elevate and spring any trap.
They used to look at us like we were strange/But now their worries are all out of range/They were worried about you, worried about me...We'll make it together.
But his 15,000 year hibernation cycle has a very good chance of being altered. So Daddy Stingray should be there to join forces and help take the string out of all the uncertainty.
Click for Daddy Stingray and his music
Please like Rich Monetti's page on Facebook
Reader insights
Be the first to share your insights about this piece.
Add your insights