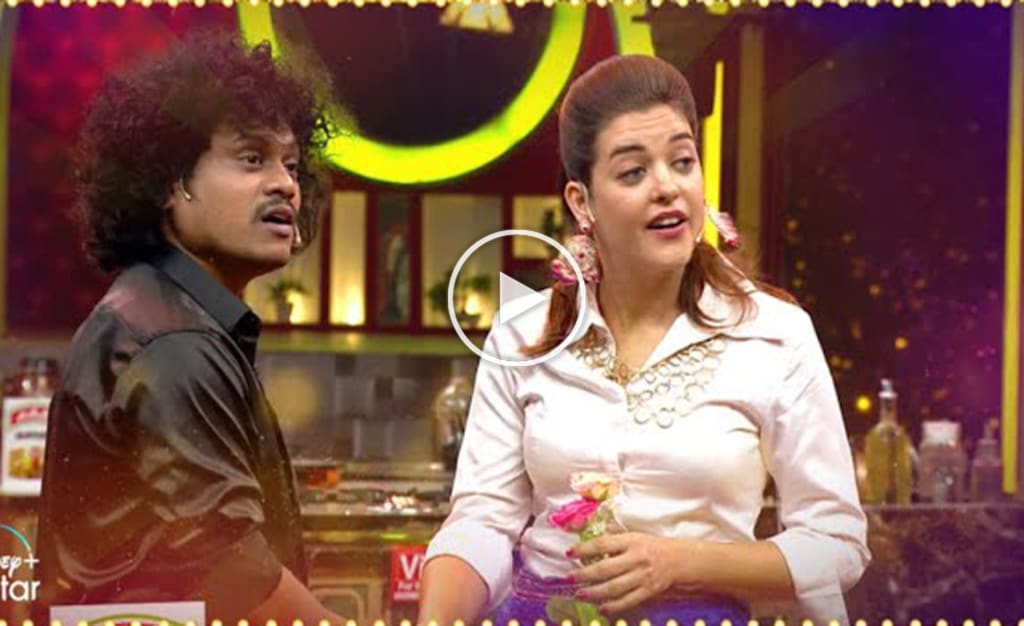 CWC Season 4
Cooku with Comali (Season 4) is the upcoming fourth season of the Tamil reality cooking TV show Cooku with Comali,[1] that will launch on 28th January 2023.on Star Vijay. Over four years, Cooku with Comali has rolled out three seasons and Rakshan has officially once again been appointed as the host for the fourth time. Chef Damodharan and Chef Venkatesh Bhat as the Judges.
After 3 successful seasons, makers released the new season with new contestants and new comalis.Cooku With Comali Season 4 will be hosted and presented by Rakshan. Talking about the start date and timing, Cooku With Comali Season 4 will start from 28th January 2023, Sat-Sun at 9:30 PM replacing Bigg Boss 6.
Watch CWC 4 Promos Below:
Expected Cooku with Comali Contestants
Vichitra
Thamarai Selvi
Kishore Rajkumar
VJ Vishal
Srushti Dange
Sherin Shringar
Raj Ayyappa
Priya Bhavani
Archana Chandoke
Cook with Comali Comalis
Sunita Gogoi
Manimegalai
GP Muthu
Monisha Blessy
Singapore Deepan
Otteri Siva
Raveena Daha
Silmisam Shiva
Bala Jaganathan
Monisha Blessy
Cook with Comali Game Format
The competition is much more difficult because each pair of chefs and comalis must complete a series of humorous and painful obstacles while working together to prepare the meal. Despite these challenges, the competitors must complete their tasks and present the chef with their finished dishes.
Competitors get eliminated from the competition one at a time, with each elimination being determined by how well they perform. The round of occurs during one week, and the round of immunity occurs during the following week. The immunity challenge winner must prove their worthiness to remain in the game throughout the week. In the end, the person who has overcome all challenges will win.
In the end, five competitors will remain for the tournament's final round. The most well-known chefs in the world, Venkatesh Bhat and Chef Dhamu, will serve as judges for this season of CWC.
After the end of Bigg Boss Vijay Television fans is cheering up for the upcoming season of Cook With Comali. The cooks and the comalis lists are revealed in the promo. The comali's include Pugazh, Sivaangi, Sunitha, Kuraishi and others. The cook with comali season 4 promos give a good vibe to their fans.
Comali Details
1. GP Muthu
Originally a tik-tokker, G.P. Muthu later began posting videos about the postal letters he obtained from abusers. Because he doesn't hesitate to read and post such letters, he has become famous in the past few years. Gp hails from the unnamed Tuticorin town of Udangudi. Nonetheless, he is the face of his city. He gained notoriety and participated in a number of YouTube interviews, where he attracted genuine fans and won over his critics. He participated in Bigg Boss season 6 and played the role of a solo warrior. Muthu purposefully left the house by himself to see his son. He now turns his gaze on the upcoming season of the popular reality series Cook With Comali.
2.Otteri Siva
Otteri Shiva is a YouTuber and maker of media files. He has a sizable following on social media, particularly for his hilarious and quirky clips on Instagram. His Youtube channel's dialougue, "Lavvadi-Love You Di," earned him a reputation, and as a result, he became popular and well-known. Siva now makes his maiden appearance as a comali in the 4th season of Cook with Comali. He clearly conducts himself in a comali manner, so he could be the right content provider there.
3. Sunita Gogoi
Sunita began her journey in the Tamil television industry with the fifth season of the programme "Jodi No. 1," where she ranked fourth. She also appeared on Jodi No. 1, Seasons 8 and 9 (2nd Runner Up). She made her first appearance in the Tamil film industry in 2012 with the film "3." Sunita then appeared in Kanchana 3 by Raghava Lawrence. She launched her private YouTube channel, "Sunita Xpress," in 2021 and quickly racked up more than 606K subscribers. We can anticipate Sunita to crack remarks of that nature because she was a participant in the previous season and went viral for her clumsy Tamil pronunciation.
4. Raveena Daha
At the age of 4, Raveena started performing in the Tamil television series Thangam, which aired on Sun Channel in 2009. In her career, she has contributed to over 15 television series. She acted in prominent serials such as 63 Nayanmargal, Shanthi Nilayam, Vasantham, Ramanujar, Bhairavi, Chandralekha, etc. In 2016, she first appeared in the Tamil movie Katha Solla Porom. She garnered a lot of praise for her performance in the Vijay TV series "Mouna Raagam" and then appeared on various reality shows both as a guest and as a participant. Eventually, she wanted to be involved as a Comali in the fourth season of CWC.
5. Monisha Blessy
Monisha Blessy is an entertainer, comedian, and social media influencer. She gained notoriety for her acting work on the well-liked YouTube page Black Sheep. She previously took part in season 8 of the popular reality show KPY on Star Vijay TV. In the Maaveeran movie, she portrayed Sivakarthikeyan's sister. In Season 4 of Cooku with Comali, Monisha Blessy is a brand-new comali.
Reader insights
Be the first to share your insights about this piece.
Add your insights