'Blue Moves'
Elton John's Not Quite as Successful Second Double LP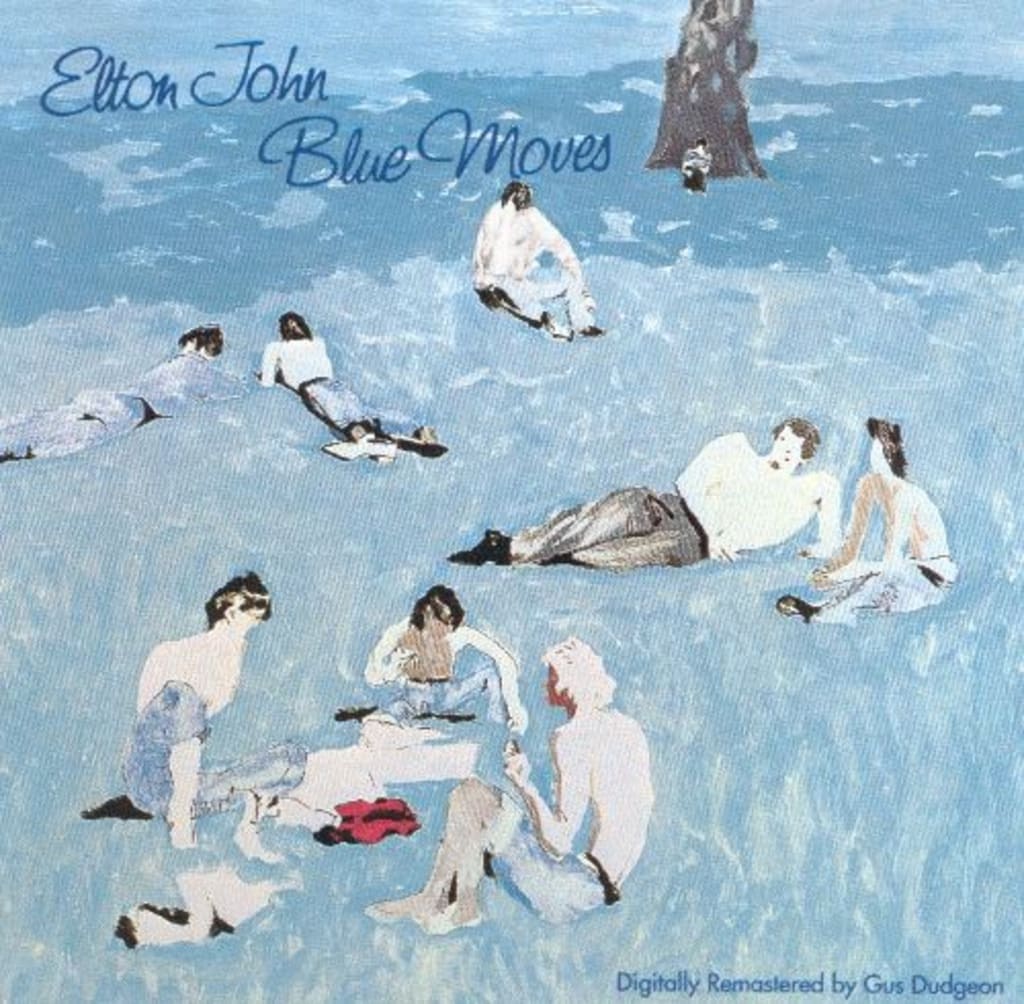 After riding high in 1975 with two number one albums and still getting kudos for his 1973 double disc monster Goodbye Yellow Brick Road, it must have seemed to make sense for the always-prolific Elton John to attempt another double album in 1976. However, the album Blue Moves, mostly recorded in Toronto Canada and released in October 1976, was released to a rather lukewarm critical reaction and to this day, many see the album as an abrupt end to Elton's "classic years."
The passing years have not made these assessments seem wrong. While the album has a number of excellent songs and one cut that is considered a stone-cold classic by MOR and even jazz singers, the album is no Yellow Brick Road. The influence of the Band had by now completely disappeared from both the music and lyrics. What remains is many saloon songs and ballads that often come off as underdeveloped, underproduced and under arranged. The few rock attempts fall flat. For large stretches, the album is fully lifeless. And as many multi-disc sets are, overstuffed with mediocrity that begs for editing.
The album opener is the serviceable "Your Starter For..." a brief but sprightly instrumental composed by longtime Elton associate, Caleb Quaye. This leads directly into the underrated ballad "Tonight," which shows off the orchestral arranging skills of James Newton-Howard, keyboard player for Elton's band at the time and today one of Hollywood's foremost film composers. The song is a gentle ballad pleading for peace and silence amidst a volatile relationship.
"One Horse Town" earns Newton-Howard a co-write with John and Bernie Taupin. It is a rather upbeat song on an otherwise mostly downbeat album. It is lyrically about someone living in a small town in Alabama with nothing to do. This album spot would have been well-served by one of Elton's rock workouts, but this song is fairly forgettable and to an extent saps the effectiveness of the opening medley.
Chameleon was initially written for the Beach Boys to record but they turned the song down. Instead former (and future) Beach Boy Bruce Johnston arranged the backing vocals done by a group consisting of Toni Tennille (of Captain & Tenille fame), Curt Becher, Clark Burroughs, Joe Chemay, Jon Joyce, Cindy Bullens, Ron Hicklin and Gene Morford. Not a terrible song but by now we see that Elton has been reduced to writing middling ballads.
"Boogie Pilgrim" features co-writing credits from Guitarists Caleb Quaye and Davey Johnstone along with John/Taupin. It is pretty much lightweight filler but is heightened by horns provided by Barry Rogers, and Michael and Randy Brecker, the well-known brother act who had appeared on albums by the likes of James Taylor and Bruce Springsteen.
"Cage the Songbird" is an excellent ballad concerning the death of legendary Torch Singer Edith Piaf. (The song implies Piaf died by suicide but she actually died of liver cancer.) The song is strong enough that we'll skip comparisons with its Marilyn Monroe predecessor, and while not a classic production, it does feature David Crosby and Graham Nash on backing vocals. The song would later be the title track of an LP by Elton associate Kiki Dee.
"Crazy Water" is probably the best uptempo song on the album and again features Bruce Johnston's team of backing vocalists. It is heavily driven by Ray Cooper on the congas and was a featured song on Elton and Ray's performances as a duo.
"Shoulder Holster" is another mid-tempo song enlivened by the Brecker Brother's horns and saxophonist David Sanborn.
Opening side two is "Sorry Seems to Be the Hardest Word," the aforementioned classic, which might just be the most covered song in the John/Taupin catalog (save perhaps "Your Song" having been covered by Ray Charles, Joe Cocker, Mary J. Blige, Diana Krall, and many others. Not a personal favorite, but one can't deny its effect.
"Out of the Blue" is another instrumental filler track. While the musicianship of the band is superb it really feels like it might be one instrumental too many.
"Between Seventeen and Twenty" is another collaboration of John/Taupin with Quaye and Johnstone, and once again featuring Bruce Johnston's backing vocal crew. The song is about young love, bitterly reflecting on Taupin's relationship with his then-estranged wife Maxine
Crosby and Nash return to support Elton vocally on "The Wide-Eyed and Laughing" Davey Johnstone contributes sitar to this track giving it a unique, late 60s flavor, but we really begin to think that this album has no real focus.
"Someone's Final Song" is next, and seems to be a more serious take on suicidal feelings than the rather goofy "I think I am going to kill myself" on Honky Chateau, and features a full choir. But then so does the next song, the goofily named "Where's the Shoorah?," which is a piano and organ driven-ballad that goes nowhere.
Next is "If There's a God In Heaven (What's He Waiting For)," a good title for a Stevie Wonder song, but here as straightforward a rocker as we get here. As the title suggests, there is questioning why there is so much suffering in the world. It does feature the orchestral arrangements of Paul Buckmaster.
"Idol," a soft jazzy tune, is next with Roger Pope playing the drums with brushes initially and the Brecker Brothers Trumpets and David Sanborn's Saxophone adding additional color to the song.
"Theme from A Non-Existent TV Series" is yet another experiment in the instrumental filler.
"Bite Your Lip (Get Up and Dance)" is no "Saturday Night's Alright for Fighting," but it ends the album on a welcome rock out note and if you made it this far, it concludes the album on a high note.
It's hard to say what wrong with Blue Moves. Obviously, it could have been a single disc—and maybe each song could have been worked on a little more assiduously. Even with star guests and some exemplary songwriting, too many songs feel like Elton is making a demo on a shoestring rather than working on a major album with a superstar budget. In short, it feels rushed as though filling two discs somehow trumped making a solid album. And where Goodbye Yellow Brick Road rewarded consumers with laying out the two-LP cash, Blue Moves got bad word of mouth from those who dug deep and never got the secondary sales.
It was, in many ways, the end of an era, the last time Elton would work with producer Gus Dudgeon for a decade. Soon after Blue Moves, Elton would disband the band and retire from recording and touring for a few years and he would not release another album for two years. Clearly, he must have accepted the fact that much of Blue Moves sounds like the work of a tired, tired artist.
70s music
Writer, Drummer, Singer, Percussionist, Star Wars and Disney Devotee.
sclifeonthespectrum.wordpress.com
Receive stories by Sean Callaghan in

your feed