Best Day Ever
In honor of Mac Miller
March 11, 2011
This song effected my life in so many ways. I can confidently say I can most likely speak for many others with that statement as well. In honor of Mac Miller I would like to take everyone reading this back to 2011. You're about to get out of school for summer time, you just got your drivers license, you're listening to Mac Miller in the car blaring his new song "Best day ever" with your friends pulling up to the school parking lot and everyone knows the words singing along feeling on top of the world with zero worries.
Mac Miller, best day ever, and all his music takes a lot of us back to some of the best and worst times in our life. It was the only thing keeping us happy. It helped many with drug addiction, suicidal people, and the ones struggling to get through rehab, or life at that. Best day ever is a song that also takes you back to High school parties, spring break, getting over break ups because it has that feel good to it, and it's takes you back to young aged memories that you'll never get back with people you'll never get back.
Mac Miller was a kid just like us in school and became very relatable for a lot of people at the time. He pursed Rap and made something of himself and his fans including myself grew with him. We also saw his pain through his music because he shared his life and for that it truly set him apart making him one of a kind for that. Not a lot of artist can connect with his fans like he did.
September 7, 2018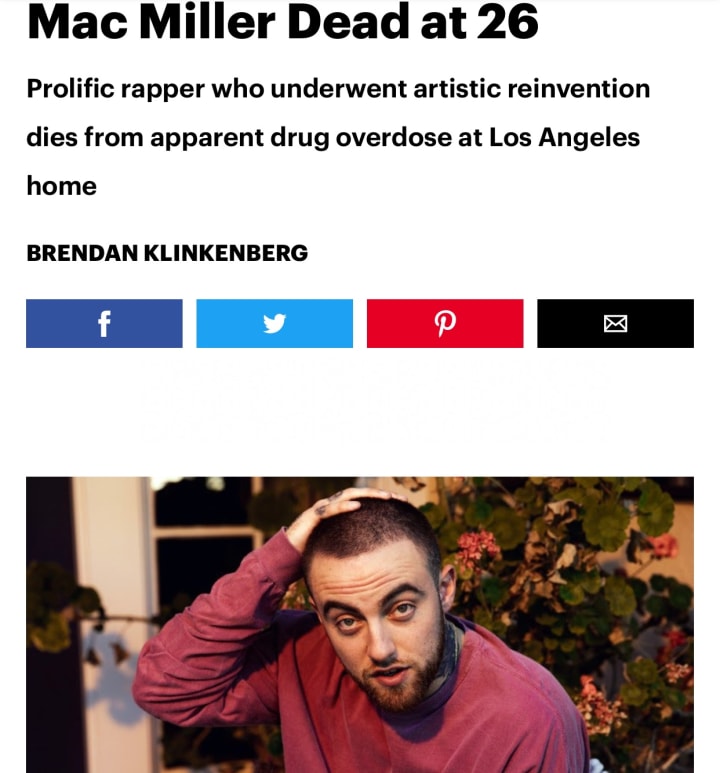 This unexpected date wasn't a new Mac Miller album, it was the date that turned all the songs like "Best day ever" into mourning. It's the date Mac Miller left us here on earth. It's a date I take personal. It's a date I take to heart. It's a date I won't and many won't forget. The pain his true fans experience with this loss is very much real. It hit many hearts deeply to hear the news. The song "Best day ever" became a permanent mark in a lot of our hearts along with many other amazing songs we adored from him. Sometimes it's like he knew he was going soon, it's like he knew his addiction would take him to a higher place. Mac being gone didn't cause his true fans to forget him and just when we thought the pain was starting to get better, Mac left us a gift for the new year of 2020. His team released his latest album to the public and it couldn't have been more perfect timing for a lot of us. The world was touched by this because it's an album we truly needed to heal from his loss. It was like his goodbye to all of us and now we have closure.
Best day Ever's music video ironically is one of the hardest to watch because it starts with Mac in his young elementary school age. It was so pure and bittersweet to the point of unbearable to watch for months after spending years still in love with this very song he released in 2011. This music video with "Best day ever" truly showed how deep his passion to create music was. He lived and breathed to do what he did. We all may never truly know his inner demons he was fighting, we may wish we would have sent him more love, but I know none of that would change a thing. Addiction is a terrible epidemic and reaching an addict is impossible because it's a battle they have to overcome for themselves. Mac was a fighter, he wasn't weak, and he taught us through his death to cherish the people you love because any given day you could wake up and not see them anymore wishing you would have said or did more. Mac is in a better place, forever in many of our hearts, and I will continue to allow best day ever to bring me back to all the good memories it created and left me with. We love you.
Rest In Peace Mac Miller.