Album Review: Sum 41 - 'Order In Decline'
'A throwback to the grit and heaviness of the rock music that most of us fell in love with.'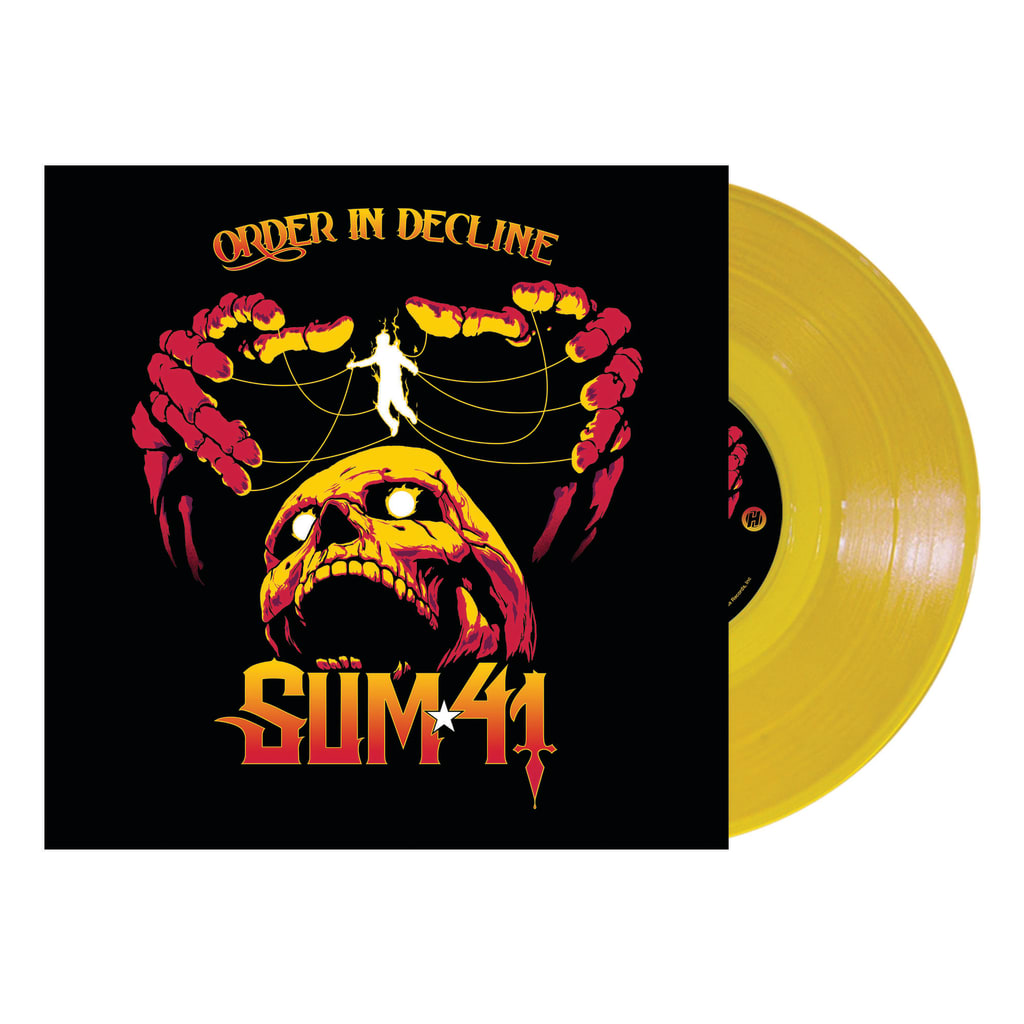 Put in the briefest terms, the seventh album from Canada's Sum 41 is a vision of a tense, angry and divided world, clearly in a sad state of affairs when it's evident that Deryck Whibley is, just as he was on 2002's 'Does This Look Infected?' still waiting for the world to stop hating. Aptly, accompanying such dark subject matter is the quartet's heaviest sound to date, closer in blood to the punkier vibes of Green Day and even the heavyweights of metal than to their pop punk upbringings, which serves as the backdrop to lyrics which venture into both personal and political territories.
While the album never reaches the epic, rock opera-esque heights that early highlight 'Turning Away' promises, what Whibley and Co. do offer is solid and impressive nonetheless. Lead single 'Out For Blood' arrives sounding utterly thunderous - it's fast, it's punchy and full of the venom of which Deryck Whibley spits plenty across the record. Its blend of horror punk attitude and metallic guitar soloing will have the rock purists in particular sighing in relief, and admittedly, a guitar band that wants to remain a guitar band in 2019 may be quite nice to hear for some. However, while this slick new heaviness suits the band well and there is just enough variety to prevent tracks from blending into each other, the softer ballads on this record are certainly not to be underestimated. 'Never There' is one of the most personal songs the band has ever put to tape, being the only song written to date about Deryck Whibley's father, whom he has never met, which provides an intimate moment of respite from the raw angst of the tracks that come either side of it. Equally, closer 'Catching Fire' ends the album on a quieter, more pensive note as Whibley's personal feelings and the influence of the wider world combine as he ponders how life would be if he was in the position of the loved ones of those like Chris Cornell and Chester Bennington who we have lost to suicide in recent years.
Elsewhere, it becomes interesting to note, when listening to this album, that the songs you hear were never intended to be overtly political. We get, in turn, a lyric book that reflects the mindset of a man going about his own life and dealing with his own thoughts while remaining tense and troubled as he looks at the world around him. While '45 (A Matter of Time)' stands apart in its directness, seeing the band attempt to start a Rock Against Trump movement all by themselves, it seems that on tracks like 'Heads Will Roll' it is unclear whose voice we are hearing - Whibley himself, or a Trumpian leader? - and if this was intended, it's certainly unique, and definitely clever. However, aside from the more personal ballads previously mentioned, most of the songs adopt the same formula of deriding the political climate and the hate it has produced, and it doesn't take long before the lyrics all seem to say the same thing and each song serves the same purpose. It makes sense why the album is only 10 tracks long - any more songs on the same subject would've simply made it feel bloated.
'Order In Decline' isn't exactly 'American Idiot' for the Trump era, but it was never intended to be, and it doesn't need to be. In spite of its flaws, this isn't a record to be written off, especially for the world-weary fans and rock lovers alike who will relate to the frustration and tenseness within these songs. This is a throwback to the grit and heaviness of the rock music that most of us fell in love with, with its own modern twist, and in that light, it is a success.
7/10