Ageism in Kpop?
Plus, How I became a Kmusic fan & my top three favorite artists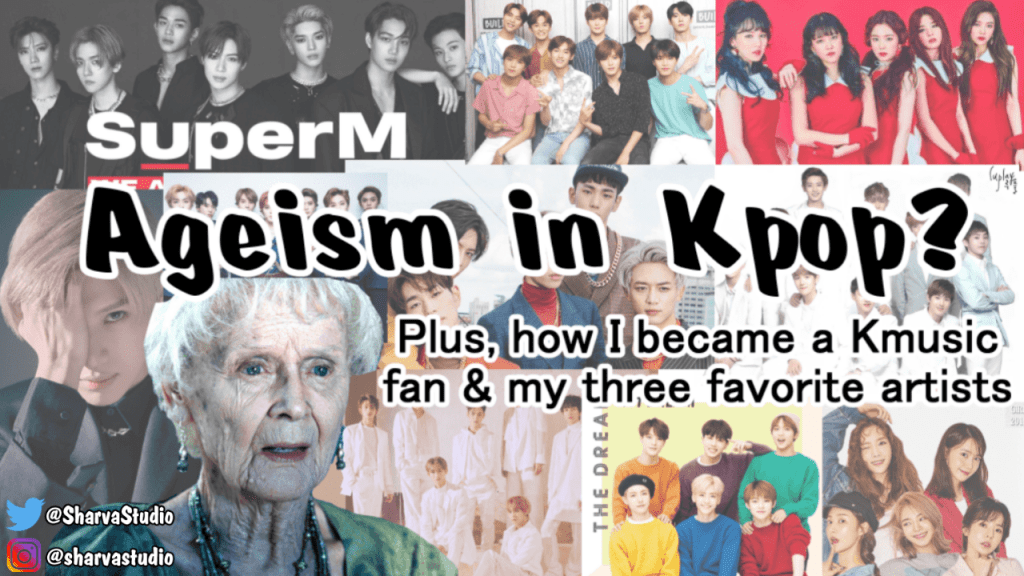 Is there ageism in the Kpop community??? I define ageism as people who are treated negatively or unjustly because of their age.
I'm 26 now but I do remember a time where I experienced Kpop with my parents a few years ago. We were watching some sort of event on TV. This group started performing and they were singing in Korean. My parents and I were very impressed by how skilled they were. My parents said they may not understand a word these dudes are saying but they sure can put on a show!
Now, Kpop fandoms aren't always filled with unicorns, rainbows, and talented stars. There's always drama somewhere. But when it comes to age, I rarely see it. For Example: (The usernames of these posters will be hidden)
The original poster (OP) below has a complaint about older fans being disrespected & being allowed in group chats due to their age. Also, noted that they hate when older fans are called hags.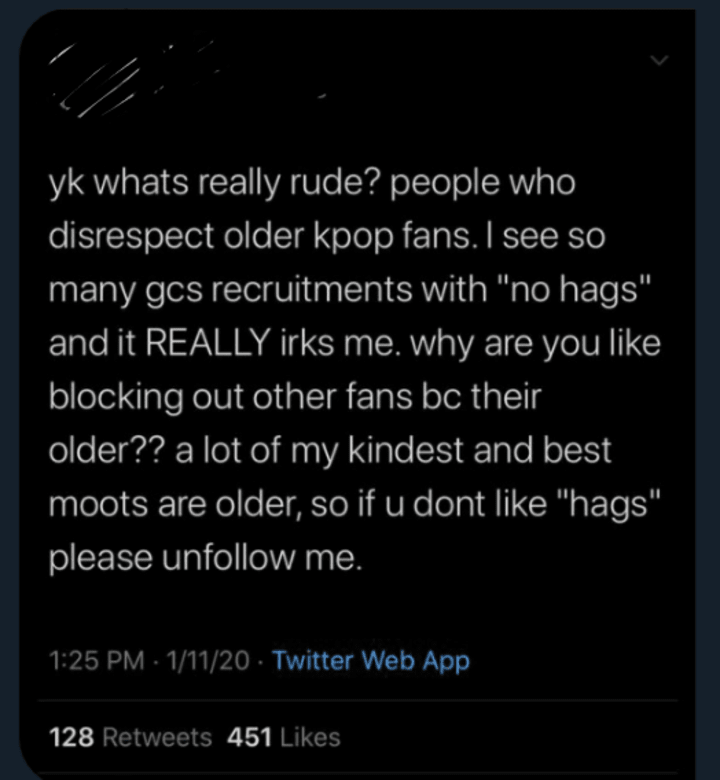 Then a couple fans tweeted OP with their opinion on the situation and discussed how this tweet made them feel uneasy.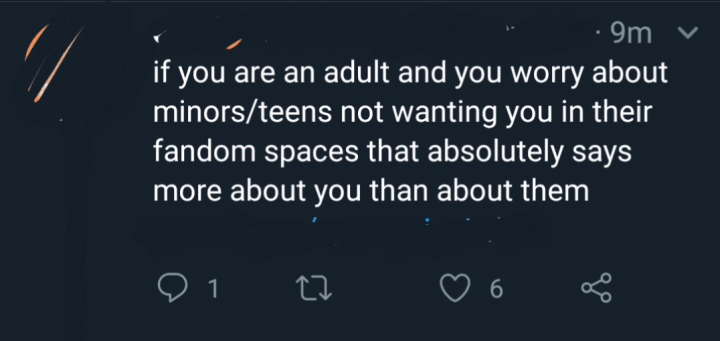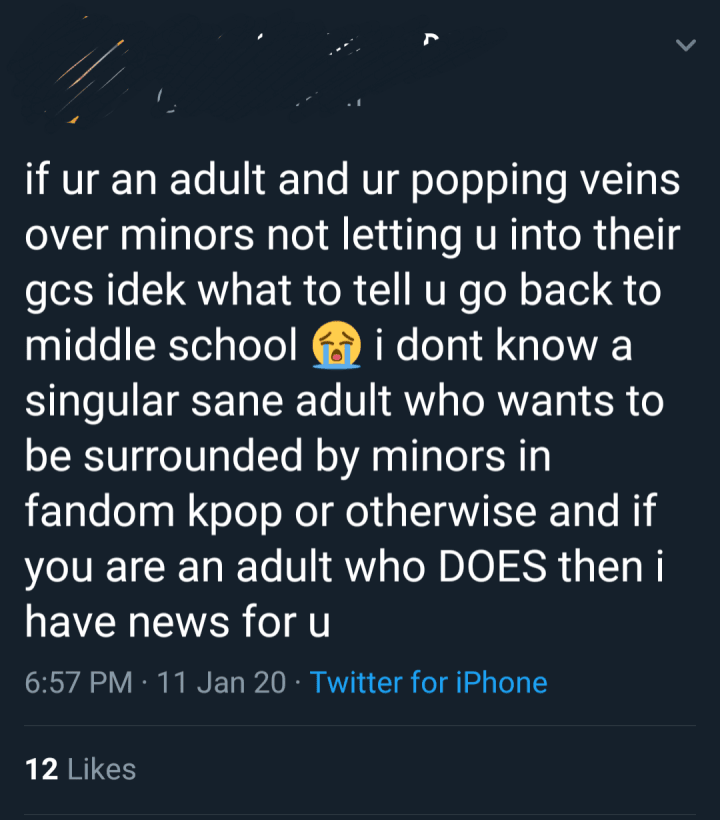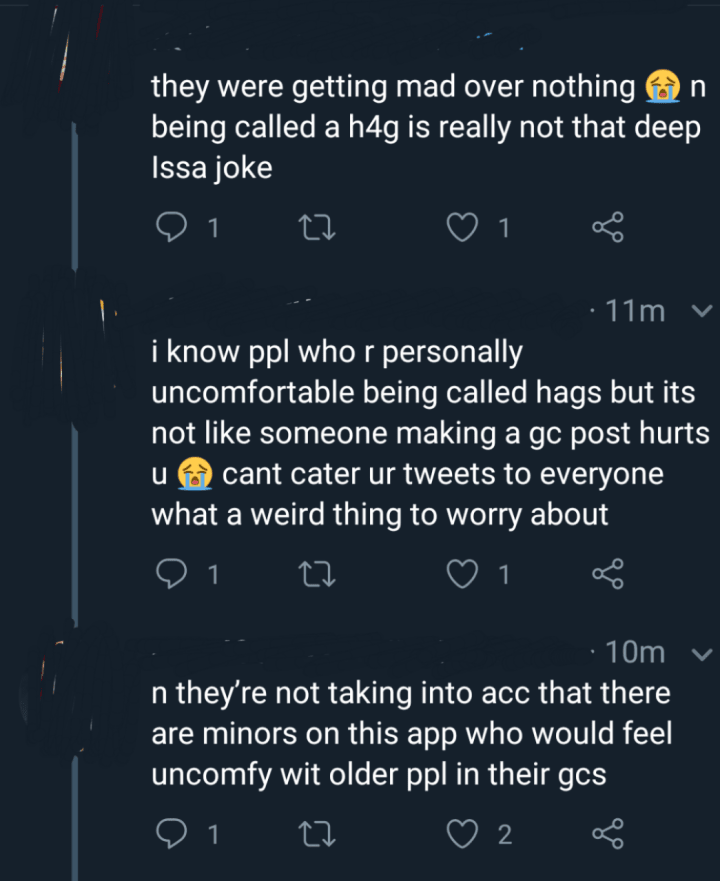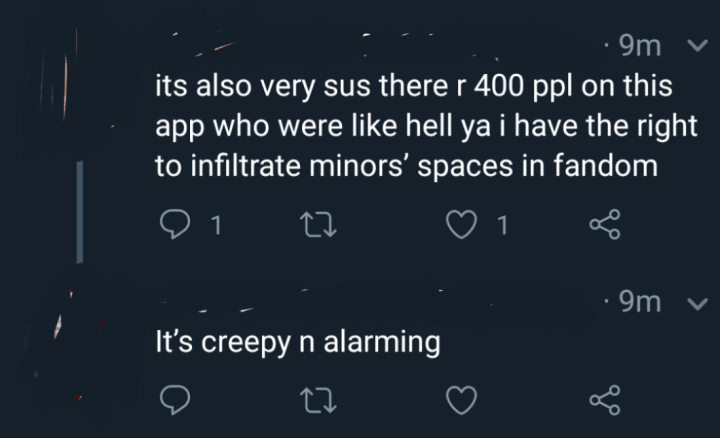 While this conversation was taking place, OP had more to add to the discussion.
By this point, OP started getting replies to their tweet and decided to add a few more points. Then offered an apology about wording their tweet wrong.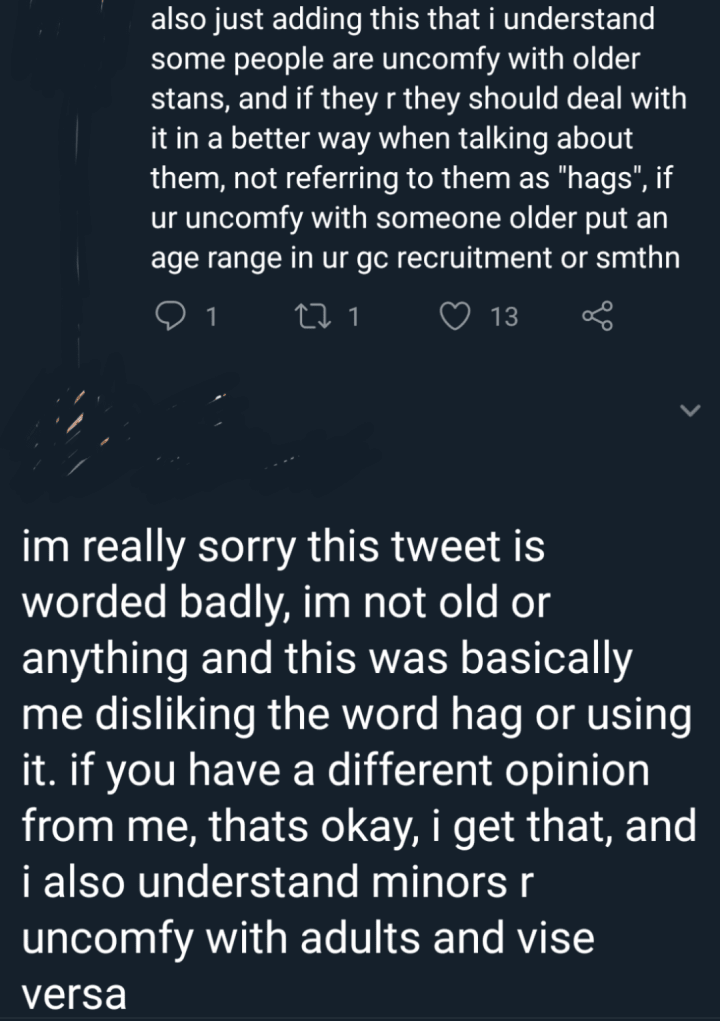 I'm assuming OP didn't stop receiving replies to their tweet. Apparently they were getting tweets from upset people & trolls began calling her "hag". OP then deleted the original tweet and apologized again.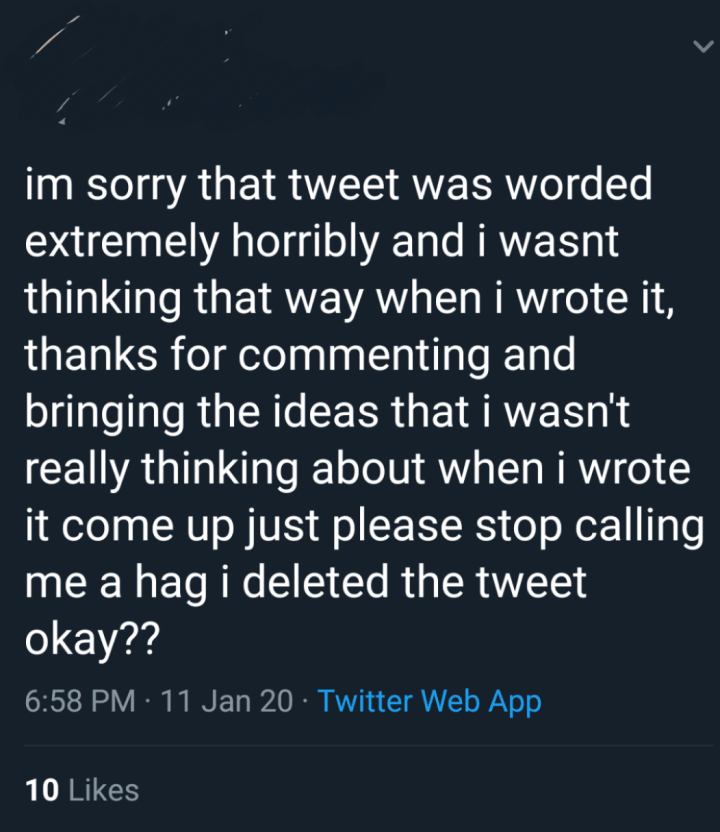 Mind you, I usually try to steer clear of drama, especially on social media. Besides this particular situation, I've never seen any issues regarding age of fans. Maybe I'm lucky & following the right people? I will say sometimes I've seen tweets of people invaliding each other using age or looks. Someone will give an opinion and the first thing people do is attack their age and physical appearance. Whether young or old, none of that has anything to do with your opinions. Again, I personally don't see this happening often.
In Conclusion: To me, it seems to be more about who you are as a person than your age. Are you nice & peaceful? Or do you constantly start unnecessary drama? No matter your age, your actions/words matter the most. We all have something to contribute to this community. Don't worry about your age and be a decent person. Just enjoy the music, make nice memories, stay away from drama, and have fun.
As a 26 year old who's new to all this, how did I get into Kmusic?
I didn't grow interest in it until I heard this song playing in the background of a YouTube animation. The song had some English lyrics so I googled those. The song was called "POP/STARS by K/DA and I found it on Spotify. Let me tell you, I played that song WAY too many times, over and over. Then Spotify started recommending songs to listen to. It was in that moment, I found SuperM. Their first mini album hadn't been released yet. So I watched all the trailers/teasers on YouTube. I practiced learning the members' names as well. All of this was so new to me but I wanted to get their names as right as possible. Their individual video concepts and the visual effects/editing blew my mind. Korean music videos have so much going on. It makes me want to re-watch the videos again and again. Jopping came out a few days later and it was my jam for weeks. I've supported this group ever since. I've never been to a Kpop concert. I hope to go to my first one this year. I really want it to be SuperM. Because of them, I have found other K-artists/groups to listen to.
Let's go through my three main artists who have brought joy into my life but in the same breath, they wrecked it. They were the first to catch my attention. PSA, younger artists are very talented as well and I respect them. But as a 26 year old, I normally stick to artists whose age is close to mine.
First K-artist pick is.....Kai from EXO.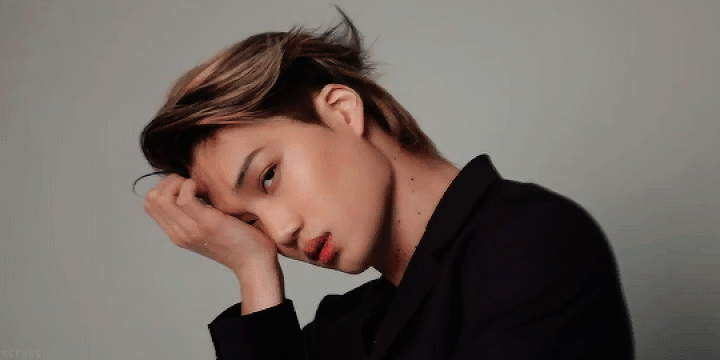 Fun fact, Kai and I share a birthday (January 14th), although I'm one year older, which I think is adorable. His dance skills and the confidence he showed during performances entertained me. Like, who does this guy think he is?! Having to watch him wink and smirk at the camera upset me somehow. I remember seeing a fancam of Kai dancing to Tempo (where he has the white hat) on Twitter. He was REALLY feelin' himself that day. His energy is so powerful and radiates when he dances. I saw more of his dance skills during the SuperM dance video (Kai's part is at 3:27). The way he moves is enchanting. His movements tell a story and it draws you in.
I very much enjoy his singing voice as well. To me, he has a very unique tone that I've never heard before. I later learned about Kai's softer side. He's basically a human teddy bear with a heart of gold. Watching him laugh and caring for children warmed my soul. To me, Kai is genuine, talented, and so much more. So, here's a Kai playlist so you can see how awesome he is:
Not so far behind Kai, this man sneaked up from behind and shook me.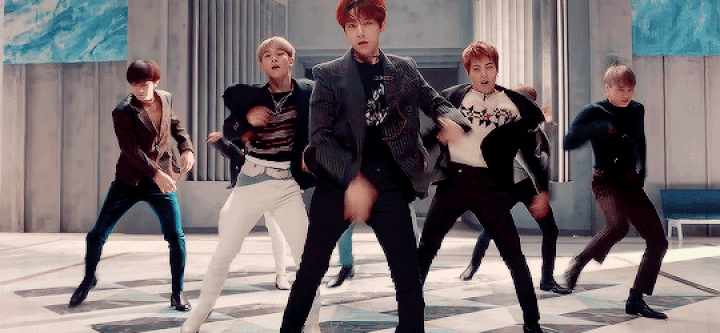 He is about a year & some months older than me which I find cool. Usually in groups I like, most of the members are years younger than me. You wouldn't be able to tell he's 27 because he looks like he was baptized in the Fountain of Youth. In Baekhyun's solo SuperM trailer, he had his serious game face on but all I wanted to do was squeeze his cute face. At first, I had no idea how to pronounce this man's name. So I called him Bae or Pinkie (he had pink hair at the time). When the Jopping video came out and I hear him sing, his voice was so smooth. Little did I know, he already had a whole mini album out called City Lights. Every song is perfect and there are no flaws to be found. His everyday style & looks reminds me of a 90s RnB aesthetic with the baggy clothes & parted hair. In his SuperM trailer, he seemed so cool, calm, and collected until I watched funny videos of him on YouTube. Here's a playlists of Baekhyun themed videos:
I came to the conclusion that this man is the goofiest coconut in existence. He's always wiggling about and/or joking around. He's funny, energetic, and such a joy to watch. He just has this bright aura around him and he's a favorite of many.
Now, this last guy really demanded my attention. For some reason, he peaked my interest the moment I saw him. My final pick is Taemin from SHINee. Look at him posing like the Kpop king that he is....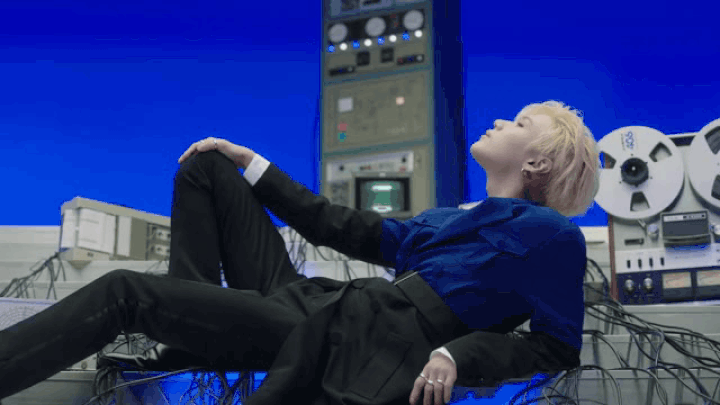 This beauty of a man is about 7 months younger than me. He kept showing up at the end of everyone's SuperM solo video. I was curious as to who he was. One of my favorite looks on him was this black & blue outfit. The way he looks deep into the camera hits different. This man has a stare that could pierce your soul. He has this unique and otherworldly vibe to him. Then I heard him sing...he voice is like a sinful angel. His dance skills are on their own level like in this SuperM Dance Performance Video (Taemin's part is around 1:50)
He has his own style that no one can copy and I greatly respect that. I had to go find more videos of him. I found that he's not just this untouchable superstar. Taemin is someone who will go far in this industry. There's something special about him. I want to know what goes on in his head when he's performing, writing a song, and/or shooting for a video. I admire his creativity and how humble he is. He's also super honest and has an incredible work ethic. He constantly inspires me to find my passion. I know he's going to continue to grow and I'll be here watching in awe. Because of these reasons & more, Taemin has become one of my favorite people. Enjoy this playlist of Taemin as well:
So, does age really matter in the Kpop community? Maybe you have a different answer. Let me know what you think. Also, who are some of your favorite K-music artists and why?

SharvaStudio
Writer / Artist
I discuss topics involving Korean/Black Culture, especially in the Kmusic community. I create art as well. Always learning new things! I hope we'll have great conversations.
My Socials: https://linktr.ee/sharvastudio
See all posts by SharvaStudio →