5 Guitarists You Should Know
The guitar game is changing, and here's who's on top.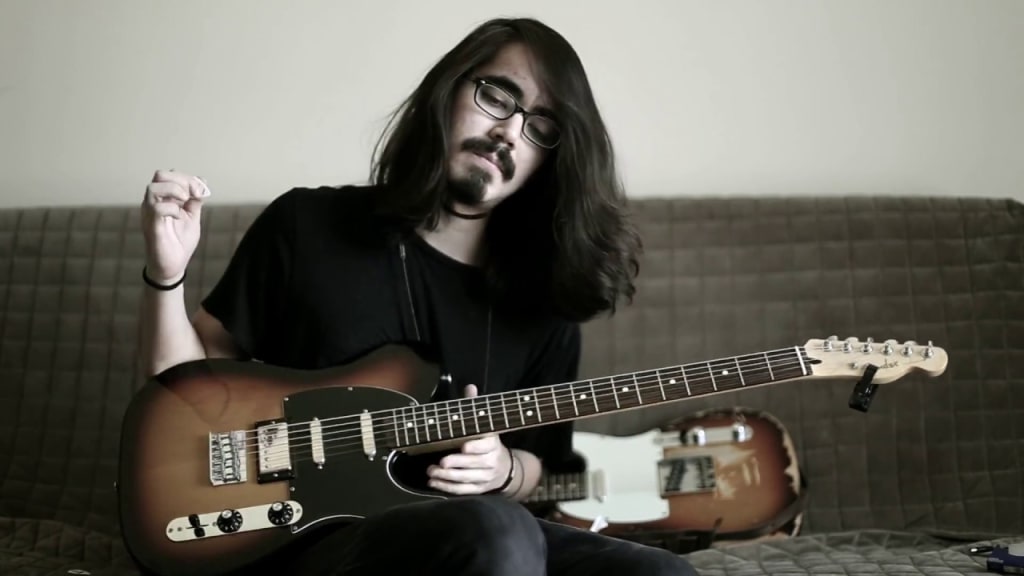 Mateus Asato, one of the top guitarists of the decade.
Hey everyone! Today I have a super exciting topic, and I'm really excited for you to read this. Today we're talking about guitarists, but we aren't talking about guitarists you already know. Well...you might know these players, but I want this post to be about players who have made a HUGE impact on the guitar scene in the last couple of years, players who are from where I am currently living in, and players who are changing the game with their innovative style and unique approach to creating music on the guitar. Let's get it.
Daniel Donato
First up on my list in Daniel Donato. This guy has been developing his modern approach to the classic, traditional sounds of country guitar since he was 14 years old. Coming from the Nashville musci scene, Daniel has always been surrounded by music, and it doesn't quite come as a surprise that his style sounds the way it does.
Daniel starting playing with local Nashville bands such as The Wild Feathers, Paul Cauthen and most notably The Don Kelly Band. Shortly after his departure with Kelly, Daniel signs to William Morris Endeavors, and is playing his own original country/bluegrass tuned backed by the Cosmic Country Band. This dude does not mess around, and you gotta check his work out. Daniel has done demos for Fender guitars, and is all over social media so you'll have no shortage of country goodness from him. I promise it's worth it.
Thomas McRocklin
Do you remember all of the classic 80s SHREDDERS? Well...McRocklin is basically the most hype shredder out right now. Being taught my Steve Vai, managed by Led Zeppelins manager and opening for Ozzy Osbourne when he was just 8 years old, this man has had some incredible opportunities, and none he didn't deserve. Thoma was featured in the guitar documentary "Legends of the Guitar" when he was 11 years old, alongside Eric Johnson, David Gilmour, Mark Knopfler and Tony Iommi.
If you skipped over the video, go back and watch it. Seriously. Did you do it? I'll be personally disappointed if you didn't. McRockins unique style and effortless flow have brought him serious fame in 2019. His Instagram BLEW up, and he has just opened up "The School of McRock" to allow players into the mind of McRocklin. I straight up cannot explain how amazing this guy is. He's bringing back the shredding guitar style mixed with vibing synthwave backing tracks with the project McRocklin & Hutch, and putting out killer instrumental music under his own name. Seriously, if you play guitar you need to know this guy.
Danny McKinnon
This next player is somehow extremely close to my heart, although I only truly found out about him a couple of weeks ago. Danny McKinnon is a guitarist working from Vancouver, BC, Canada and LA. Danny is currently playing with some of the hottest hip-hop musicians such as Anderson .Paak, Goldlink, local Vancouver based artists POMO and Tiny Havoc, singer-songwriter Berhana and the late Mac Miller.
McKinnon is mainly active on Instagram, and with 12k followers he's ready to bring his A-game to the guitarists world. The musicians he's working with are actively pushing the music industry to change and grow, stylistically and socially. People like Danny are super awesome, because he's a local Vancouver boy, yet he's killing it as a guitarist in the 21st century. Check him out, and listen to Goldlink.
Pedro Martins
This guy. Damn. Pedro is a multi-instrumentalist, guitarist, vocalist and prodigy from Brazil. He's flown into the global jazz scene with full force, working with musicians such as Kurt Rosenwinkle, Jacob Collier and Genevieve Artadi (KNOWER).
Pedro's been voted best guitarist in Socar Guitar Competition at the 49th Montreux Jazz Festival, and since then has been killing it on the scene. His unique live-streams on YouTube showcase him immense talent as a guitarist, composer and improviser. He's the latest face on the jazz guitar scene, and he's not going anywhere.
Check out his latest record VOX, and his work with Kurt Rosenwinkles band CAIPI.
Ichika Mo
Okay, now I didn't save the BEST for last...but I saved the wildest for last. Ichika Mo is a guitarist based in Japan but is known all around the world. He suddenly appeared online via Youtube and Instagram with this INTENSE crytal clean tone, mad chops and a unqiue way of playing the upper register of the guitar. While only being on the scene for a short while, Ichika is sponsored by Ibanez, and continues to put out incredile, tasty videos online.
His tasteful, sensitive playing has taken Instagram by storm. You should definitely watch all of his videos on Youtube, follow him in Instagram, and check out his EP "She Waits Patiently". It's all pure gold.
Thoughts?
Who would be on your list of top guitarists people need to know about? Let me know! Drop me a line, I'm always looking for new players to listen to, and I think musicians should always be looking for new inspiration.
Until next time,
John Marvin Scott