20 Songs That Totally Prove the 1970s Really Did Rock
It was more than a decade of disco and soft-rock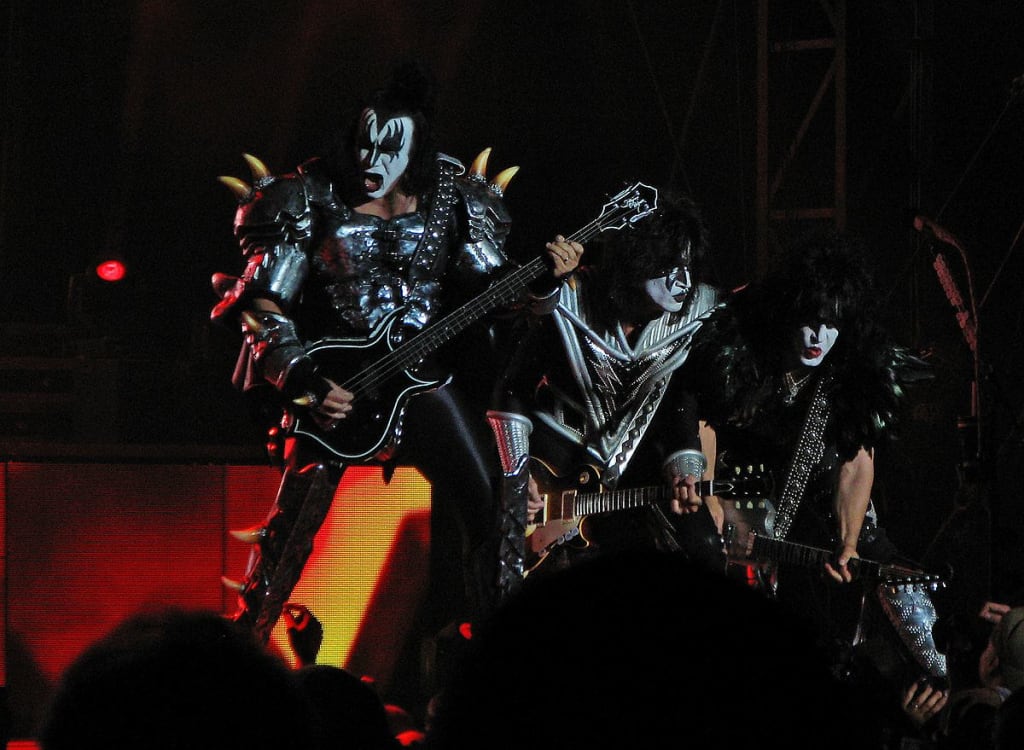 Image: Wikimedia Commons
As a proud member of Generation X, my teen years were heavily influenced by the punk and New Wave of the early 1980s. But the music that forms the core of who we are and what we like usually happens well before those teen years (my Springsteen epiphany occurred at nine years old with the 1975 release of "Born to Run"). So while I have previously written about great '80s bands like the Smiths and 10,000 Maniacs as well as more Bruce articles than any one person should, I have not given nearly enough attention to the fabulous decade that was the 1970s, my decade of discovery.
Ok, looking back over my articles, I see that's not totally true. I've written about the best soft-rock albums and some of the best live albums of the '70s, but the '70s were more than James Taylor and KISS Alive II, and for all of you who wore a '70s-themed costume to a Halloween party last month the decade was much more than the curse that was disco. Contrary to popular belief, rock did not disappear between the Stones' show at Altamont in December 1969 and the release of London Calling in January 1980 (in the U.S., a month after the U.K. release).
Here are just a few of my favorite gems that made the 1970s a great decade for rock. Some are obvious picks, some are deeper cuts from classic albums, and some you may have never heard of.
1. "American Girl," Tom Petty and the Heartbreakers (1976). The second single from Tom Petty's debut album (and buried dead-last on side two of the record), this is easily his most iconic and best-known song 45 years later, covered by no less than Taylor Swift in 2009.
2. "More Than a Feeling," Boston (1978). One of those you know immediately from the opening chords and still the greatest song from the first album I ever bought on 8-track. Thank God that format didn't last.
3. "The Boys Are Back in Town," Thin Lizzy (1976). It was hard to choose between this one and "Cowboy Song," both from the stellar Jailbreak album. Even better is the version from the Live and Dangerous album, which is the one I picked for the playlist at the end of this article. Thin Lizzy remains criminally underappreciated today, and we need to fix that.
4. "Rock and Roll High School," The Ramones (1979). The Ramones were (and are) punk rock even your parents couldn't help but dance along to. I chose this classic because it, and the film of the same name, hit exactly one year before I started high school myself. Ah, memories.
5. "Ain't Talkin' 'Bout Love," Van Halen (1978). The fourth single released in the U.S. from their debut album, they clearly saved the best for last. If you're looking for a measure of this song's greatness, consider that it is one of the few from the David Lee Roth period that Sammy Hagar would sing live after joining the band, though it was never as good when he sang it.
6. "Paradise by the Dashboard Light," Meat Loaf (1977). We got a glimpse of Meat Loaf as Eddie in the 1975 cult classic The Rocky Horror Picture Show (and a preview of his musical style with "Hot Patootie — Bless My Soul"), but nothing could prepare us for this:
7. "Sultans of Swing," Dire Straits (1978). If all you know this band by is "Money for Nothing" or "Walk of Life," you simply cannot grasp what a sensation they were when they debuted in 1978. Truly groundbreaking guitarists usually come along once a generation; along with Eddie Van Halen, two changed our lives in the same year.
8. "L.A. Woman," The Doors (1971). Everyone thinks of the Doors as a '60s band, which of course they were. But one of their best songs (on their best album since their 1967 debut) was released less than three months before Jim Morrison died on July 3, 1971.
9. "Rock and Roll," Led Zeppelin (1971). There was never a question that Zeppelin would make this list; the only question was which song? "Black Dog," "Immigrant Song," and even the uber-obvious "Stairway to Heaven" crossed my mind, but ultimately this scorcher won out. Plus, it really has been so long since I walked in the moonlight.
10. "11:59," Blondie (1978). Everyone knows Blondie for "Heart of Glass" and "Call Me," but this song epitomizes their punk roots so much better. Deborah Harry at her very best.
11. "Detroit Rock City," KISS (1976). As a member of the KISS Army, ten-year-old me loved this song, and 55-year-old me still does. This one has an interesting history as a single; it was originally released in July 1976 with "Beth" as the B-side. It was re-released a month later as the B-side to "Beth." Even in the '70s, Metal bands only got mainstream airplay with stupid power ballads.
12. "Roxanne," The Police (1978). Long before the creepy "Every Step You Take," the Police were writing songs with messages that scandalized proper American parents.
13. "Paranoid," Black Sabbath (1970). After some flower-power nonsense in 1969, we needed some reassurance that rock would be fine moving into the new decade. Ozzy, Tony Iommi, Geezer Butler, and Bill Ward gave it to us, loudly.
14. "Rock Lobster," B-52s (1978). Though firmly within the 1970s, this song was a prophetic peek into what '80s New Wave had in store for us. The band from Athens, Georgia was irrefutable proof that rock was still there, and still fun, even as the Bee Gees and silk shirts dominated America.
15. "The Chain," Fleetwood Mac (1977). Much has been written about the chaos of the band's personal lives that fueled the creation of the Rumours album, but this one sums it up best, with one of the best bass lines ever laid down on record.
16. "Who Are You," The Who (1978). Like "L.A. Woman," this one sticks in my mind because of a great loss: drummer Keith Moon died only three weeks after the album was released. I also recall it being the first time I heard the word "fuck" on an album.
17. "Dangerous Type," The Cars (1979). The Cars are another band that is remembered more as an '80s group, mainly because that was when they had their greatest commercial success. But their first two (and easily best) albums came out in the '70s and contained forgotten gems like this one.
18. "Before They Make Me Run," The Rolling Stones (1978). Did I really just make my only pick from the Stones' entire 1970s catalogue one sung by Keith Richards? I did, and I make no apologies. Keith is awesome, and not just when he gets to sing. Did you know it was him, and not Bill Wyman, who played bass on both "Jumpin' Jack Flash" and "Sympathy for the Devil?" It's a fact.
19. "Gimme Three Steps," Lynyrd Skynyrd (1973). An amazing song in its own right, my love for this one has been enhanced by the fact that I may or may not have experienced the events of the song in a bar in Georgia in the early '90s. I'm not admitting anything for sure.
20. "Born to Run," Bruce Springsteen and the E Street Band (1975). If you actually thought this one wouldn't make this list, you clearly don't know me. It is, after all, the Greatest Song Ever, regardless of the decade. Here's a classic '70s performance:
Here's the full playlist:
First published on Medium.com.
70s music
I'm a writer, podcaster, and bookseller whose ultimate goal (besides being a roadie for the E Street Band) is to make reading, writing, and books in general as popular in Texas as high school football. It may take a while.