Playlists
15 Female Fronted Bands You Need to Listen To
Women Go Hard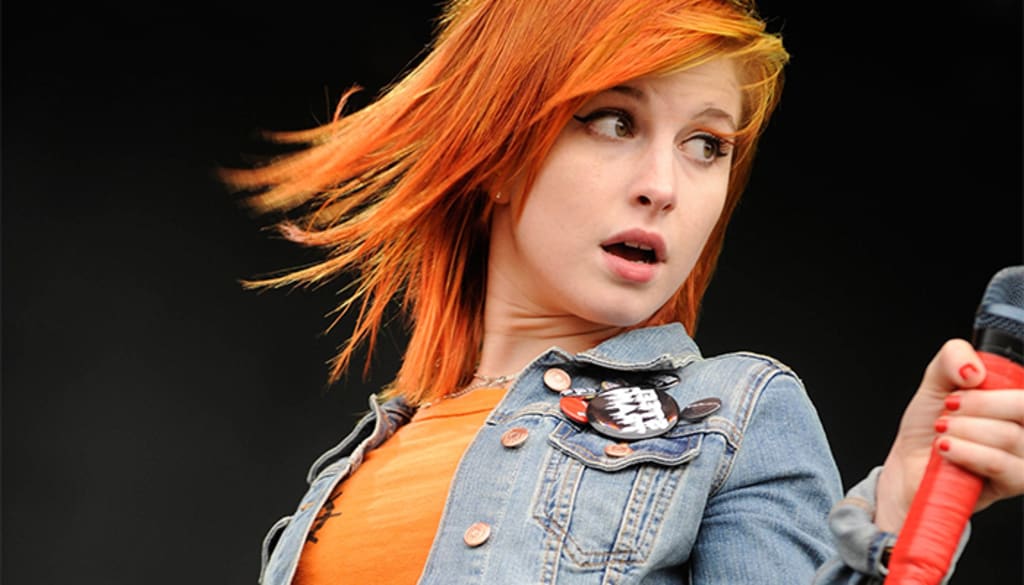 Women have been coming hard in terms of pop-punk/rock music these days. Women are breaking down the barriers that kept them from being popular in the scene, their voices finally being heard. If you are looking to get into more female fronted bands, keep on reading.
Smaller indie band We Happy has a fun feel and the singer's voice is amazing. I'm relatively new to their fanbase, but their music is just so much fun that you have to give them a listen.
Song Suggestions: "Happy Now", "Shaggy", "Be Easy"
This band is brand new, their first single being released just last year. Their music has a nice pop-punk feel, and the lead singer has a beautifully pop-punk voice that resonates with the music perfectly.
Song Suggestions: "Settle In", cover of Paramore's "Rose-Colored Boy"
Originally Cherri Bomb, Hey Violet has undergone some serious sound changes over the years. They're pretty popular now, and their sound is definitely something that you can dance and sing along to.
Song Suggestions: "Guys My Age", "Too Many Faces (Cherri Bomb"), "Fuqboi"
Conquer Divide is completely made up of female musicians, even an unclean vocalist. They range from three countries as well: the United States, United Kingdom, and Ireland. Their sound is heavy, and they have been highly celebrated for their style and the way they respond to criticism.
Song Suggestions: "Eyes Wide Shut", "At War", "Nightmares"
I just recently discovered this band and immediately fell in love. The singer's heavier voice and sound are an immediate draw. The band has been around for quite a while and has built up a nice following.
Song Suggestions: "White Lies", "In This Hell", "New Waves"
I came across Jule Vera at Warped Tour 2017. The band incorporates a more pop sound into their music and it fits perfectly well with the vocalist's voice. I definitely recommend them to everybody I meet.
Song Suggestions: "Bad Company", "One Little String", "Scarlet Letter"
I also came across Courage My Love at last year's Warped Tour. The band has a very nice energy, and their pop-punk sound is to die for. They sound like a child of the all-mighty emo trinity.
Song Suggestions: "Cold-Blooded", "Bridges", "Tough Love"
Currently on hiatus, We Are the In Crowd are the female version of All Time Low (male fronted pop-punk band). Singer Tay Jardine's voice and lyrics are so powerful with messages ranging from loss, hatred, and love.
Song Suggestions: "The Best Thing (That Never Happened)", "Both Sides of the Story", "Kiss Me Again ft. Alex Gaskarth of All Time Low"
Tonight Alive is one of the biggest female fronted bands of our time. Lead singer Jenna McDougall's beautiful voice, meaningful lyrics, and advocacy have made this band one of the best there is.
Song Suggestions: "How Does it Feel?", "Come Home", "Amelia"
Pronounced "Paris", this band has been electric since their debut. Singer Lynn Gunn's voice is mystifying, the emotion so palpable in her voice and her high notes so on point it hurts. The band has a very emo feel to them (of course), and they have appeared a few times on Van's Warped Tour.
Song Suggestions: "Fire", "Heaven", "My House"
Against the Current is climbing their way up fast in the pop-punk scene. Signed to Fueled by Ramen, they have considerably grown over the years they've been together. Singer Chrissy Constanza's voice is electrifying and beautiful, and the music accompanying it is the traditional pop-punk sound we all lowkey crave.
Song Suggestions: "Paralyzed", "Gravity", "Strangers Again"
Maria Brink is a screaming queen. "In This Moment" is very edgy (not in a bad way) and heavy. If you are ever in the mood to feel angry or just listen to something new, you should definitely check them out.
Song Suggestions: "Whore", "Adrenalize", "Blood"
Icon For Hire is quite a special band, they are unsigned and only contain two members, Ariel Bloomer and Shawn Jump. They heavy sound with electronic elements that brings a new life to the genre. Ariel often sings about her struggle with mental illness and has even released a book recently, Turn Your Pain Into Art. (I own it of course).The band brings a new approach to emotional music and are definitely worth the listen.
Song Suggestions: "Supposed to Be", "Make a Move", "Hope of Morning"
If you're into things that are more in your face and heavy, New Years Day is a good choice. Vocalist Ash Costello's voice is booming and brings all of the angst and anger you live for when it comes to the metal/hard rock genre. Ash sings of betrayal and sadness, which is so damn relatable it hurts.
Song Suggestions: "I'm About to Break You", "Angel Eyes", "Defame Me"
Paramore has been around for years (14 to be exact) and their style is ever changing. They have made the most notable impact on the pop-punk scene and singer Hayley Williams is regarded as the "emo queen". Their style ranges from their edgy album Riot to the more Ska sounding recent release Fake Happy. Paramore is bound to have music that suits any kind of mood you're in, happy, sad, or angry, there's something for you.
Song Suggestions: "Hard Times", "Misery Business", "Ain't It Fun"
If you guys like this article, be sure to share it with your friends! Also, if you could leave me a "gift" of $1, $2, $5, $10, or $20 that would be amazing and you would be supporting me and my work. Hope you guys enjoyed!
bands