13 Reasons to Watch 'Taylor Swift: Miss Americana'
The Netflix documentary that will make you see Taylor Swift in a new light, whether you're a Swiftie or not.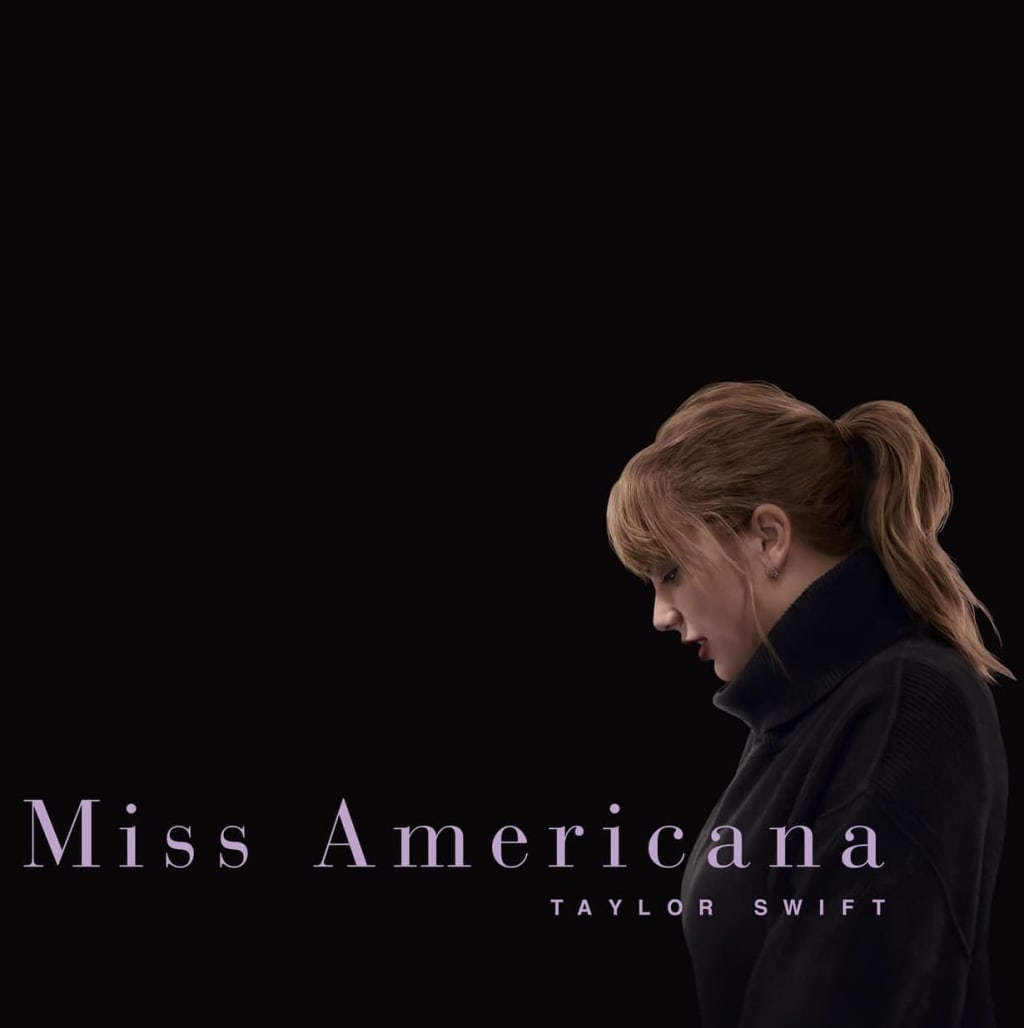 "I want to still have a sharp pen and a thin skin and an open heart."
The documentary Taylor Swift: Miss Americana hit Netflix this weekend and has stunned both audiences and critics. The revealing film directed by Lana Wilson offers an insight into the pop star's transformative life that has never been explored in such depth before. Taylor approaches all topics with complete candour, never too proud to reveal her weaknesses or too shy to show her strengths. If you're looking for any more reason to watch this explosive documentary, here are 13.
1. "I'm trying to figure out how I'm gonna make it last."
Scattered among the shots of sold-out stadiums and studio sessions, Wilson takes us back to the beginning of Taylor's career. The home videos are a smart touch, proving just how genuine Taylor's character and intentions are. We see young Taylor screaming in happiness one Christmas morning as she unwraps her first guitar. Taylor and her mum sitting outside Sony Music, awaiting their response to her CD. Precious moments that show the power of having a dream. Moments that, when paired with the sound of her first single 'Tim McGraw', bring a pang of nostalgia. At these points in time, her only concern is whether she can hold onto that success.
2. "Just a curious cat in a big world."
Cats (not the film) are a big part of Taylor's life. The opening shot features Benjamin Button, the newest addition to her family, walking on the piano. Meredith Grey jumps off the back of the couch. Olivia Benson is carried in a backpack (that has sparked widespread public interest) and given a seat at the dinner table. Cat lovers will be sure to appreciate this.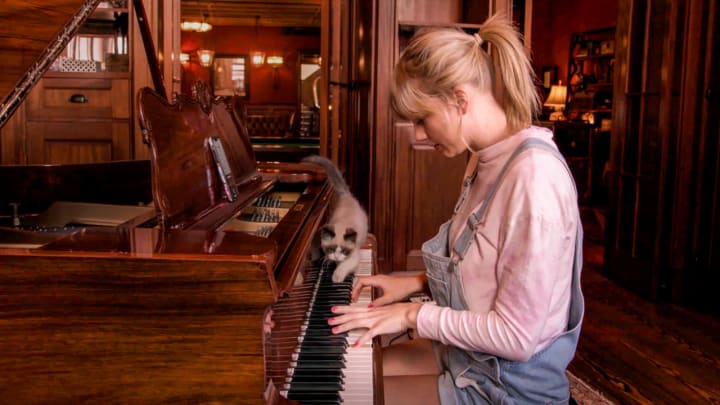 3. "She's my favourite person."
Andrea Swift is Taylor's rock. Her mum not only supports her work – defending her choice to make a political statement and waiting for her backstage after a huge performance – but she is there to carry the weight of her troubles. A heavy topic that is explored in the documentary is Andrea's cancer diagnosis and how it affected Taylor. Taylor's love for her family is easy to see as she asks, "Do you really care if the internet doesn't like you today if your mum's sick from chemo?" 'Soon You'll Get Better' hits differently after seeing these tender exchanges between mother and daughter.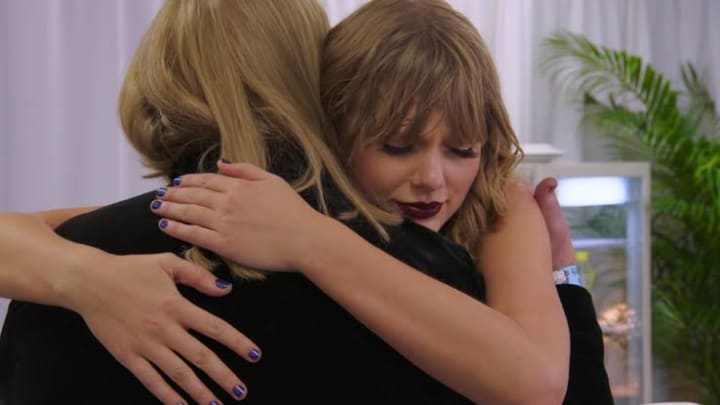 4. "I want to love glitter and also stand up for the double standards that exist in our society. I want to wear pink and tell you how I feel about politics."
Taylor is no stranger to media criticism. During a studio session with Producer Joel Little where she introduces the idea for her song, 'The Man', Joel recognises how "it must be so exhausting" having to avoid being shamed for something. Taylor explains that she has to constantly have a strategy in her head, "but then you get accused of being calculated for having a strategy." This "lose-lose situation" as Joel describes it is just another example of the type of scrutiny Taylor and other female artists have to endure. "You sort of do have to twist yourself into a pretzel on an hourly basis," she says. But not anymore. She's working to "deprogram the misogyny" that exists in her brain. "Toss it out, reject it, and resist it," she states, flushed and fervent. Taylor is taking a stand, declaring that "it's time to take the masking tape off of my mouth" and defend what she believes to be right – regardless of the consequences. If that isn't personal growth...
5. "I also was falling in love with someone who had a wonderfully normal, balanced, grounded life."
Despite feeling on top of the world after winning her Grammy Award for Album of The Year in 2016, Taylor reflects on how alone she feels. "Shouldn't I have someone that I could call right now?" she wonders. Cut to one of the most heartwarming moments in the film as Taylor performs 'Call It What You Want' to her lover, Joe Alwyn, who is positioned behind the camera. She pauses to mouth "I love you" mid-verse, looking the happiest we've seen her yet. "It was happiness without anyone else's input," Taylor shares as we see more home videos of her grinning and glowing in love. She reveals that the pair of them have decided to keep their relationship private, but that doesn't mean she'll stop writing about her Love Story.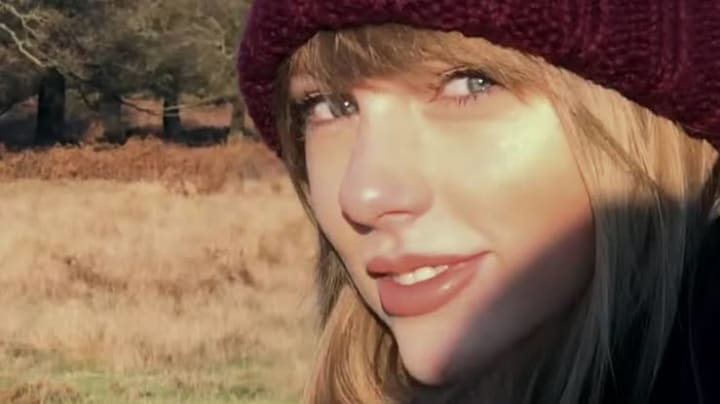 6. "I'm highly aware of the fact that that is not normal."
We get a look into many other dark subjects in Taylor's life. One of them is her safety. During a studio session with Brandon Urie, she tells him, "I had a crazy dude break into my apartment and sleep in my bed." That's enough to turn anyone away from seeking stardom.
7. "I just need to make a better record."
The pressure Taylor puts on herself to do better is what makes her the successful artist she is today. We see this as, after being notified her album Reputation hasn't received any nominations in the major categories, she declares that she is going to make a better record. Her fear of critical failure also drives her to produce better music. She states, "If I don't beat everything I've done prior, it'll be deemed as, like, a colossal failure." Thus, we get Lover.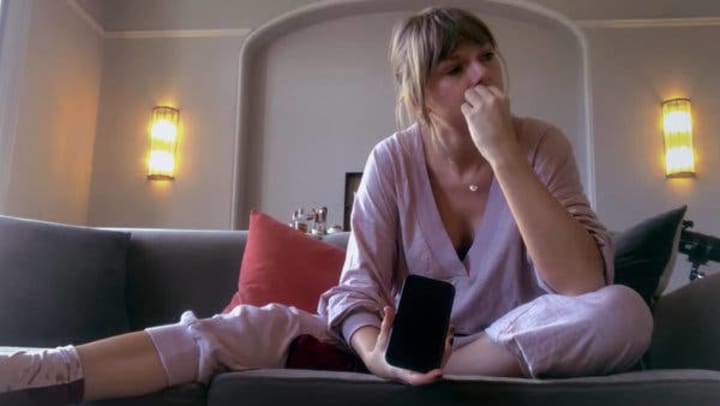 8. "No one is this good and works harder."
Producer Jack Antanoff said it best: "If you're that good, usually you don't work that hard." That's what makes Taylor so unstoppable. She loves songwriting because it's her form of storytelling. She takes no shortcuts. She works harder every time to achieve the success she deserves. Wilson showcases this as Jack and Taylor piece together the lyrics to 'Getaway Car'. She cuts to a stadium filled with lights and sparkling costumes as thousands of voices sing the words she wrote. And in case you still don't get the visionary that is Miss Swift, we see her excitedly explain her plan for the 'ME!' music video to collaborator Brendon Urie. It's moments like these that show just how much attention and care Taylor devotes to creating her music.
9. "There's always some standard of beauty that you're not meeting."
Taylor's vulnerability reaches its peak when she reveals her struggle with an eating disorder. She explains how "it's not good for me to see pictures of myself every day" as it can be a trigger for her to starve herself or "just stop eating." She knows her mindset is detrimental to her health and actively tries to avoid these triggers. Comments such as "she's too skinny" led her to believe that she was "supposed to feel like [she] was gonna pass out at the end of a show or in the middle of it." This will come as a shock to audiences, seeing as she kept it a secret for several years.
10. "I was angry that I had to be there. I was angry that this happens to women."
As though she didn't already have enough to deal with, Taylor was involved in a sexual assault case. Her attacker groped her during a meet-and-greet in 2013. The then-radio host was fired after Taylor reported the assault, so he sued her and she countersued for a symbolic $1. It wasn't about the money. It was about standing up for herself and showing other women that they can speak up too. Taylor had seven witnesses and a photo of the exact moment to support her case. But despite the jury voting in her favour, she confesses that you "don't feel a sense of any victory when you win because the process is so dehumanising." Exactly a year after the trail on her Reputation Stadium Tour, we watch her address the audience in Tampa: "I just wanted to say I'm sorry to anyone who ever wasn't believed." This is followed by a raw and emotional performance of 'Clean'. It could bring tears to your eyes if you're not careful.
11. "When people decided I was wicked and evil and conniving and not a good person, that was the one I couldn't really bounce back from."
Back in 2009 when Kanye West interrupted Taylor at the VMA awards with his "I'mma let you finish," it turned out to be a "formative experience" for Taylor who thought she was the one being booed. In an interview after the incident, she said, "I don't know him and I don't want to start anything." Little did she know that a very long narrative had just begun.
In 2016 Taylor was labelled a liar after denying she approved the lyrics in Kanye's song 'Famous', "I feel like me and Taylor might still have sex/Why? I made that bitch famous." #TaylorSwiftIsOverParty was trending on Twitter and Taylor was at her lowest. She says, "when you're living for the approval of strangers and that is where you derive all of your joy and fulfilment, one bad thing can cause everything to crumble." Her voice breaks as she tells her mum, "it just feels like it's more than music now at this point [...] it just gets loud sometimes." Wilson captures her dejection as Taylor says, "I felt really alone. I felt really bitter." But this doesn't stop her from moving forward. She reinvents herself. Again and again. And it's empowering to witness.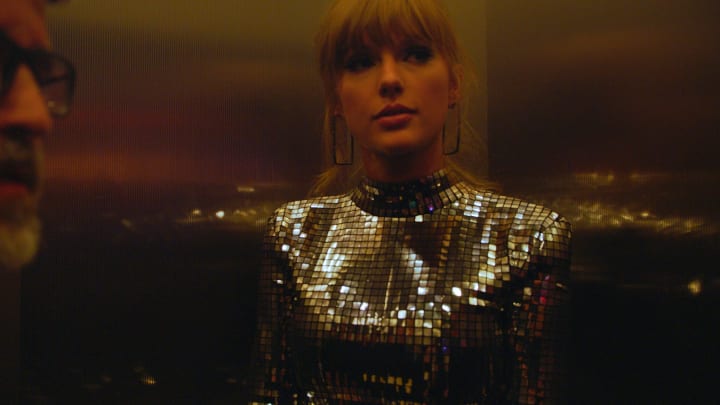 12. "I need to be on the right side of history."
Despite being taught not to "force your politics on people" and that a "nice girl doesn't make people feel uncomfortable with her views," Taylor could not resist speaking up during the 2018 midterm elections. She wished to denounce Tenessee Republican and Senate candidate Marsha Blackburn who voted against the reauthorisation of the Violence Against Women Act. The most climactic moment of the film sees her arguing with her dad and members of her team that think she should stay out of it. Her dad confesses that he's "terrified" to think of the threats she could receive for getting involved. But she stands her ground saying, "Dad, I just need you to forgive me for doing it, 'cause I'm doing it." And she does. When her publicist Tree Paine warns her that the president could come after her, Swift responds with "Fu*k that, I don't care," before raising her glass to cheer "to the resistance" – proving just how Fearless she is.
13. Only The Young
Along with an insightful look at Taylor's eventful life, Miss Americana introduces a new song to Taylor's discography, 'Only the Young'. Inspired by the political and social climate, Taylor wants to spread the message "don't lose hope" and "resist." She wants the song to say, "If you can just shift the power in your direction by being bold enough, then it won't be like this forever."
Miss Americana is reflective, dramatic, powerful cinema. Wilson takes us on a journey through Taylor's career, showing us how the young, curly-haired country singer became a pop star millionaire through sheer hard work. And that, ladies and gentlemen, is why Taylor Swift is The Man.
Watch Miss Americana now on Netflix.