Losing my Cezanne
I was, like Picasso, a man unmanned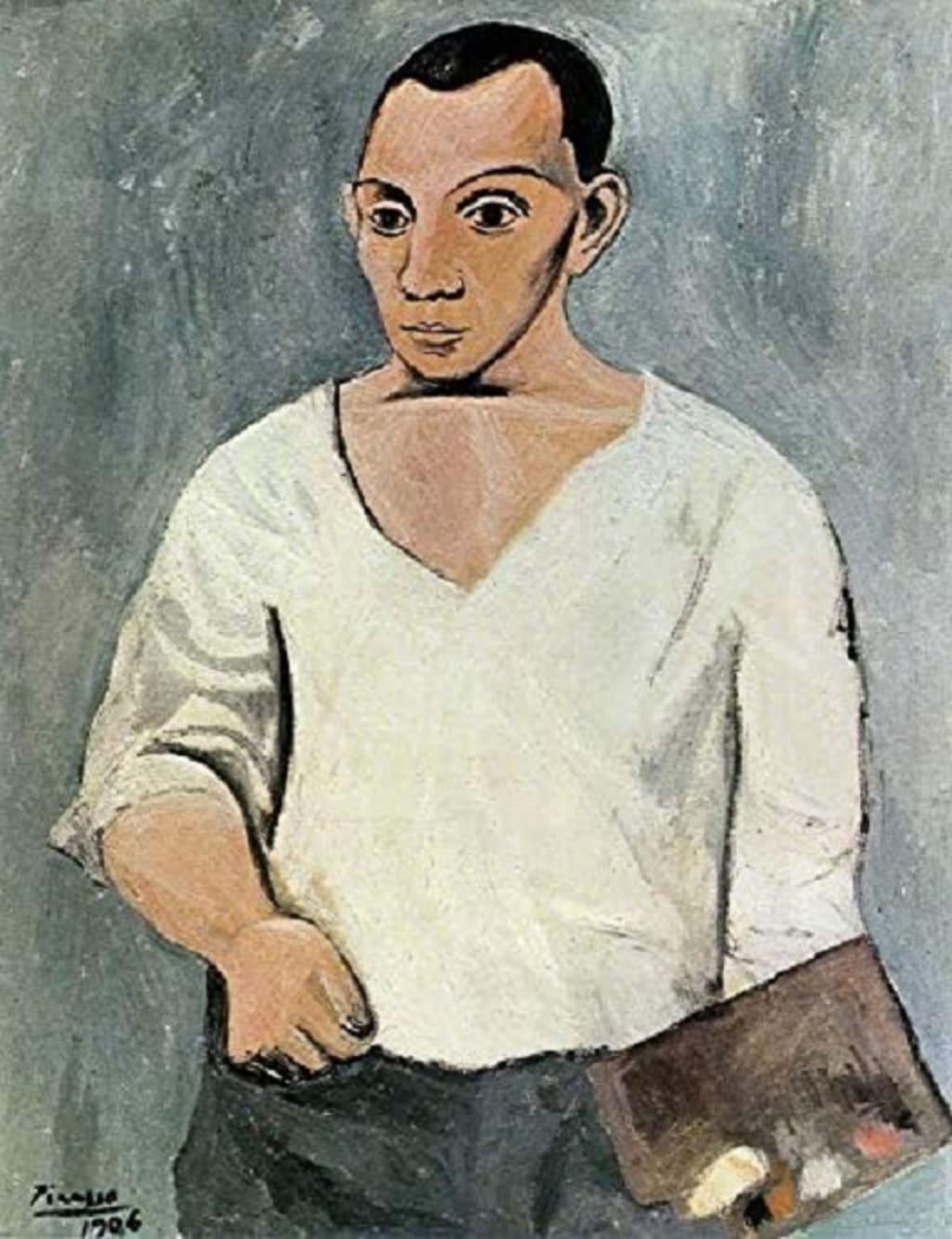 Picasso self portrait with palette, 1906
Standing in the National Portrait Gallery looking up at Picasso, it suddenly clicked. He had no brush. No brush! A painter without a brush, a king without a sword. The pallet held a few dollops of almost color but it was an irrelevance. The man could no longer paint. Pablo had lost his mentor, his father figure, he was a man unmanned. Cezanne was gone forever. A world without Cezanne? It was unthinkable.
I knew how he felt. I knew what it meant to lose Cezanne.
On any other man a white smock would appear ludicrous. He seemed to carry it off and he certainly had an air of being the center of attention. He was surrounded by a retinue, a court of admirers, hanging on his every word.
"So, you think that art is nothing more than beauty in the eye of the beholder?" one of those surrounding him asked.
"Well, I wouldn't go that far," he replied. "But certainly, art is little more than the subjective view of those who claim to know more than the ignorant crowd."
When he said "ignorant crowd" he pronounced the words with an emphasis that suggested he held disdain for any such view and that he identified with "the crowd" more than with the art experts.
I thought the whole gathering a sham, as I sat at the margins, sipping a chilled glass of Gavi. At least the choice of wines was informed. Then suddenly he turned, fixing me with an enquiring look.
"What do you think?"
I was like a rabbit caught in the headlights of an oncoming articulated juggernaut, moments from being crushed between rubber and Tarmac.
"I think art is whatever you make of it," I blurted out, pleased that I hadn't bumbled with an "er… um…er" but equally annoyed at myself from having trotted out something so trite." I could tell he was underwhelmed but equally he didn't want to dismiss my contribution.
Despite my misgivings about the holier-than-thou arty crowd that I found myself on the margins of that night, I felt a warm glow. I had somehow been included in the group. The others looked at me, quickly catching on that I had been given an invitation to join and, whether I accepted or not, it was itself an acceptance.
Of course, it was nothing more than a seduction strategy, a kind of group chat-up line. I wasn't so easily fooled but equally I was beguiled and flattered. The come-on from the older man. The sophisticate. The Oscar Wilde seducing a young acolyte, but I was content to go along with it. The affair that followed was short-lived but sweet as a love affair could ever be. He was attentive, generous, gracious and gentle, although I wasn't sorry when we ended it. He was too much of a father figure for the relationship to feel comfortable. But we stayed in touch, remained friends and, more importantly, he continued to tutor me in the way of the true artist.
Before I met him, I was lost. At least as far as my art was concerned. I was completely without direction. I went through the motions of classes, lectures, seminars, tutorials, producing coursework as required, exhibiting in the end-of-year shows. But I felt nothing. It was an empty experience. Until he came along I was a void, artistically at least.
Yet if I try to put my finger on what exactly it was that he taught me, I would be at a loss. He did not coach me, did not give me any kind of instruction. He was just there. I think that's what it was. His presence gave me a sense of purpose, of meaning, in art and in life. When we visited galleries, he did not give a running commentary, as I might have expected. Rather he led and guided me to the works that for him had meaning. Not just the obvious in-vogue categories but some of the classical works in the National and the Tate, and the RA. He dismissed Emin but was generous enough to listen when I mounted a spirited defense of the Young British school. "You put up a good case, dear boy. I have seen Miss Emin in a new light."
It was a long time ago, the 1980s. My formative years. Everything I do now depends on the things I learnt in those years. Sure I have developed a 'maturity' in my work, as one critic put it rather patronizingly. But everything that I now create is based on that spark that he gave me.
Now he, like Picasso's mentor Cezanne, is gone. Gone forever and gone for good. He was my paint brush. My palette. My guiding light.
Like Picasso in the portrait, I am now a painter without a brush, a man unmanned. For me, however, the feeling does not cease.
I have lost my Cezanne forever.
About the Creator
Author based in Kent, England. A writer of fictional short stories in a wide range of genres, he has been a non-fiction writer since the 1980s. Non-fiction subjects include art, history, technology, business, law, and the human condition.
Reader insights
Be the first to share your insights about this piece.
Add your insights