Xfinity Wifi: The Hidden Opt-In That Built a Nationwide Network
A little part of it lives in your house and a little in mine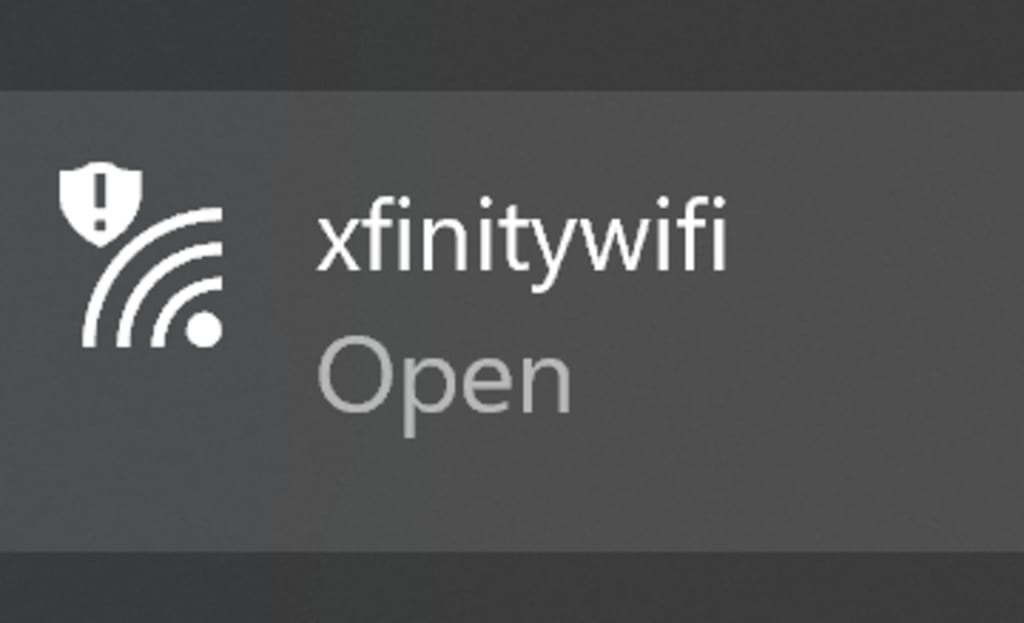 Created By Walker Sweet
If you are an Xfinity customer for home internet have you ever tried to connect a device to your wifi network and notice that someone around you has a public wifi network called "xfinitywifi"?
That someone is you. And, until recently, me.
Starting way back in 2013, Comcast replaced all of their old routers with updated ones capable of hosting public hotspots. And, of course, all of the new routers for new customers support the feature.
Creepiness Factor
This means that someone visiting your home could use the "xfinitywifi" network instead of your personal Xfinity wifi network. Not evil, but there is a creepiness factor here, especially since Comcast sets this option "on" for customers automatically. And also because it's a fairly hidden option. 
I would be willing to wager that the absolute great majority of their customers have no idea they have a public hotspot in their home.
When I signed up for Xfinity internet service, I don't recall reading anything about this feature. I'm sure it was in the fine print somewhere during signup, but it was not until months later that I discovered it. The lack of transparency only adds to the annoyance. It's very Comcast-y.
I'm not saying there aren't benefits overall, but personally, I don't benefit from it. And why not let a customer know you are opening a doorway through his or her house and potentially charging people to walk through it?
Automatic opt-in
Did you agree to this? Did I agree to it? In practicality, the answer is, almost certainly, no, we didn't agree to this, at least not explicitly. I signed up for Xfinity internet service and, boom, the public network was there. I live in the tech space and missed it. The majority of their customers have no tech savviness at all.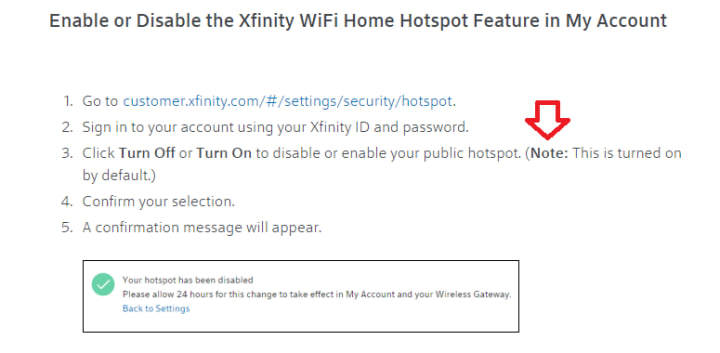 See that red arrow above in the partial screenshot taken from the Xfinity Support website? That is a default (forced) opt-in. And if you ever figure out that you have it, it's up to you to figure out how to turn it off. If you so desire, that is.
Welcome to Our Home, Family and Friends! Our Wifi Password Is Not Your Business!
The Xfinity WiFi Hotspot FAQs paint a picture that it's a benefit to you that your house guests can simply use the Xfinity Wifi Hotspot instead of you having to share your normal wifi password with them. If my home was a bed and breakfast inn, this would make sense. But it's not. Note these snippets taken straight from the FAQs.
By enabling guests to use the Xfinity WiFi network you won't need to provide your private home WiFi network password to guests.

Will it cost anything?

Xfinity WiFi is included at no additional charge for all Xfinity Mobile customers, as well as Xfinity Internet customers who subscribe to Performance Internet or above.
Did you catch that? Comcast will charge non-Comcast users (and even some Comcast customers, if they are paying for a subscription deemed too lowly) to use this publicly available network in your house.
There is nothing like making a guest feel welcome by forcing that guest to (potentially) pay for a wifi hotspot while they are visiting your home. You might as well ask them to sleep in a moldy tent in the backyard. And have a tip jar on the kitchen table, while you're at it.
And if your lucky visitors want free wifi and they are Xfinity customers (this is exhausting, huh?) they had better remember their Xfinity login information so that you can surf the web on their laptops for free. Have a great time while you're here, Gramma!
And We're Paying For The Hardware
All this and you and I are paying for the router that it runs on. A tiny fortune actually. $14 a month. That's $168 a year. 
By the way, this works because most Comcast customers rent the Xfinity router. If you buy your own modem and router, you will not only save a lot of money in the long run, but the public wifi option will disappear. I will be doing this very soon.
Takeaways If You Don't Want This Enabled In Your Account
Also, another minor annoyance. When I disabled the public Xfinity Wifi hotspot for my account using the Xfinity website, immediately my regular Xfinity network went down for ten minutes or so. So, even though they claim the public Xfinity Wifi is completely separate from the normal wifi network, to some degree, that is not entirely true.
So, here are the takeaways. If you are an Xfinity customer for your home internet: 
Step 1. (Ignore this step if you want to keep the public wifi option enabled). Disable the WiFi Public Hotspot. You'll need to login to your Xfinity account online, click on Settings, then click on Internet, and scroll down to WiFi Public Hotspot, click Edit, and Turn Off. Here is the direct link to the specific web page, since it's not entirely obvious where to go from the available menu options. You'll be looking for the section pictured in the image below.

Step 2. If at all possible, buy your own Comcast-compatible cable modem, along with an accompanying router. I won't go into the technical details here so that I can keep you awake, but this article can point you in the right direction. The bottom line is that the devices you buy will pay for themselves in about the first year (more or less, depending on the options you purchase). Also, the public wifi option won't exist if you have your own equipment.
Don't forget to return Comcast's equipment back to them once you get your own and also make sure they know to stop billing you the $14 a month for the router lease.
Make It Transparent, Comcast
I haven't been able to discover how much revenue Xfinity has made on the public hotspots that are broadcast from home networks. But with their reach, I'm certain it's a lot of money. Which in and of itself is not a problem at all. Good can come out of it.
But if you are going to charge money for a service that runs through a router that I am paying you for monthly, share that income. Make it open and transparent as to what is going on. Add a credit to the monthly statement with a clear, unambiguous description as to what the credit is being given for.
Of course, I expect that to happen right after I see a hippopotamus with angel wings flying over my house.