Witco: The Debut of All-in-One App for Serviced and Collaborative Spaces!
A smart building app!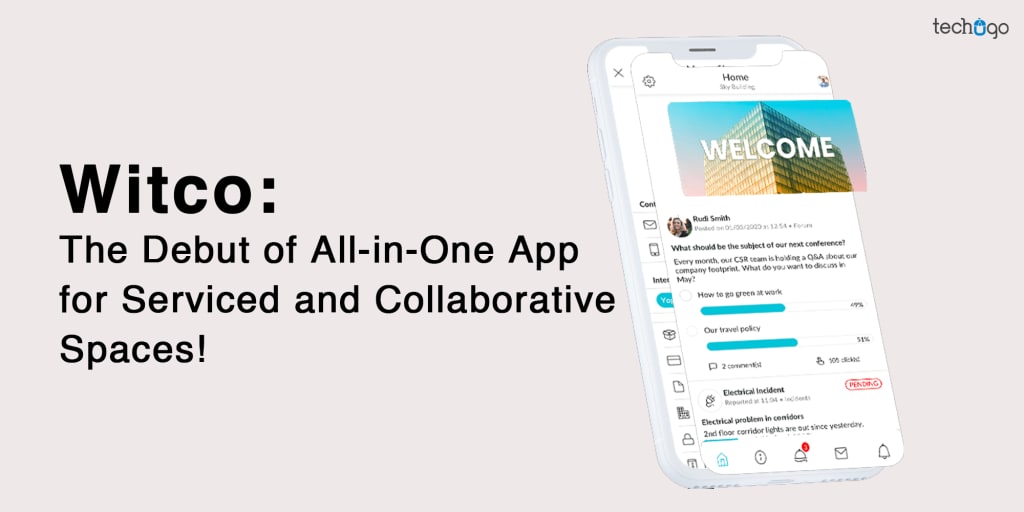 This is the era of smart applications, be it smart home apps or any other, automation plays a crucial role in the functioning of the same.
Similarly, a French startup named Witco is a smart building app that enables commercial and residential buildings to be highly serviced.
You might have questions, like what is a smart building app?
Notably, it is precisely what we'll be discussing via this article, so don't go anywhere and keep reading!
The French Startup Witco Bagged $14 Million
The objective behind the introduction of the Witco app is to provide a flexible space as the dynamics of office working have changed. In addition, the platform aims to redefine the work and home experience and enhance the well-being of the residents.
Witco recently accomplished a great achievement as it secured $14 million in its Series A funding round. The funding will help the platform to successfully launch in the UK, as it has been planning for quite some time now.
As per the co-founder of Witco, the challenge they have taken is to design a hybrid model that complements the employees' beliefs.
Don't you think the platform will be full of surprises as it's a unique idea?
We think it's an incredible idea and can become a tremendous monetization model for business owners!
Do you have the right entrepreneurial vision? Then, you must have an incredible app idea to contribute to the real estate industry!
If that's a yes, it's the cherry on the cake situation.
We understand that it might be your first time developing a mobile app. However, you don't have to worry as we'll guide you through some important pointers.
So, let's get started!
Real Estate App Development: A Leading Trend of the Industry
Undoubtedly, mobility is driving the world, and mobile apps have become a huge part of the real estate industry. Therefore, more and more users are inclined towards the same for efficiency and convenience.
Here are a few pointers that are likely to build a solid consumer base. Take a look!
1. An Enhanced Sales Mechanism
Numerous applications have started integrating technologies that enable app owners to give virtual tours to their customers. Not only this, but the digitization of contracts or documents also plays an incredible role in accelerating the process.
Therefore, when all the elements are put together, it leads to a quicker and enhanced sales mechanism.
2. Easy Communication
It is vital to connect with your consumers to win their trust. Notably, buying a property requires huge investment and can be stressful. Therefore, you must instantly answer any query raised by potential consumers.
How will this happen?
Well, Chatbots are an exceptional element of AI tech to integrate into the app that solves user queries 24/7.
3. Rewarding Customer Experience
REMEMBER, customers always look for convenience! Therefore, a real estate app can personalize their experience as per their requirements.
But before that, you must enable them to enter relevant information asking for their preferences.
4. Automation
Mobile apps automate activities to a great extent, meaning they can eliminate the unnecessary time that otherwise had to be invested. Notably, homebuyers and agents can benefit from the app as it'll save a lot of time and expenses.
In a Nutshell
Undoubtedly, Witco is a great example of a smart building app! There are thousands of similar apps available in the market, but why could only Witco climb the ladder of success?
It is because of the exceptional insights from the professionals and their app development strategies. Therefore, if you want to make your presence in the market, connect with the best app developers in UK.
Happy innovation!
apps
Ankit Singh is a seasoned entrepreneur, who has crafted a niche for himself at such a young age. He is the COO and Founder of Techugo.