Why to Buy a Toucan Weatherproof Outdoor Security Camera
Putting up decorations is fine if you're into that kind of thing, but I prefer to have a security camera that works despite the weather.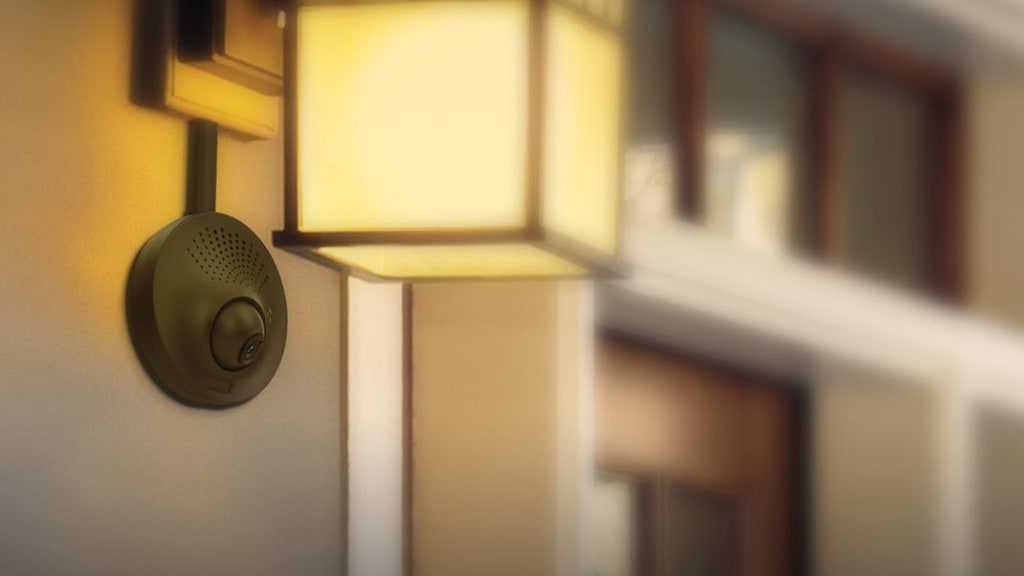 I'm one of those weird people that loves it when it's wet. I know it sounds a little farfetched, but if you follow the logic that going to the beach is only worth it if you actually go into the ocean, you'll start to see what I mean.
Sure, a beautiful, sunny day is pretty incomparable. Going for a hike, throwing the frisbee around, and laying out for a tan are all enjoyable activities, but letting the weather affect your mood is a foolish endeavor. First of all, there's no controlling it. Secondly, there's no reason you can't play equally as hard in the elements.
Friday night football during a rainstorm was an invigorating experience back in my heyday. I can't imagine it was particularly fun watching the game, but the cool, refreshing experience of rain on your skin after you make a tackle is one that's truly unexplainable. Now that I'm a little older too, I enjoy fresh powder when I'm looking down a mountain with my snowboard strapped to my feet. Plus, on those lazy days? What's better than falling asleep to the peaceful sound of precipitation?
I'll tell you what's not better than that: A short circuit that blows out the power in the living room when I've got a movie on with my girlfriend.
Yes, it's happened. Yes, it was my home security system. Yes, I smashed the thing into a thousand pieces before throwing it in the trash.
So to the surprise of nobody following along so far, I needed a new security system; and I was dead set on finding one that wouldn't fizzle out on account of rain. Scouring the depths of the internet for a weatherproof security system, I finally scrolled across Toucan's outdoor security camera. I was less impressed at the fact that this camera was weatherproof (because why aren't all outdoor appliances weatherproof, it's 2019) than I was at all the cool features the camera came with. Allow me to explain.
The features make the device something extraordinary.
Redefining smart technology, I seriously contemplated what trying out Toucan would be like. Of course I wanted motion detection technology, because why else would I have a camera if not to capture video of things happening outside my house? An ounce of prevention is worth a pound of cure, so the loud alarm system was an essential element to my perfect home security system (and the fact that I could prerecord a message was, admittedly, a cool idea). And being easy to install should be another standard in products today, none more so than those that involve electricity, but that's just my personal opinion.
What really sold me was three things: The real time notifications, the see and talk feature, and its ability to download a recording onto your phone. With the real time notifications, I could see my neighbor coming up my walkway as I sat on the couch in my underwear. With the see and talk feature, I would have the ability to tell the neighbor that I was not interested in participating in their kid's fundraising event without ever having to open the door. With the two hours of recordable video, I could post the entire interaction online when, inevitably, he wouldn't take no for an answer, and I did finally answer the door in my underwear. I had to have it.
How does all this work?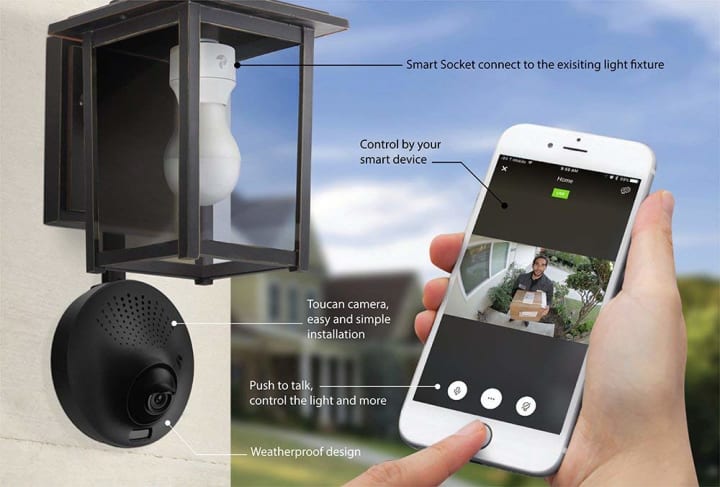 An app, of course! Well... and money. Since the entire fixture went to hell with a light drizzle and I had to replace the outside light, I shelled out $350 for an entire upgrade toward a smarter home. For those of you who have houses smarter than me though, you can enjoy being overly secure at all times. A notification will be sent to you when motion is detected (as previously detailed). That's when recording starts from any camera you may already have set up. From there, you can notify any and all visitors you know they're there with a chime, if you so choose. If it's somebody you're comfortable messing with (or somebody who deserved to be messed with), you can dim the brightness of the lights until it's completely dark out (or adjust it back and forth really quickly like a strobe light, if you're a real joker). And if all those deterrents still don't work, 911 is one push of a button away.
Can Toucan do it all?
Pretty much. Regardless of whether you upgrade to the premium plan or just use the basic plan, the features that are available to you are there to ensure your safety and convenience. No more does my girlfriend need to be afraid when she beats me to my pad and has to sit there alone for awhile. No more do squirrels eat from the bird feeder in my backyard. No more do kids ding-dong-ditch! (That might have more to do with the fact that they are all shoving condoms up their nose, but who am I to judge?)
Now, my home is safer than ever.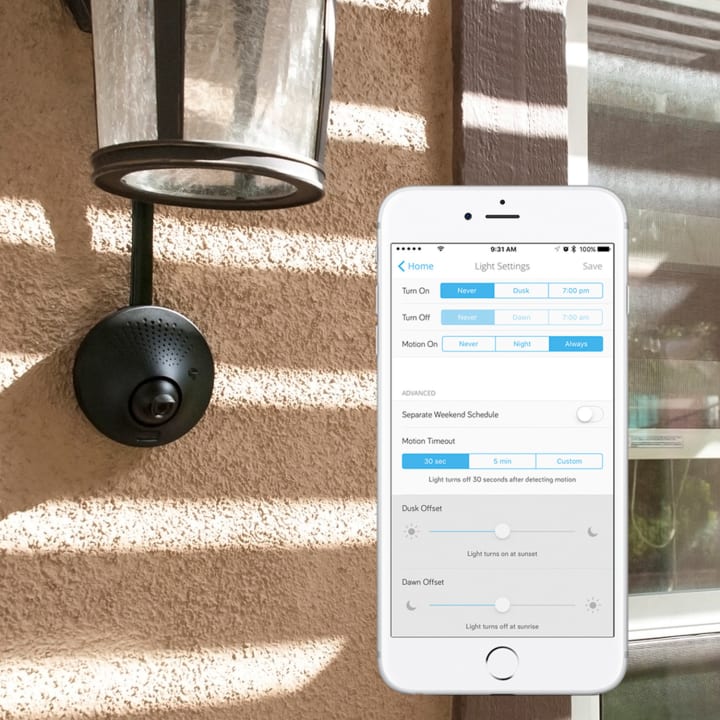 It was a dark and stormy night one night when my girlfriend decided it would be fun to turn on a scary movie and force me to watch it. There we sat, eyes glued to the screen, when all of a sudden, *KABOOM!*
We sat, rattled, nervous laughing the thunder off as a flash of lightning lit up the blinds. We continued watching the movie as the hero was creeping around the corner of his home, searching for the psycho killer lurking somewhere within his abode. Another *bang* erupted outside, and my girlfriend looked at me quizzically. We agreed that was definitely not thunder, and almost as we did so, my phone screen lit up. A man in an oversized sweater and hat was approaching my front door!
I bolted to the other side of the room towards it, shouting through Alexa, "Who are you? What do you want?!"
The man was visibly alarmed, and when he noticed that the motion detection light had a camera installed underneath it, he timidly replied, "I'm delivering your pizza?"
I was one of the lucky ones. And if the main character of that movie had Toucan installed in his house, he might have been, too.