Was the OTT Platforms Rise in Past Years?
OTT Platforms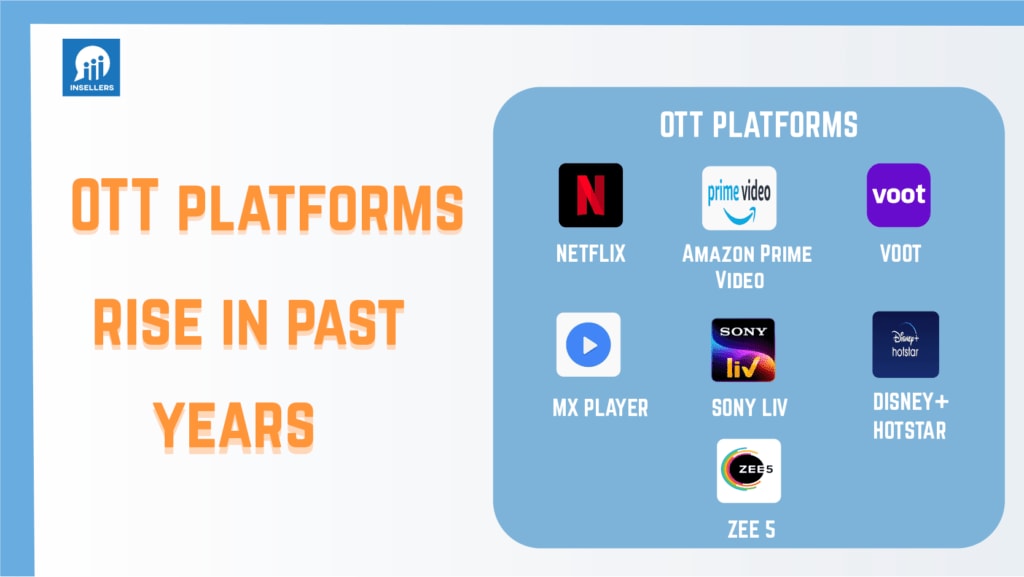 Was the OTT Platforms Rise in Past Years?
When did you watch the last movie in theatres?
Of course, the answer will be around one year ago.
When did you watch any movie last time?
The answer may be a week ago, yesterday, or today itself.
Then, how did you watch it?
Maybe on Television or the laptop.
Watching any movie or any show on television with family is not a common thing today because everyone has his/her choice. So, people prefer to watch movies/ shows on mobile phones or PCs. The platforms you are using, whether it is MX Player, Amazon Prime, or Netflix, comes under the OTT platform.
What is an OTT Platform?
OTT Platform is also known as Over The Top Platform refers to a platform where you can access contents of various films and television by using the internet without the traditional use of cable/ satellite.
The rapid growth of the OTT platform in India can be seen by looking at the stats showing that India is all set to become the world's sixth-largest OTT market by 2024.
REASON FOR RAPID GROWTH OF OTT PLATFORMS:
● Adaptation of Western Culture
People started living in cities with small families and their source of entertainment changed gradually. From using traditional Television with the complete family to using the phone for entertainment, this is how the adaptation of western Culture affects the rise of OTT platforms.
● Choices vary among different people
Different people have different choices, different opinions. For example, Alex's family consists of five members. He is living with his parents and grand-parents. He wanted to watch his favorite cartoon but his father wanted to watch the news while his grandparents demanded some devotional programs. If they have one TV in their family, it's impossible to fulfill everyone's needs. So, one of the best alternatives can be the use of "OTT Platforms", where they can watch anything on their gadgets.
● Convenience
The Best thing about the OTT platform that distinguished it from a normal TV set is that it is based on the following slogan:
"Anytime, Anywhere, Everyone"
Anytime– User can watch his/her favorite shows anytime, as the shows already exists in the web, just a few clicks apart;
Anywhere– User can watch shows anywhere, the only requirement is a gadget and internet facility (in case of online streaming otherwise shows can be downloaded also);
Everyone– Any person with any gadget can access the platform. You just need to create an account on that platform and can use it.
● Quality and Fresh Content
OTT platforms provide you options to watch anything you want. People are also getting attracted towards these platforms because they get tired of traditional TV Serial especially Indian Serial which is endless.
● Streaming Before Television
Few TV Shows, as well as movies, are streamed on online platforms much before it is launched in normal Television. Hence for first show lovers of movies or any web series, it is the perfect platform to give new heights to their passion.
Some of the Leading OTT Platforms are:
Disney Plus Hotstar
Disney Plus Hotstar is an OTT platform, which is famous among people for its IPL coverage. It is a company owned by Star India which is an auxiliary for The Walt Disney Company India. Hotstar is one of the best platforms for any person with any kind of choice.
One of the marketing strategies that made Hotstar so popular was the "Hotstar Watch n Play" contest to make the passive viewer an active player. The business model of Hotstar consists of fermium subscribers and Premium where free contents are available for Freemium and paid contents are available for Premium
ZEE 5
ZEE 5 is another leading OTT Platform owned by Essel Group with its subordinating unit Zee Entertainment Enterprises. Launched in February 2018, just like any other OTT platform, its contents are available in twelve languages and shows from ZEE Channels are also available with Dramas, Thriller, Crime. In 2019, Zee 5 claimed to have around 56 million active users. Also, it registered around an 80% rise in subscriptions during the lockdown
VOOT
If you are a big fan of "Big Boss", and never used to miss any of the episodes, then Voot may be your favorite app among all apps on your phone. Voot is another OTT platform set up by Viacom 18 Digital Ventures. You can enjoy various TV shows from Colors TV along with blockbuster movies. According to the latest news, VOOT will be the first AVOD (advertising – based video on demand) platform in India to be a profitable business.
AMAZON PRIME
Amazon prime, better for its web series like "Mirzapur" is an American Company. Its contents are available in foreign languages also including Dutch, Italiano, etc. If you are in India with the knowledge of the Indian language only, then you may get content in Hindi as well as in English. But unlike other OTT platforms like Hotstar, ZEE5, or Voot, you can't get regional languages here. For web series lovers, Amazon prime is among their favorites. You can also enjoy Hollywood movies and shows here that attract viewers who are always fascinated by foreign shows. The latest marketing strategy of Amazon Prime includes launching mobile-only plans in India. They claimed that there was around 80% growth of Prime members in third-quarter of 2020 internationally.
NETFLIX
Netflix, one of the most popular OTT, is ideal for someone who is interested in International Shows. It is an american company with VOD( Video- on- Demand) business strategy. It is available in almost twenty languages including English, Spanish, Portuguese etc. The marketing strategy adopted by Netflix is one of the oldest but still the company is getting benefit from it. The company focuses on E-mail marketing with a ML and AI based system. Also, they are concerned about user privacy and hence they adopted Personalised marketing in which no two users will get identical homepage. During lockdown, Netflix reaches upto 16 million users in three months.
MX PLAYER
MX Player is an OTT platform that provides content in all – format audio (including AC-3) along with subtitle support. It is available in eleven languages. The best thing about the MX Player is that it provides you audio content that makes it different from the rest of the platform. You do not have to switch different platforms for music and shows. During lockdown, MX Player registered 141 million unique visitors.
SONY LIV
SONY LIV is another OTT platform popular among people because it provides a platform for the "Play Along" contest and gives a chance to the audience to reach the hot seat of "Kaun Banega Crorepati". Sony LIV was launched in 2013 by Sony Picture India Private Limited. It provides you to explore all the shows of SONY Entertainment Television. Also, it provides streaming of Cricket, Football, WWE, UFC, hence ideal for a sports lover. In addition to all these, this platform contains around 700 movies. In December 2020, SONY LIV reached upto 26.14 M visits and achieved first category rank in the term of Arts and Entertainment.
COVID19: GOLDEN OPPORTUNITY FOR OTT
After the arrival of COVID 19, when the cinema hall was shut down due to lockdown and the shooting of every movie, serials were stopped, the main concern was to provide fresh content to the user and to release or launch the previous unreleased shows/ movies. The only way for the producers to launch their content online is via some platforms and OTT platforms were those.
Movies like "Gulabo – Sitabo", "Gunjan Saxena" and "Angreji Medium" are among those leading movies which were launched online after COVID 19 outbreak.
CHALLENGES FOR OTT PLATFORMS:
Safety and Privacy
Safety and Privacy are one of the biggest concerns that are being faced by any tech – giant company. Similarly, OTT platforms have to be aware of all these issues. The data stored in their platform either during signing in the platform or their search history should not be used for illegal purposes. Otherwise, it will badly impact the image of OTT platforms and people will start feeling hesitant before using it.
Maintain or Fulfillment of user demands.
One of the reasons why people switch from Traditional TV to OTT platforms is to get fresh and quality content. As TV serials especially Indian TV serials are bogus and endless. With the increase in the number of users of OTT platforms, different demands will be raised. Hence, OTT platforms need to be ensured to provide and maintain content according to user's demand.
FUTURE
The future of OTT platforms is glorious. With new advanced technologies such as Artificial Intelligence and Big Data Analysis, users can be recommended for better content with the help of a recommendation system. China, South Korea, and Japan have already launched their 5G technology. It is expected that India will be the fourth in Asia to join the queue. There is no doubt that India needs this technology. For a country with around 135 crores of population, not all things may go manually and consume lots of time. Technological Infrastructure needs to be developed. In the last few years, India has taken steps to develop its internet protocol but still needs advancements. Hence it can be said that the OTT platform will have a glorious future.
Reader insights
Be the first to share your insights about this piece.
Add your insights