Use the core functions of Salesforce Sales Cloud to increase your company's sales
In this blog, you will find the main reasons to choose Salesforce Sales Cloud for your business. Learn about its features and more.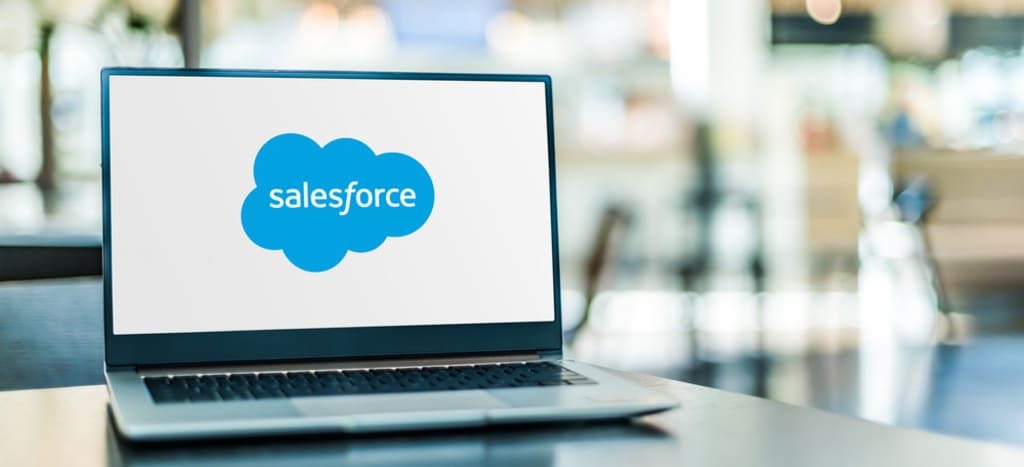 Over the years, sales have undergone many variations, from direct sales to telemarketing and then the first CRM in the mid-90s. We finally started to keep the sales projects going smoothly. But with these possibilities comes customer expectations.
Now, clients have the highest expectations of them. The line between the typical B2B and B2C expertise is blurred; the company's marketing partners now want identical personalization and care as the B2C background.
As a salesman, you just need to boldly contact them and advise them to help them grow their company. But this is a challenge; it can be difficult when you can't fully understand the client or all the data in one place, and this is where Sales Cloud arrives.
Salesforce Sales Cloud can help a company's sales team increase the presence and loyalty of potential clients. As a manager, you can immediately understand your company, focus your energy, and make choices based on market fluctuations.
Sales Cloud Market Size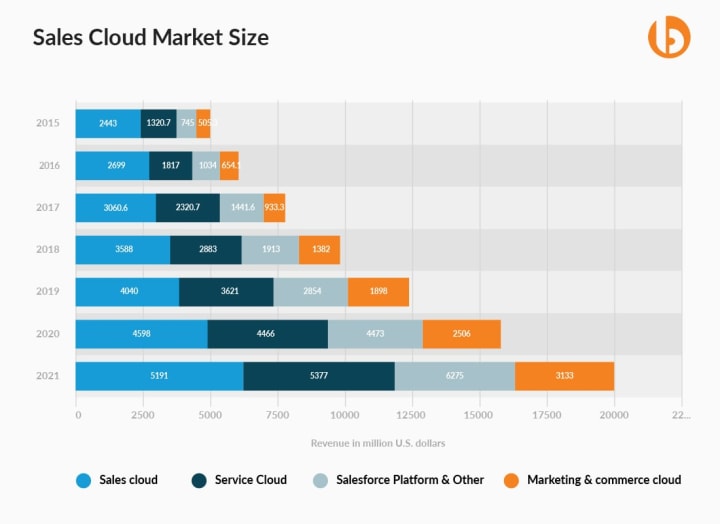 How can companies use Salesforce Sales Cloud to achieve better sales?
Sales Cloud Einstein is a term we hear many times in Salesforce. So what is Einstein?
Einstein-artificial intelligence and machine learning on the platform; when Einstein searches your entire Salesforce CRM system, finds the data you need, and displays that data to help you make better business decisions, it's like you Like having your own private data specialist in your pocket.
These functions are just a summary of everything Einstein can do. In addition to Supercharged Sales Cloud, these features also provide Einstein's company with
Einstein forecasts: Einstein forecasts, allowing the company to predict its quarterly or annual sales in real time. Don't pursue goals. Einstein will give you some tips and suggestions on how to get there.
Analysis: The analysis includes 40 KPIs and 20 unique dashboards, including a blank analysis dashboard that allows you to see where the options are.
Salesforce Inbox: Salesforce helps companies send attractive emails based on the most important readings of the day. Einstein will tell you what to do based on these emails, for example, Make an appointment with a particular account.
For instance, if you are recording the activities of potential customers, Einstein will help them determine eligibility so you can find out which customers are more suited.
How does Sales Cloud help professionals connect to various clients simultaneously?
Sales Cloud Einstein can help businesses prioritize, score, and organize potential customers based on their possibility of turning into opportunities. Sales representatives can find listings of potential customers on their Einstein dashboard, and these lists are prioritized based on their ratings.
With Cloud Einstein, you can pick the best potential customers from the list and add them to your call log.
The platform uses a "speed dialer" feature to enable sales representatives to make calls to selected potential customers quickly.
In the chosen dialog box, the sales representative may see the choice to continue the call.
Sales representatives can quickly jump to the next prospect by clicking Next Call because they don't have to return to the prospect list or anything else.
After the sales representatives call, when they need to meet the potential customers, Macro will help them; eliminate unnecessary steps, such as sending emails for every call.
The macro function automatically records the operations of field workers with specific prospects. According to records, you called the person, everything went well, and the customer needed to be contacted. Write down everything in a few seconds; the seller only needs to click the "Run Macro" button.
Empower Business Sales With Sales Cloud can help you track sales and help improve the efficiency of your sales unit. Overall, this provides entrepreneurs with the greatest income gains and productivity. Therefore, if you also plan to operate and increase the company's sales, Sales Cloud is the best solution. Integrate Salesforce Sales Cloud with your system now to make profits in the future.