Top 6 technology trends keeping enterprises engaged today
The year 2022 is likely to see innovation with digital trends and technologies that help organizations build new-age business models. Here are top six emerging technology trends keeping enterprises engaged today.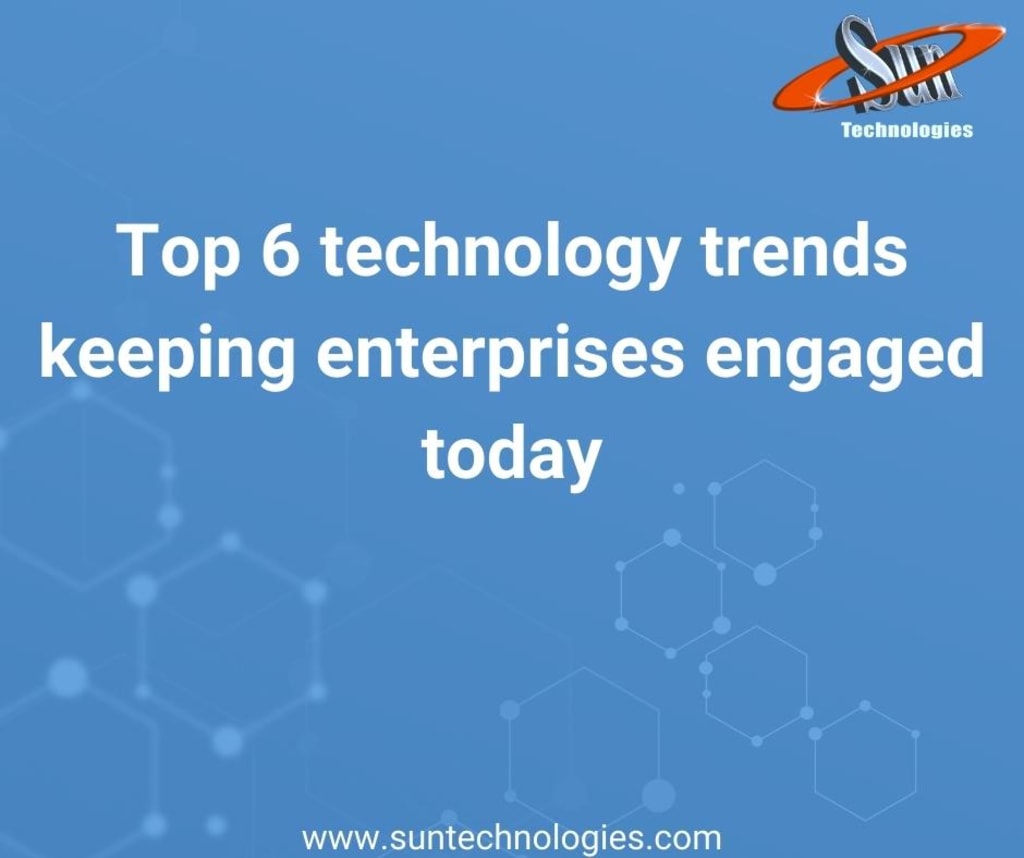 Emerging technology trends 2022
The world of IT is moving towards digital, the Increasing speed of emerging technology trends forces enterprises to align their business priorities. Covid-19 crisis from the past two years enabled organizations to rework their current business strategy and technology stacks. The decision towards digital transformation and cloud migration gained more traction among I&O leaders to support their remote resources and ensure business continuity.
Business leaders need to find the right IT resources to enable growth and innovation with emerging technology trends that ensure scalability and reliability. The year 2020 and 2021 put enterprises in evaluating digital technology trends to keep their business up and running. The year 2022 is likely to see innovation with digital trends and technologies that help organizations build new-age business models.
Emerging technology trends are the only source that can guide enterprises with an exponential rise in legacy challenge, supporting business continuity and delivering necessities. Here are the top 6 technology trends that keep enterprises ongoing.
1. Hyperautomation
According to Gartner, "Enterprise architecture and technology innovation leaders lack a defined strategy to scale automation with tactical and strategic goals. Hence, they must deliver end-to-end automation beyond RPA by combining complementary technologies to augment business processes." Gartner states this as "hyperautomation."
Enterprises can benefit by deploying hyperautomation to automate work processes, better team collaborations, enhance data and storage accessibility, in turn increasing productivity, business agility and achieving greater ROI.
2. Intelligence Automation
Presently, automation is very familiar in enterprises used to achieve efficiency of the application. The evolution of intelligence introduced from artificial intelligence, machine learning and other emerging technology which can carry out operations without human interference by making self decision or analyzing the data without external human actions.
In short, the automation process with the introduction of digital trends, artificial intelligence, and machine learning make "intelligence automation".
With the deployment of intelligence automation, enterprises can reduce more time on essential tasks by avoiding human errors, getting insights into the application data in no time, and supporting seamless integration to multiple applications. This improves services time for clients by reducing business costs.
With Sun Technologies' home grown scriptless test automation tool IntelliSWAUT with AI capabilities, it becomes easy for enterprises to accelerate digital transformation, automate for functional, Database, API, and Windows at a rate 5x speed than the leading process and can solve all challenges in test automation.
3. Cloud computing-Digital Transformation
As the world is moving towards digitization, to meet the digital tech trends in future, the enterprises should invest more in cloud infrastructure, hybrid data centers and migration of their application to the cloud. Hybrid cloud and multi cloud will be massive trends as few organizations still need some of on-premises, public and private cloud facilities. Organizations should manage delivery, tuning, optimization, and performance of workloads and IT-infra services by cloud operations.
Enterprises need to adopt a suitable cloud migration strategy and then transform their on-premises systems into their cloud as per business requirements. This keeps the enterprise up with consumers demanding digital-first experiences and connected experiences.
Read our white-paper below to know more about our cloud migration strategies.
4. Cyber Security with AI capabilities
Artificial intelligence has ability to aspire human intelligence to prove its potential in cybersecurity.
Security professionals also need strong expertise on intelligent machines and advanced technologies like AI to work successfully and protect their organizations from cyber attacks. Enterprises must introduce cybersecurity solutions with AI-capabilities which can generate alerts for threats, identify new types of malware and protect sensitive data for enterprise.
Hence it's significant to have AI-enabled cyber security to thrive online business to cover up the entire infrastructure from cyber-attacks and become future-proof.
5. IOT- Smart connectivity
Another digital tech trend is an Internet of Things-IoT. Many things are connected to the internet with WiFi, which they can exchange data from another. The already enabled smart devices, home appliances, automotive to be connected and exchange data. If the enterprise wants to be a step ahead with digital trends, they must have artificial intelligence & machine learning fundamentals, an understanding of embedded systems, networking, and data analytics. Organizations need into test the application integrated to the devices with different parameters like usability, compatibility with multiple platforms, pilot and upgradable testing.
Enterprises can benefit from IoT by enabling better safety and efficient decision-making by collecting analyzed data. These can enable predictive maintenance and improve customer satisfaction.
6. Virtual Reality and Augmented Reality
Other digital technology trends are Virtual Reality-VR and Augmented Reality-AR, where VR involves the user in an environment while AR enhances their environment. However, this digital tech trend has been used to train aviation pilots, gaming, entertainment like motion pictures, etc.
In 2022, enterprises expect these digital technologies trends to be further integrated into our lives. AR and VR have vast potential in training, entertainment, education, and marketing in various industry verticals.
Conclusion
We at Sun Technologies having 25+ years of experience in IT consulting services spanning across various industries help enterprises like you in offering Data Engineering to Data Sciences & AI, Infrastructure modernization, legacy modernization with micro-services architecture and scriptless approaches to meet your vision and missions towards business growth and customer satisfaction.
Reach us today to fasten your digital transformation journey with our expertise in latest technology stacks!