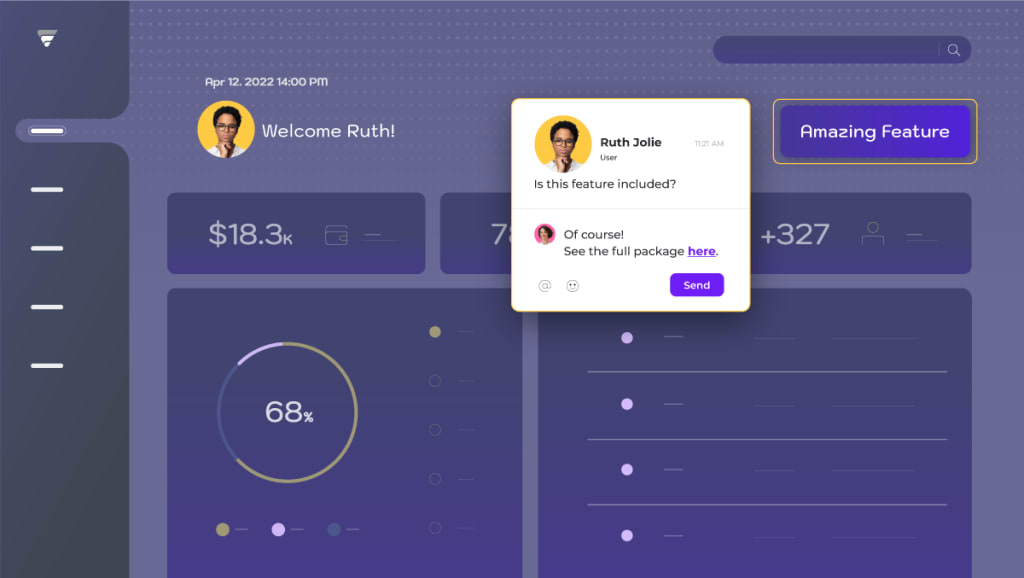 Customer interaction makes or breaks sales processes. Communication alone could either close a deal or veer away prospects. This is particularly challenging for B2B SaaS companies as sales cycles take tedious stages and lengthy steps before determining where sales prospects are at. In fact, poor interactions can create a riptide of catastrophic effects, even just from one failed session. From negative branding to fewer sales opportunities, one's company's profitability is at stake. One startup is currently shaking up the way obsolete sales processes work by optimizing interactions between sales reps and customers with its new product: Walnut Beyond Demos.
Walnut Beyond Demos offers a brand-new comment ability where reps can interact with customers in real time. This product is disrupting obsolete models that prevent companies from maximizing their full sales potential. "When exploring to buy SaaS products, you don't know what the product value is until around the tenth meeting. You often speak to tons of pre-sales, SDRs, and AEs, and then get a generic demo like any other prospect," says Yoav Vilner, CEO of Walnut. "There's a revolution going on right now where the people have had enough: they want B2B sales to be as comfortable, modern, and personalized as B2C sales."
Be In Control of the Sales Cycle
Through real-time engagement, reps now can be in control of their sales cycle. It's just like a game of chess – analyzing and assessing the behavior of the other party enables one to create tactics to make the next move. With Walnut Beyond Demos, reps can now personalize product demonstrations according to the needs and requirements of the prospects. This creates a higher probability of conversion compared to older models that rely on unnecessary and inefficient back-and-forths.
Another feature that this product offers is its ability to provide feedback. Everyone learns from the moves they make, and Beyond Demos provides that data-driven reception of one's performance. Through its automatic engagement score feature, sales reps can assess their strengths and weaknesses, giving room for improvement and opportunities.
Remove Irrelevant Areas
Sales cycles are time-sensitive. From dissatisfied customers to clogged productivity, the inability to deliver fast greatly creates a domino effect that hinders growth and profitability. Instead of spending 10 stages of sales on 1 prospect, Beyond Demos allows sales reps to maximize opportunities at a fraction of the time spent in traditional models. This holistic approach removes the irrelevant areas by addressing all queries and concerns with urgency.
Beyond Demos also allows sales teams to get a better understanding of their customer's behavior through a visual flow of how their prospects navigate the demo. This provides them with the data on the number of product interactions, session duration per page, and the most clicked feature by the prospect.
Integrate into Existing Workflows
Walnut Beyond Demo can be easily integrated into existing workflows. With its native integration with CRM platforms like Hubspot and Salesforce, the data consolidation offers sales reps the chance to view their prospects from a 360 angle.
Walnut's latest product suite takes B2B sales beyond its technological capabilities, allowing a smoother, faster, and more cost-effective sales process for SaaS startups and enterprises.
When asked about the new product suite, Co-Founder & CEO Yoav Vilner said: " Beyond Demos is the new way for sellers to gain unprecedented intelligence to grow revenue. So let's assume that an SDR sends thousands of product snippets to grab the attention of a potential buyer, or when a demo is embedded on the site. Before Beyond Demos, they were blind to the buyer's intention and wasted time on leads that are not necessarily worth it. But now, they gain automated demo scoring which helps them assess the engagement of the buyers, improve qualifications, and make sure they pitch tailored to the paths that interest buyers took.
As for sellers, not only that delivering a live demo is a no-brainer thanks to Walnut, but they can also continue the conversation over the demo after the call by sharing it with customers and allowing them to comment on specific areas. That way, they can help their champions spread the product's value within their team and hopefully address every hesitation, objection, or interest to continue the conversation where left off. It improves the responsiveness and relationship with prospects and customers, which helps them strike on the iron while it's hot.
On top of that, we have the funnel analysis which helps the sellers identify main drop points and mark winning flows, so they can focus on what really moves the needle, and avoid investing time in demos and flows that won't make the difference. Finally, team managers and revenue operations can orchestrate and see everything in their CRM, which makes everything visible and easy to get a fuller picture."
Reader insights
Be the first to share your insights about this piece.
Add your insights