The New Zynn App October Update + Zynn Cheers!?
The update for Zynn App we all been waiting for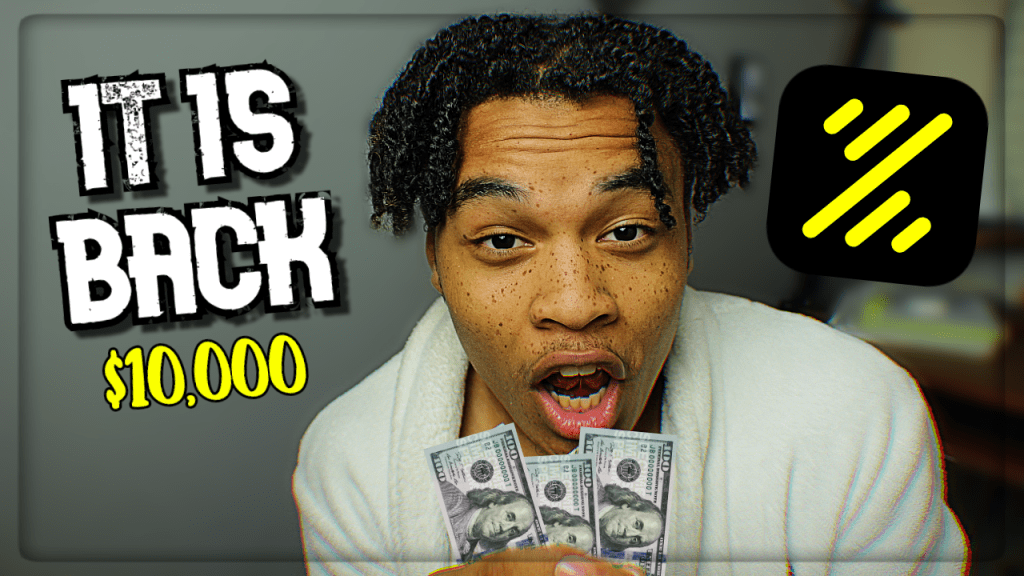 Image by ItzDenz on YouTube
Despite what you may think or believe about the Zynn app is on you, but Zynn is coming back in a new way and trying to do new things with their platform to award those who create content on their platform.
Zynn will reward you with $10k at the end of this month of October just by creating content for their platform. That sounds like a win-win right there as Zynn is helping those out who actually take the time out of their day to contribute to this new growing platform while at the same time you being able to earn $10k in cash for your efforts.
With that being said if you're still heated about their "Zynn Cheers" program then don't be because this is going to be better than it and will actually open up more benefits over time.
But we will get to the good stuff concerning "Zynn Cheers" later on and a possible update to come for it.
With that being said you want to know how the heck you can get entered into the Zynn app giveaway for some cash and here's how.
---
How it works
When you create and post videos on the platform you will have the opportunity to win awards and cash prizes. There are three tiers of awards.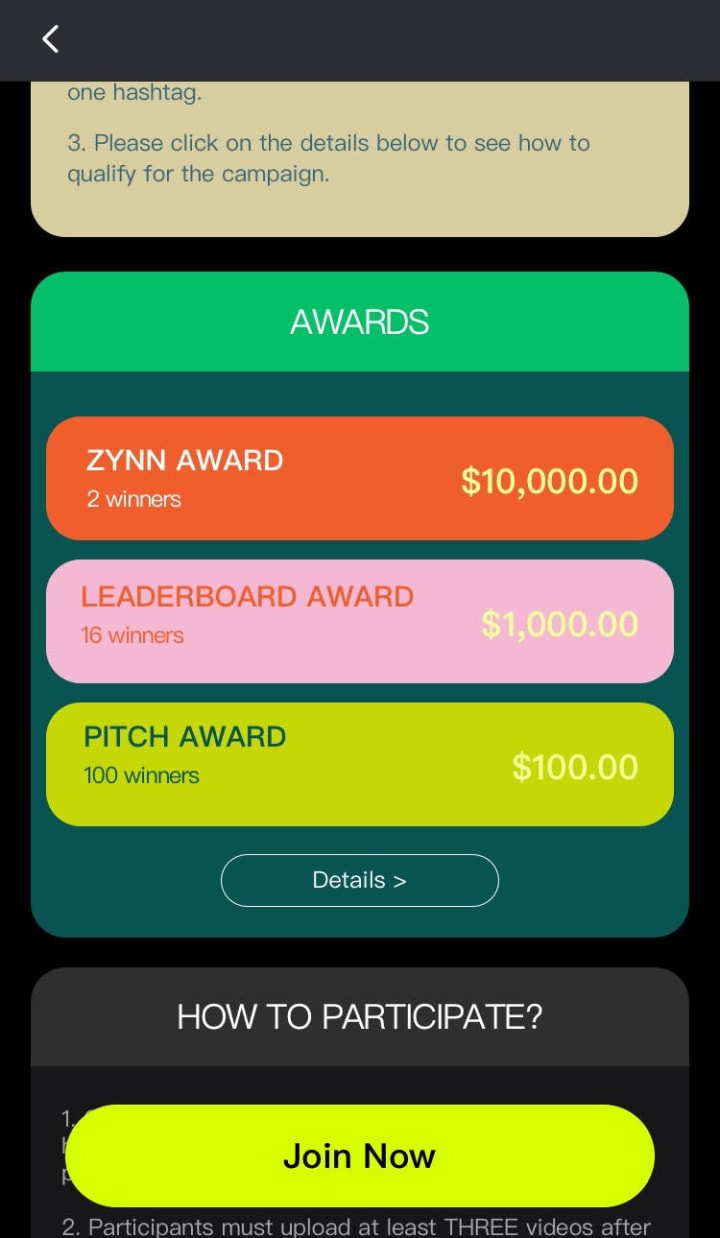 For the highest award, the Zynn Award, two creators will receive USD $10,000 for overall Best Production video and Top Trending video.
The second tier is called the Leaderboard Award. This will give USD $1,000 to sixteen creators who have the Best Production and Top Trending videos on the platform in a certain category. The eight categories include Sports, Lifestyle, Makeup, Food, Fashion, Pets, Movies & Books, as well as an "Other" category to encourage creativity within the community.
The third-tier award is called the Pitch Award. This will award USD $100.00 to the top 100 creators on the platform. Creators are eligible for only one prize and will automatically receive the highest award if eligible for multiple awards.
With that being said Zynn is giving away a total of $46,000.00 in cash and prizes to its creators on the platform. This is a huge amount of money to be given away a the Zynn app platform and all you need to do is just pick up your phone and simply just film an entertaining video of yourself that people can look at. It is simply not hard at all!
How to enter
The deadline to enter into the campaign is October 21, 2020, at 11:59 p.m. PST (Pacific Standard Time). The Zynn team will reach out to you via Email or in-app to let you know if you have won or not in the next week.
...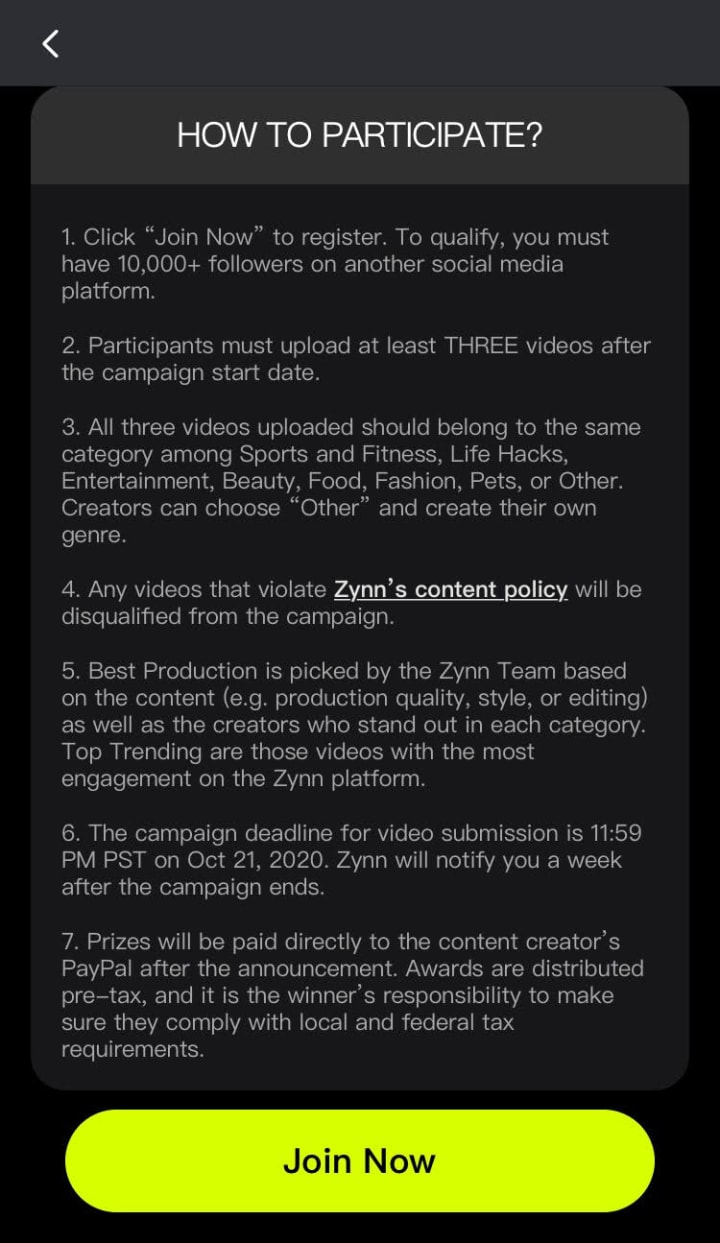 You will be receiving your payments via PayPal and your video will also be featured on the front page of the Zynn app which will then bring you followers and also gain your views as well on your profile.
Now here's the thing you may disagree with for this competition on the Zynn app and the thing is that you need to understand first of all where the app is currently at and things can possibly change in the future as the app grows.
But for right now to enter into the competition and to be eligible to win the prize money you're required to have at least 10,000+ active engaged followers on another social media platform outside of the Zynn app. For example on Tiktok, YouTube, Instagram, Twitter, etc.
Now listen! Listen real quick!
We know you may not have the following at all and we totally get that. Many creators in fact aren't even close to even having a following like that on Social Media and that's the thing.
From now until October 21st for when the deadline is then that's more than enough time for you to gain yourself a loyal following! Right?
Lol, of course not but the thing is that it's something to for sure work towards in the long run and will thus encourage you to create much more content of your own.
With that being said you must understand that Zynn is trying to build a loyal community full of hardworking content creators and they're striving to bring everyone together to just be who you are despite what's going on in the world.
With that being said the moral of the story is just do what you love doing and continue to do it because you're passionate about doing it and not because there's "quick money". Enjoy what you love doing and then the money will start flowing your way just like a magnetic force attracted to another magnetic force.
Anyways if you absolutely do not have 10,000+ followers on social media and that seems to be the main problem to set you back from this competition then just know that we are working on things that will make you happy moving forward. But right now the Zynn app is just getting started and we are constantly trying to make the Zynn app a place where creators go because they love doing what they love doing rather than looking for a "quick money scheme". Quick money is unlike the Zynn app and if you can't seem to grasp that then know you know.
...
Zynn Cheers Update (Coming Soon?)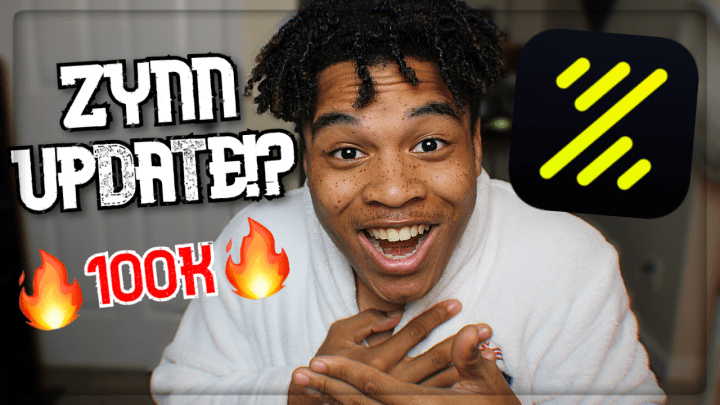 You have most likely skipped down to this part of the article because you simply want to know what's going on with "Zynn Cheers".
First of all, if you want to know more about what the Zynn Cheers are then you can click here to check out a previous article we released on Zynn which talks more about the definition of Zynn Cheers and also the history behind Zynn Cheers on the Zynn app.
If you would've checked out that article about Zynn Cheers you would've seen in that we talked about a possible update to come and the looks of an update to come for Zynn Cheers and how the system can work is still something in the works for a future update. But right now Zynn Cheers doesn't seem to be anything that would work with the direction the Zynn app is going in.
With Zynn users no longer using the app itself for what it's primarily used for which is to create original videos for people to see then we just don't see the Zynn Cheers coming back any time soon.
As of right now if you still care about Zynn Cheers then we can see this turning into an in-app currency thing where you gain them from watching videos and you can also send Zynn Cheers to your favorite creators on the platform. Then the way you can earn them is by creating entertaining videos on your profile. We don't see an update like this coming anytime soon, so with that being said essentially the Zynn Cheers will no longer be the thing you can redeem for money but will be the thing that encourages you to create content on the platform so you can earn money.
...
With that being said what the Zynn Team does for their users who use the platform the way it's supposed to be used is phenomenal.
You can't bring back the past. It's gone. All you can do is let go, move on, and make better memories for the future.
That quote greatly applies to the Zynn app and the future looks bright for them. If you create content keep on going and don't stop creating content and do it without the expectation that you will make money for it because money is something that you earn and something that you work for. If you spend your whole life dreading on one thing then it will be hard for you to move forward.
...
Be sure to subscribe to ItzDenz on YouTube to stay up to date with what goes on at Zynn. Also, be sure to share this article with someone you know. Be sure to join the competition for a chance at earning $10,000+ at Zynn App.