The future of marketing — Chatbot marketing
Hands up if you've heard about Chatbot marketing! We are now entering a new age of marketing. Now introducing Chatbot marketing.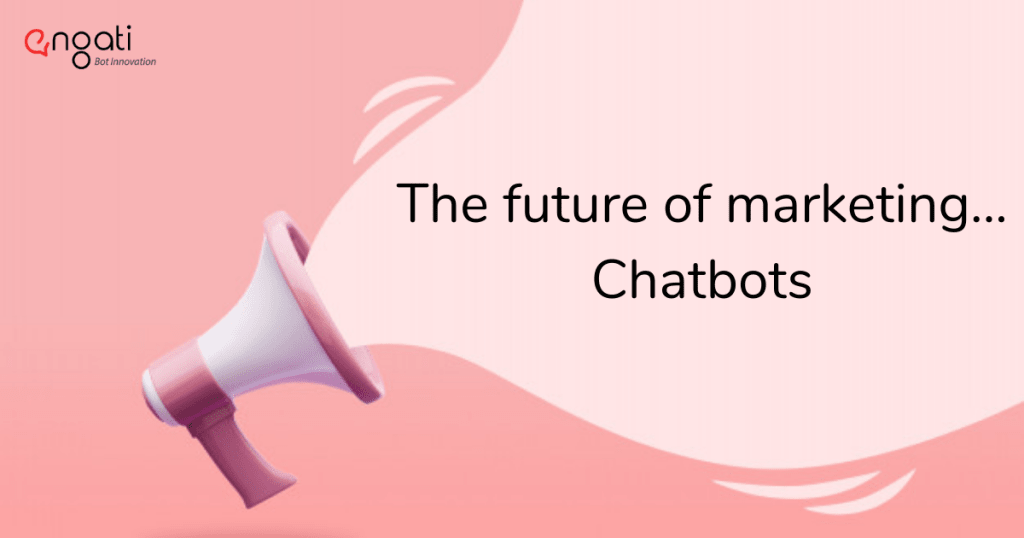 A brief history lesson on marketing
The attempts to master the art of marketing might be as old as civilization and society itself.
Marketing is simply the act of trying to sell goods and services.
The evolution of technology has made this concept more complex- combining strategy with the resources we have available to us.
Here's a timeline of marketing and how we have evolved from trade to tech.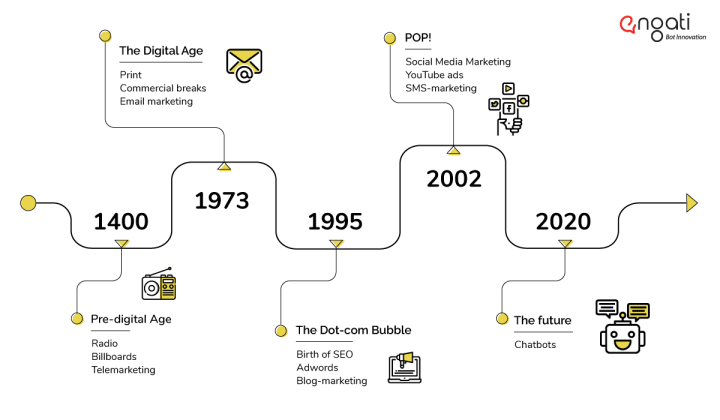 ‍
What is Chatbot marketing?
It's a type of marketing that uses chatbots to promote products and services. They are also used as a way to engage with potential clients to get a sale.
The concept of chatbot marketing has actually been in the works from around 1950. When Alan Turing wrote his paper on Artificial Intelligence, Computing Machinery, and Intelligence, he gave us the opportunity to explore the various use cases of chatbots. But it still felt like we were exploring unchartered waters.
Until the birth of Joseph Weizenbaum's E.L.I.Z.A. in1966- that was when the interest in chatbot marketing started to peak. E.L.I.Z.A. showed us how seamless communicating with machines can be.
We are now opening up to exploring the effectiveness of chatbots for sales and marketing.
If you'd like to read about the history of Chatbots, click here!
How to do chatbot marketing
To use it for marketing, brands will create a chatbot using a chatbot platform, and connect it with their website, or messaging applications like Facebook, WhatsApp, Telegram, etc.
Lead generation
When you go to a store, what's the first thing that ruins your shopping experience? A worker coming up to you and insisting you need help.
When you watch a video, what's the first thing that ruins your experience? A pop-up ad.
These are all examples of disruptive sales tactics. Such disruptions may end up ruining your experience and might make you never want to engage with the brand again.
So how is a chatbot any different?
A chatbot might gently ping you, but that doesn't take away from your browsing experience. The tiny ping and chat window are just there in case you need any help.
And when you do need help, you yourself will open the window voluntarily and interact with the bot. And with the power of conversational marketing and questionnaires, you can gather information on these leads to determine whether they're a quality lead or not.
Lead nurturing
Chatbots can offer your clients a personalized experience. From offering special discounts, to special messages, a chatbot can do it all.
Take Marvel for example.
How Marvel uses chatbots to nurture their fanbase
To promote the launch of the "Secret Empire," Marvel created a chatbot for their most beloved character, Spiderman. The chatbot messages fans and asks for their help in a choose-your-own-adventure format. It also engages fans in quizzes, and other fun puzzles allowing fans to go from watching the story to becoming fully immersed into the storyline.
"Marvel will always be on the forefront of exciting new ways for fans to experience the Marvel Universe."
- Julie Gerola, VP/GM Marketing & Digital Operations ( Source)
Fans get the chance to interact with their heroes onFacebook Messenger and Twitter.
What's in it for me?
1. Chatbots are available to interact with leads 24*7
With an up-time of 99.9%, chatbots are there to interact with your clients and prospects so you and your clients can focus on the next part of the sales journey.
2. Versatile
No matter what business you're in, you can adjust and adapt your chatbot easily. In fact, we've seen chatbots being used for insurance! Check it out here:
‍3. Chatbots are an inexpensive alternative to hiring more talent.
Let's face it- hiring talent is expensive and cumbersome. First, you have an extensive screening process, then you have to interview them. And then when they're hired, you have to train them. It all adds up!
So just save your money and your time and use a chatbot. They're easy to train and are easy on your checkbook.
4. Scalability
As your business grows, your chatbot grows with it.
5. Multilingual
Chatbots can interact with your clients from all over the world.
Explore the future of marketing
Chatbot marketing is unexplored terrain, but it's one of those fields of marketing that's low-risk, high results. And with the world moving towards digital, you need to have the tools to support that.
Want to get a head start in chatbot marketing? Here's your chance! Explore Engati's offerings today.
‍Header provided by Freepik
Originally published at https://www.engati.com.