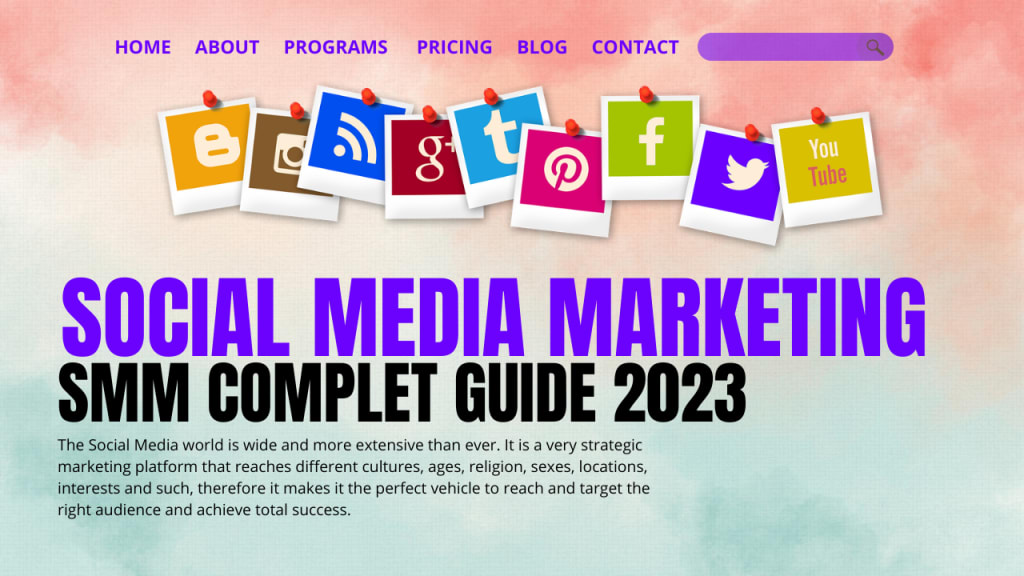 The Social Media world is wide and more extensive than ever. It is a very strategic marketing platform that reaches different cultures, ages, religion, sexes, locations, interests and such, therefore it makes it the perfect vehicle to reach and target the right audience and achieve total success.
What is Social Media Marketing (SMM) ?
Social Media Marketing is the process of gaining attention and web traffic through the social media sites. During this process, usually creative content to reach the masses through publicity coming from a third-party trusted source needs to be created in order for people to share the content of their interest with others and create a vicious chain that would make business cover and go beyond the market audience intended.
Benefits of Social Media Marketing :
There are over 3 billion people with social media accounts worldwide. With numbers that massive, it is impossible to ignore the role that social media plays in our lives. the biggest benefits of social media marketing are :
1. Increase Brand Recognition :
If nothing else, the benefits of social media marketing allow you to get your company's name out there. As your brand becomes more recognizable and more popular, it will be seen as more trustworthy and will stick in people's minds for longer periods of time.
2. Target Specific Demographics with Facebook Ads :
Facebook advertisements are among the most seen content on the internet right now. The beauty of Facebook Ads is that you have the option to filter who will see your ads based on information such as interests, age, relationship status, and more.
3. Better Customer Service :
A disgruntled customer wants to the ability to contact you and get a response immediately. The days of waiting endlessly for a letter in the mail are over.
If you have a strong social media presence, this isn't an issue. Make sure an employee is constantly monitoring your accounts and paying attention to alerts. A lot of unhappy customers is more likely to send you a tweet or direct message on Instagram than an email.
4. Lower Marketing Costs :
According to a recent survey, over 84% of social marketers found that they experienced increased traffic when they put in as little as six hours of effort per week. That's less than one hour per day. This statistic speaks to the power of a good social media strategy and emphasizes the old adage – work smart, not hard.
The Basic Social Media Sites For SMM :
1.Facebook :
Holding more than 900 million users, if you're already a Facebook user this might not be really new to you, but there are lots of features worth mentioning. You can create a dedicated business page and interact directly, and free, with your customers uploading free pictures, products and videos of the service you intend to provide or the product you are trying to sell.
2.Blogs :
Blogs are an easy way for people to communicate in a semi-professional way when it comes to quality of content. Quality content is always the key to a good writing and therefore, a good blogging.
3.Twitter :
A fast growing, very popular social media site. With over 340,000,000 tweets a day and around 140,00,000 users worldwide, this platform is pretty appealing to business and companies as well as for celebrities, musicians, actors, everybody! A tweet is a message of 140 characters maximum that one can write and post and followers can read and see any time in their news feeds.
4.YouTube :
YouTube is a very interesting platform. People go watch videos of any kind or gets redirected by any website that has a backlink to it or search engines. Once people is there on a given there you have some more "Related Videos" on a column on the right side of the screen. Clicking from video to video makes you find things you never thought you would find, interesting topics, funny videos, how-to kind of videos, publicity etc. Your chances to be seen are overwhelming and you can also get people subscribe to your Channel, which is in other terms, your own YouTube space where you upload your videos. Some people find it way more interesting and easier to just watch a video rather than reading a whole article.
How to Make Your SMM Campaign Successful :
1. Define Your Goals :
Any good social media marketing campaign starts with a clear goal in mind. What are you trying to achieve? Do you want to boost brand awareness, generate more leads, or drive more traffic to your website? Once you know your goal, you can start planning your strategy.
2. Choose the Right Platforms :
With so many different social media platforms available, it can be difficult to know which ones to use for your business. However, it's important to do your research and choose the platforms that will be most relevant to your industry and target audience.
3. Create Engaging Content :
Content is king they say, and for good reason. For people to take notice of your campaign, you need to create content that's engaging and interesting. No one wants to read dull, boring content, so make sure you put some thought into what you're posting.
4. Run Ads :
Running ads on social media is a great way to target your audience and ensure that they see your content. You can specifically target age groups, interests, and even specific demographics with your ads. This allows you to reach a wider audience with your content and ensures that your message is seen by those most likely to be interested in it.
N°: 159357

Reader insights
Be the first to share your insights about this piece.
Add your insights