Roadmap for Successful Innovative Digital Transformation Approaches for Organizations
successful digital transformation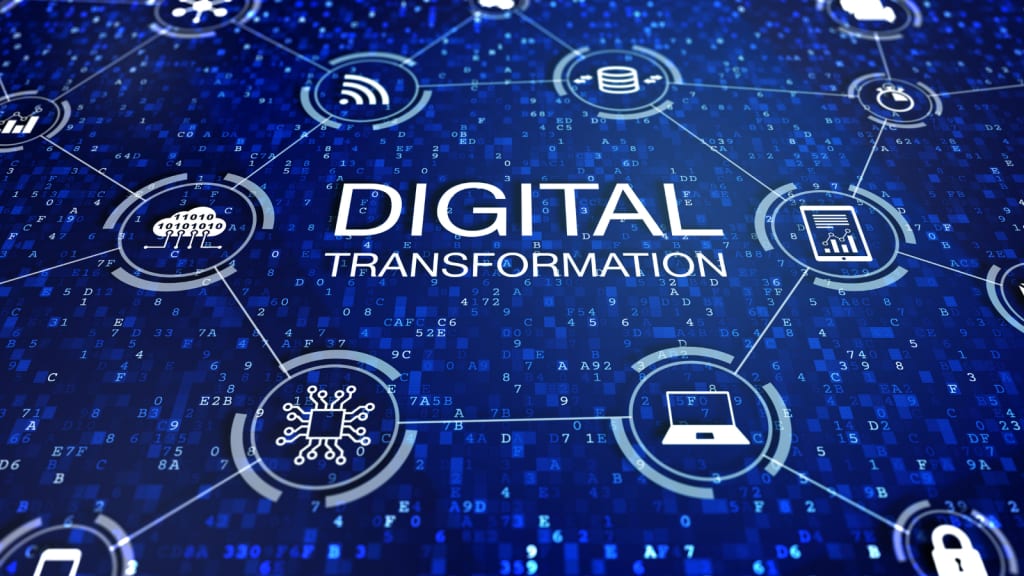 successful digital transformation
During the pandemic, 90% of CEOs accelerate their digital initiatives, where most cannot describe their overall strategy and development beyond the fact that they have made a technological investment. Establishing an adaptive business—one that can prosper in the digital economy—is becoming increasingly important. If CEOs cannot demonstrate that their digital transformation has resulted in new business benefits or agility, they have not truly transformed. This division between business and technology strategy highlights a more significant phenomenon. Many company executives recognize that technology should not drive corporate strategy. However, all too frequently, that knowledge is overshadowed by the need to ask, "What should our AI strategy be?" or to react to events by making a series of tech-first, one-time expenditures. The desire to conceptualize in terms of different technology can be intense.
While many businesses have a digital strategy, they need a consistent vocabulary to strategize across departments, making digital transformation and addressing related opportunities and risks difficult. Digital transformation may enable C-suite executives to hold tech-adjacent and tech-agnostic conversations that transcend any one technology and go to the heart of their processes and culture, as well as how people work and connect.
By adopting a digital transformation, businesses can begin to:
1. Remove human behavioural and structural impediments:
Everything in a company is interrelated. By communicating more effectively, leaders across functions may speak conceptually about shared requirements, prevent duplicating investments, address emerging risks, and modify procedures at scale.
2. Plan for more than one technology:
Platforms, capabilities, and initiatives frequently include the secure collaboration of several digital and physical technologies. As these technologies come together, they become more significant than the sum of their parts, bringing new capabilities and value.
3. Advance into the future:
Today's breakthrough technology will be obsolete tomorrow. Allows executives to think flexibly across a matrix of business and technological demands without relying on any single technology.
4. Increase your strategic business worth by demonstrating your ability to adjust and win:
This technique assists businesses in better aligning and executing their business plan to achieve the intended outcomes of advantage and adaptability of the company, individuals, and technology.
Five digital transformation imperatives:
We identified five business outcomes that technology influences and allows that can aid in developing digital transformation. By thinking thematically across these five digital imperatives—experience, insights, platforms, connectivity, and integrity—organizations can communicate across functions in a way that prioritizes strategy over technology, resulting in initiatives that deliver a more modular, flexible technology core that delivers better transformation and strategic value. In addition, these business-techno principles can serve as guardrails to help executives avoid slipping into the trap of a technology-led discourse. They may also assist in developing digital strategies tied to technological realities and workforce concerns. In essence, they serve as a link for coordinated talks between business and technology strategists and workforce and operations executives.
1. Experiences:
Optimizes interactions with people, whether they be customers, employees, or other stakeholders in the ecosystem.
2. Insights:
Evaluates the data, analysis, operational model, and personnel necessary to support corporate strategies.
3. Platforms:
Platforms are concerned with the placement and administration of information within an organization or its network.
4. Connectivity:
It involves the flow of information across platforms, experiences, insights, and networking with other companies and ecosystems.
5. Integrity:
A cyber-minded culture focuses on enhancing resilience, security, ethical technology, and trust across all internal and external-facing corporate systems and processes to handle constantly developing threats.
Implementing the imperatives, Drive change by aligning strategy:
C-suite Digital Transformation Discussion Guide:
Begin by evaluating how that broad goal ripples across company, technology, and labour considerations:
1. What is the enterprise goal for digital transformation? Willingness to change? Possibility of victory? Both?
2. Ask the following questions on each of the five digital imperatives
- What strategic business aims best support our company's goal(s)?
- In terms of purpose, function, security, and risk, how does technology need to support this business goal?
- How will those business, technological, or security decisions affect operations and the workforce?
In turn, how may workforce strategies and capabilities influence the transformation strategy in a way that considers substantial shifts across leadership teams, operational models, ecosystems, and the strategy-aligned workforce?
Creating value through the five imperatives
While our suggested paradigm is novel, the complex reality of implementing an integrated, cross-functional approach to digital transformation is different. However, creating such an integrated strategy is critical. We discovered that the technologies in our survey aligned with these imperatives and were rated as the top five most important to enable digital transformation when we analyzed data from 3260 global business and public-sector leaders who responded to Sun Technologies 2021 Digital Transformation Executive Survey. Furthermore, we discovered that the more digital imperatives these firms implemented, the greater their digital maturity and profitability. Furthermore, more digitally integrated firms outperformed in terms of strategic objectives, flexibility to adjust, and ability to win.
Conclusion for Present and Future transformations
Our Sun Technologies digital imperatives can help firms drive transformations that correspond with their broader goals while being flexible in the face of future strategy changes. They recognize the importance of AI, cloud, and cybersecurity today but leave opportunity for evolution towards the next technologies, avoiding the temptation of chasing every new shiny object. Finally, they assist in developing adaptable business processes and technological architectures (modular "capability stacks") that accept dynamic change and reconfiguration in the face of ongoing disruption and risk, with the objective of compatibility for numerous conceivable futures.
Reader insights
Be the first to share your insights about this piece.
Add your insights