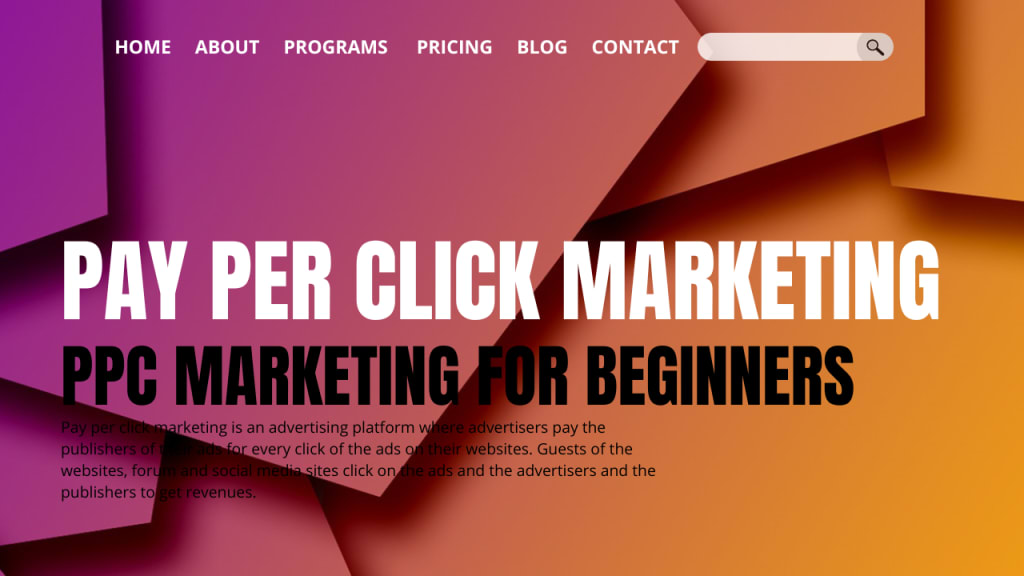 When you are involved in internet marketing, one thing you will definitely need to learn about is pay per click marketing. This is a very cost effective type of marketing because you only pay when people actually click on a link and visit your site. With pay per click marketing you won't have to pay for advertising unless it really brings in more traffic to your site.
What Is Pay Per Click Marketing?
Pay per click marketing is an advertising platform where advertisers pay the publishers of their ads for every click of the ads on their websites. Guests of the websites, forum and social media sites click on the ads and the advertisers and the publishers to get revenues. This type of advertising platform also requires a certain investment. It is a very cost-effective form of advertisement compared to other forms. But, if not used properly, you could be spending more that your return of investment.
How Does Pay Per Click Marketing Work?
In pay per click marketing, advertisers bid on keywords in Google or their choice of search engine. These keywords depend on the target audience of the advertisers. They choose the keywords that are relevant to their business and are more likely to be entered into by audiences when they use the search engines for their queries. Choosing the keywords is only part of the work done. They have to outbid the other advertisers to be able to own the right to use the keywords for their pay per click marketing. Every time an internet user enters the keyword in the search box, the pay-per-click advertisement will appear on top or at the side of the search results as part of the sponsored results for easy viewing.
The rate of the keyword depends on the demand of the keyword. If the keyword is very popular, you can expect many competitors to be bidding on the same keyword. The keyword is more likely to be highly rated. If a keyword is less likely to be used, you can bid on the keyword at a very low rate. The equivalent bid will be returned to you for every click made on your ads.
Pay Per Click Marketing Tips :
If you are new to pay per click, then you may need some simple tips to help you set up your ads to generate the most traffic possible. Here are some tips for beginners that will help you make the most of your pay per click ads.
1.Create Dynamic Titles :
If you want to make the most of pay per click marketing, you need to create dynamic titles for your ads. It is easy to create them and the titles can have a big affect on your conversion rates as well. You also need to make sure that the content of the ad is well written and that it grabs attention. You want people to click on your ad, so a good title and great content that draws them in is very important.
2.Avoid Broad Keywords :
Some beginners make the mistake of using broad keywords when they start out with pay per click marketing. What do we mean by broad? Well, this refers to using general keywords or phrases. One example is the phrase "tennis shoes." This is a very general keyword phrase and the ad will show up when people search for the words "tennis" and "shoes" and they can be in any order and with other terms as well. While it can a good campaign for more experienced marketers, if you are just beginning, using broad keywords is not the way to go.
3.Test Different Ads :
Come up with several different ads that you can use and then test them. Try using one ad for a week, use the next add for a week, then another ad for a week. Take a look at which ad brings in the best response. Once you see which one brings in the great return, go ahead and use that ad. This is a great way to see what works and what doesn't when creating your pay per click marketing ads.
4.Track ROI and Conversion :
Tracking is an important part of pay per click marketing. You should be tracking everything that you can. If you use Google AdWords, you will find that Google tracks some things for you, such as the click through rate. This doesn't mean that the ads are actually making you any money though. Google offers conversion tracking codes or you can get software to help you track ROI and conversion. This way you see how keywords are performing and which ones are really making you money.
5.Stick with Your Budget :
Set a budget each week for your pay per click campaigns. Then make sure that you stick with the budget. After all, you never know which keywords are going to work for a short bit and then die out. It can get addictive to use this type of marketing and you don't want to blow your budget on it. Figure out what you can spend on pay per click marketing, and then make sure you don't go over your budget.
Advantages of Pay Per Click Marketing :
The main advantages of pay per click marketing are :
Instant increase in traffic : This strategy of pay per click marketing works marvels because the advertisement gets displayed on networks as it is set up. So this implies that you get visitors within minutes and no other strategies tend to match up with PPC marketing.
Controlling the ad: Through the method of PPC marketing one can choose when your ad should be displayed, and also determine the maximum amount that you are willing to pay for particular keyword. There are options of choosing the daily budget and one can also track and monitor the results given through ads.
Targeting visitors: Through PPC marketing, you can benefit by getting visitors, who are already looking, for similar kinds of product or websites. Hence, the advertisement would offer you with relevant keywords that are focused only on highly targeted visitors that may convert into customers.
Paying only for one click: Another benefit of pay per click marketing is that you have to pay only for one click. There are no additional charges for any kinds of ad impressions or ad view.
Conclusion :
Pay Per Click Marketing when properly implemented is the quickest way to drive targeted traffic and deliver the expected returns on your online business.
N°:456258
Reader insights
Be the first to share your insights about this piece.
Add your insights