Making Money Online: Is Neobux Worth It?
Is Neobux worth using?
With so many paid to click (PTC) sites available to use online, the competition is pretty fierce, but Neobux has stood the test of time and consistently proven itself to be a genuine and paying PTC site. But even though it has a long history of paying its members, is it actually worth spending any time on Neobux, and will you make any money if you do?
There are a few different ways to make money on Neobux.
Clicking Ads
A lot of people choose to do this because even though the pay is very small, the ads you do get are guaranteed. They are not like surveys when you might be screened out or disqualified, if you click on the advert, you will be credited for it. But the number of ads you are given is inconsistent and varies from week to week, some weeks I used to be given 160, some weeks I would have four. You never knew when the number of ads available for you to click would be reduced until you logged on.
But even if you have loads of 0.005 cent ads, you have to ask yourself if it is worth it. After about an hours worth of clicking, you will have 40 cents at the most, and you need to figure out whether your time is more valuable than that.
Offers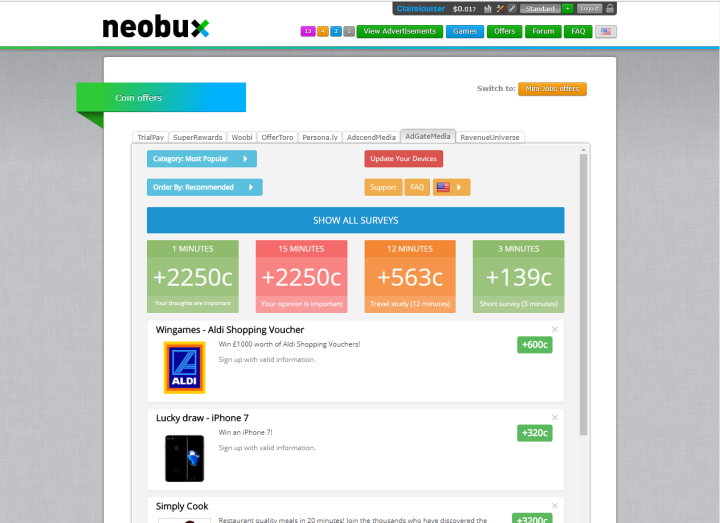 There are so many different offers to choose from on PTC sites and Neobux is no exception, but complete offers at your own risk, you have to get into contact with the admin of the offer company, not Neobux. And the admin can be less than helpful, and Neobux basically doesn't want to know about it. Higher paying offers very rarely credit and you'll get virtually no help from admin, if you do complete an offer, always get proof in the form of screenshots that you did it. At least then you will have some kind of evidence to support yourself.
Also, be warned that coin offers are pending for 60 days, so if you are looking for a quick payout then look somewhere else.
Mini Jobs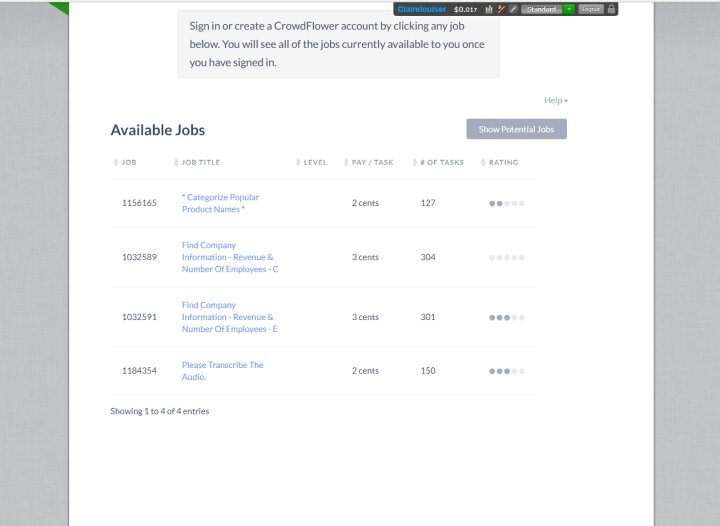 The mini-jobs on Neobux are done through Crowdflower, a 3rd party small task website. You need an account with them before you can start, but once you have an account you can make very small amounts of cash for very dull jobs. The jobs are inconsistent too, there will be loads one day and none the next, so don't rely on the jobs.
Radio
Please don't bother with the radio loyalty offers, the CAPTCHA comes about every 45 mins (not 30 like it says) and you get one cent every time you solve it. That's one cent every 45 mins! You have to stay on the landing page to get credited too, you can't even open another tab. It will make everything on your computer slow and I would never recommend it to anyone, ever.
Referrals
For the life of me, I don't understand PTC referral programs, but Neobux apparently has one of the best, and there does seem to be money to be made, but only if you have an extensive knowledge of the referral system.
PayPal
Neobux used to offer PayPal as a payment processor, but no longer, their relationship has ended and I made the mistake of using Skrill which charged me £5 GBP to withdraw money to my account!
Is It Worth It?
No, not anymore, not unless you have a solid knowledge of the referral system, and even then, there is no guarantee your referrals will be active. I used to use this site in desperate times, but it's not even worth doing when you're desperate anymore.