Make SEO 🌱Content That Google Loves With AI(GrowthBar Honest Review)
GrowthBar Honest Review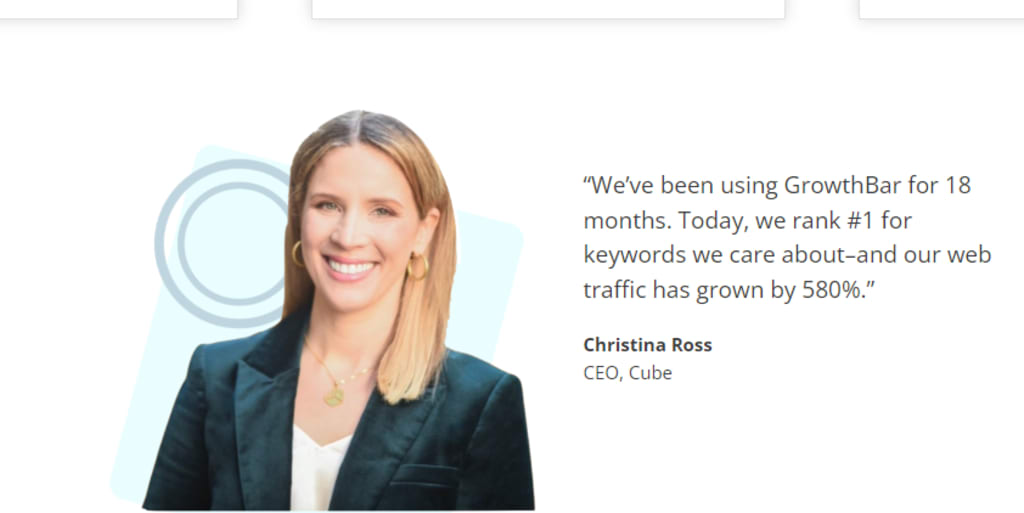 In this GrowthBar review, I take a close look at a tool that aims to provide key SEO functionality at a significantly lower cost than its competitors. Can you run a successful SEO project with this low-cost app, or should you go with a more established solution? Continue reading to find out...
Keyword research and backlink building are critical components of search engine optimization, but they can be costly.
Many of the leading SEO tools start at $99 per month, and hiring an agency to work on an SEO campaign can cost much more than that.
Seeing a desire among startups and small businesses to avoid these costs, growth marketers Hailey Friedman and Mark Spera created 'GrowthBar,' a new product that aims to provide key SEO functionality at a much lower price point — $29 per month.
In the following review, I'll look at how effectively it achieves that goal.
Let us begin with a fundamental question...
What is GrowthBar?
GrowthBar is an SEO tool that has two functions.
First, it can be used as a self - contained web app, where you log in, enter words or phrases, and access statistics, among other things.
It can, however, be used as a Chrome extension, which distinguishes it from most well-known SEO tools — Moz, Semrush, Ahrefs, and so on — which tend to work exclusively as standalone web applications, rather than plugins or extensions.

If you want to use the GrowthBar Chrome extension, you'll need to have the Chrome browser installed on your computer, as well as a Google account.
Growthbar's'standalone' version
GrowthBar's philosophy is to remove the more advanced SEO features that are typically provided by established SEO tools, allowing users to focus on the most important metrics.
As a result, when you access the standalone' version of GrowthBar, you will only find a few SEO features.
These are divided into two categories: "content tools" and "SEO tools."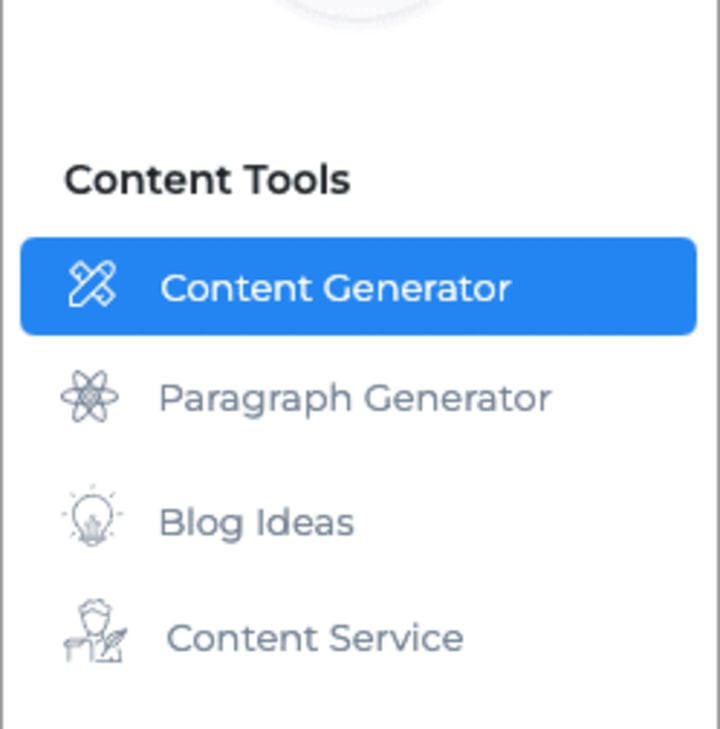 In the Content tools section, you'll find:
a content generator — based on a phrase you provide, this 'AI' feature generates content outlines for your blog posts or site pages, as well as recommendations for the best titles, introductions, keywords, word counts, headers, and images to use.
a paragraph generator - as the name implies, this feature generates paragraph copy based on a topic you enter.
blog ideas - generates a list of blog post titles based on a keyword you provide.
Content service enables you to hire a writer to write a blog post on any topic of your choice.
In the SEO tools section, you'll find:
A site inspector provides basic information about a website (authority, estimated traffic per month, backlinks and Google CPC data)
A keyword research tool will tell you how many searches there are for a specific keyword.
A rank tracker allows you to enter a domain and a list of keywords to see how it ranks for them.
Let's look at each of these in turn.
GrowthBar's content tools
The creator of content
GrowthBar's 'content generator' tool, which is positioned as its star feature, uses AI (artificial intelligence) to assist you in creating new blog posts and web pages.
There are several ways to use it, but they all begin with you entering a phrase into the content generator that you'd like ideas for.

After that, the content generator tool will recommend a post title and introduction:

Initial post title and introduction suggestions from the content generator
If you don't like these, you can get suggestions for others by pressing the'shuffle' button. This is frequently required because the initial content — particularly the introduction text — can be hit or miss.
In GrowthBar, he shuffles the buttons.
When I tested this feature by requesting a post about Dublin, the first introduction provided was highly inaccurate, stating that Dublin was the third-largest city in Ireland (it's by far the largest) and the fifth-largest city in the EU (Wikipedia reports that it's the 49th largest!).
Using the shuffle button made it simple to obtain more accurate content — but the main takeaway here is to double-check all of the copy provided by the content generator.
However, I preferred the title suggestions because they were more relevant and catchy.
Once you've decided on a title and introductory copy for your post, you can use the other tools to expand on both.
a keyword difficulty score — this tells you how hard it will be to rank highly for the topic you're writing about
some content targets for your post — the number of words it should contain, the URL you should use for it, how many headings it should have and so on
keywords your posts should contain.
The screenshot below depicts what I discovered while testing the tool for my 'Dublin' post.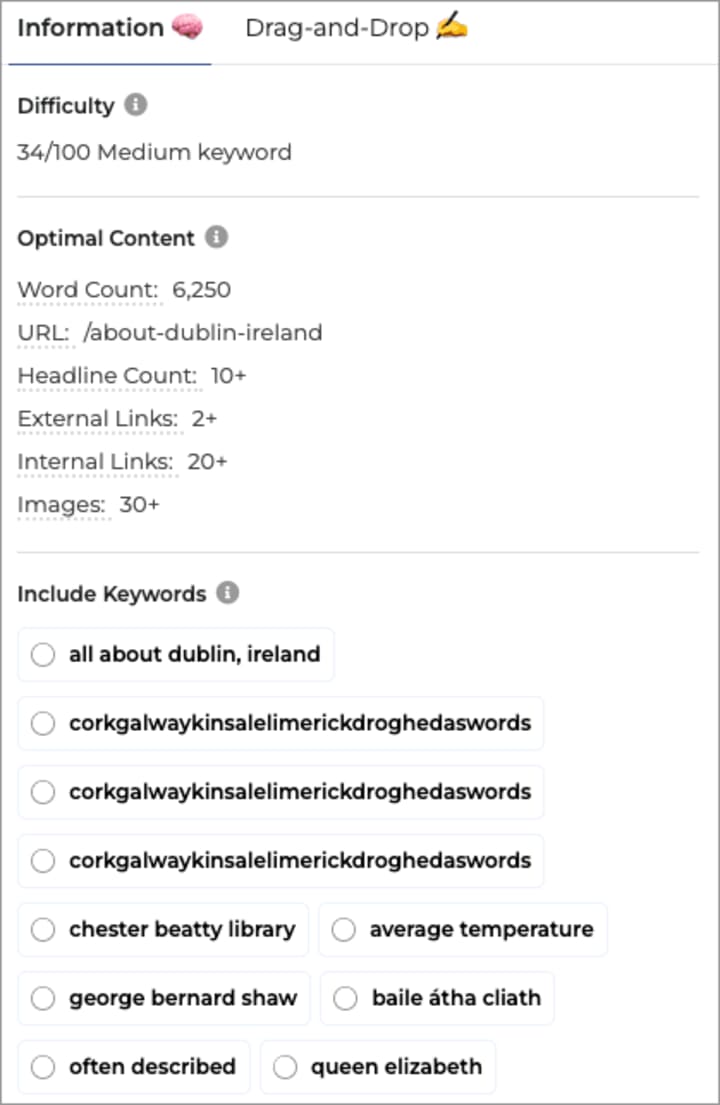 As you can see, this is all very useful information.
However, I believe there are a couple of improvements that could be made here
First, it's unclear whether the 'difficulty' score refers to the suggested post title or the phrase I used to generate content. It would be helpful if GrowthBar made this more clear.
Second, some of the keywords GrowthBar suggests you include here can be a little strange — if you look at the screenshot above, you'll notice a few really long, mashed-up phrases in the keywords list that don't make sense or have much to do with the topic I wanted to write about.
The 'optimal content' panel, on the other hand, was one of my favorites. This gives you very specific goals to aim for when creating new content, such as:
word count
URL structure
headline count
number of external links to include
number of internal links to include
image count.
According to GrowthBar, this is surfaced via a propriety 'topic modelling' technology that analyzes 100+ high-performing pages on your topic.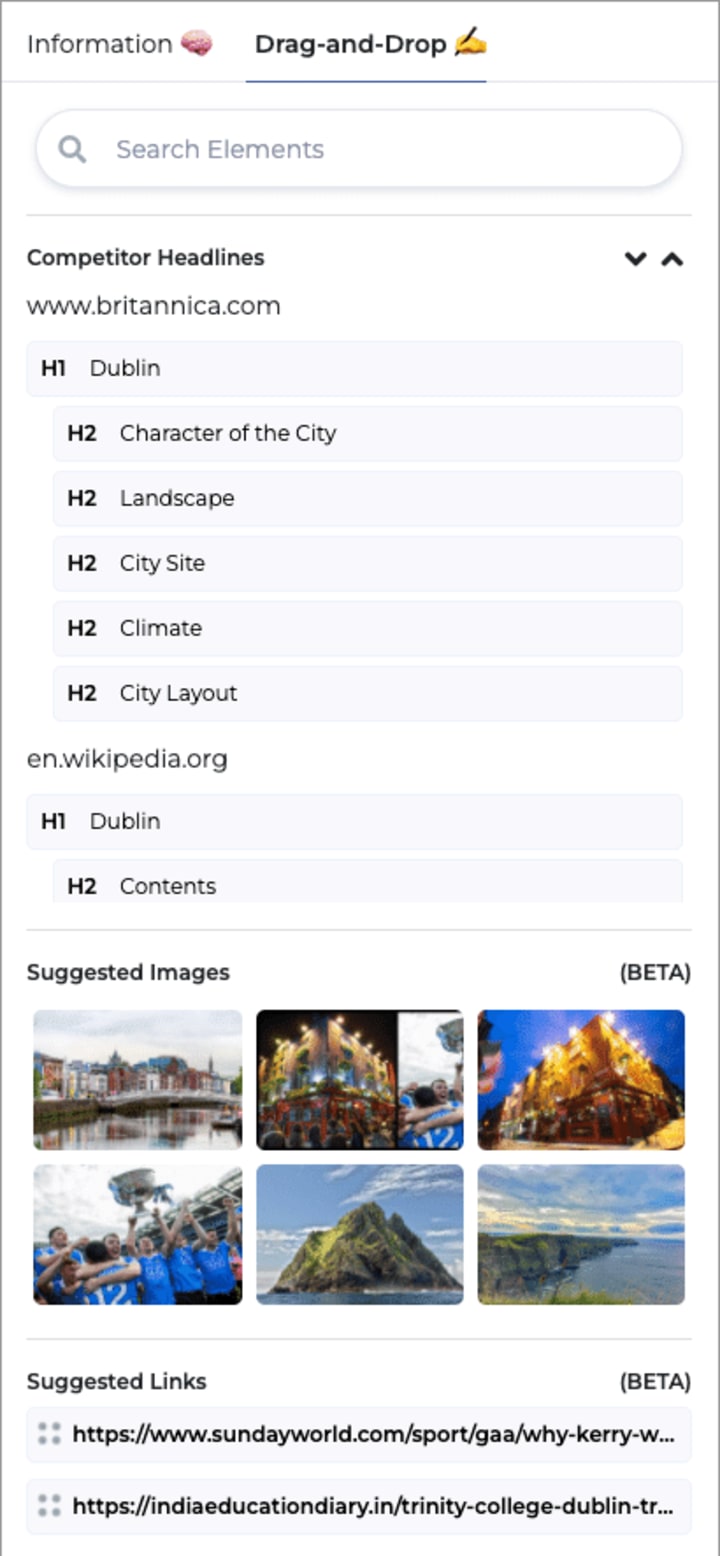 As the screenshot above shows, there are three sub-sections here: competitor headlines, suggested images, and suggested links.
The competitor headlines feature is extremely beneficial. This allows you to see what headings your competitors are using in top-ranking articles about the same topic (along with the relevant level — H1, H2, H3, and so on), and ensures that your post covers the same ground.
The suggested images section displays images from similar posts in yours (and gives you the URLS where they can be found).
This is a nice idea in theory, but it doesn't work so well in practice because the majority of the images surfaced are not royalty free (so you could get charged a fee by their owners if you use them).
Finally, the suggested images feature is useful for getting an idea of the types of images used in popular posts — but not for sourcing images. I'd prefer to see a direct integration with a royalty-free image site like Unsplash: this would provide you with images that you could use in your posts without issue.
Finally, there's the suggested links tool, which provides you with a list of external links that GrowthBar believes you should include in your post.
During my testing, I discovered that the links provided here were unquestionably relevant to the topic. They were, however, links to websites with which I was directly competing. So, while I found these links useful for gathering additional background information on the topic I was writing about, I'm not sure I'd want to direct any link juice their way.
Another aspect of the content generator tool to consider is the 'AI Content' button.
When you click this button at the bottom of the copywriting window, GrowthBar's algorithm inserts copy into your post that it thinks is relevant to your topic.
The results here, like with the AI-generated introductions, can be hit or miss. Some of the content generated by the AI content button was extremely useful, while others were wildly inaccurate and/or irrelevant.
So, what are your thoughts on GrowthBar's content generator? Overall, I really enjoyed it. It provides extremely useful 'target' data, particularly for word counts, headings, URLs, and image counts. And it will provide you with good content ideas — the AI content generator and list of competitor headings will help ensure that you cover any topic thoroughly.
However, there is a lot of room for improvement when it comes to the actual content created by this AI tool — it's just not reliable enough to be used without a significant amount of fact checking or editing.
The tool for creating paragraphs
GrowthBar provides a 'paragraph generator' tool in addition to its 'content generator' tool. Based on a keyword you enter, this generates an AI-generated paragraph.

To be honest, I wasn't sure what to make of this feature because I rarely need a paragraph on its own.
It would be more convenient if this feature was included in the 'content generator' tool — for example, it would be useful if, after adding an H2 to a blog post you're working on, you could hit a 'generate paragraph' button, which would then use that H2 as the basis of your paragraph.
The content generated by this tool suffers from the same accuracy and relevancy issues as the main 'content generator' tool. However, it can provide food for thought as well as some reasonably usable copy.
The blog idea generator
The 'blog ideas' tool does exactly what it says it does: it generates blog post title suggestions based on a phrase you enter.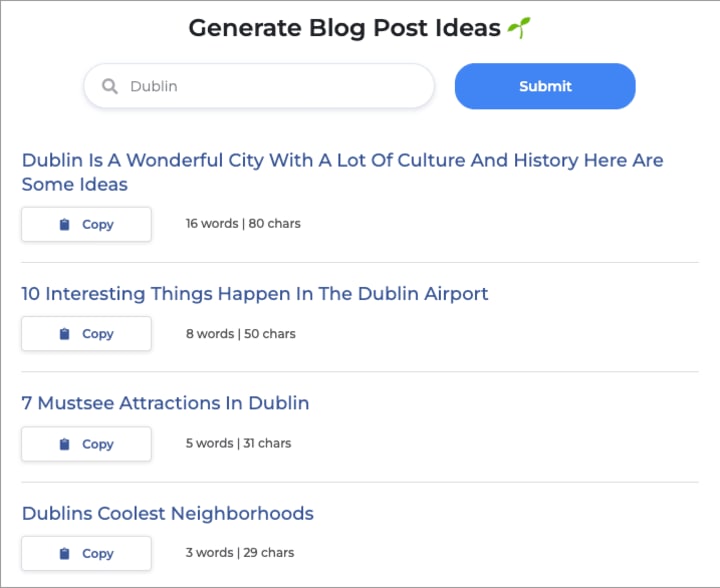 On the plus side, many new ideas have emerged (and unlike the content generator and paragraph generator features, there are no monthly limits on the number of times this tool can be used).
However, as shown in the screenshot above, some of the titles are awkward (or strange!) and contain grammatical errors.
Furthermore, the titles that are surfaced do not include any information about keyword difficulty, so if you like the sound of a particular title, you'll be in the dark about how easy or difficult it will be to rank for it.
SEO tools from GrowthBar
So far, we've examined GrowthBar's content-creation tools. GrowthBar also provides three more 'traditional' SEO tools: a site inspector, a keyword research tool, and a rank tracker.
Let's see how they compare.
Inspector on the job
The site inspector is a straightforward domain analysis tool. It allows you to enter a domain and then displays:
its authority
an estimate of the monthly traffic to it
a 'plus' icon which lets you view key backlinks to the domain
a Google icon which lets you view information about the Google ads that the owner of that domain is running, plus associated 'cost-per-click' data
the keywords for which the site currently ranks highly.

GrowthBar's site inspector feature
Although the data provided is very simplistic in comparison to the type of domain analysis found in more expensive apps like Ahrefs or Semrush, it still provides a clear overview of the essential information you might want to learn about a domain.
One thing to be wary of is the 'organic traffic' estimate; on some occasions (and based on having access to traffic data for a number of sites), I found the GrowthBar estimates to be significantly off.
To be fair to GrowthBar, this is frequently the case with SEO tools — traffic estimates from Ahrefs and Semrush can also be wildly inaccurate at times. So, regardless of the SEO tool used, it's generally best to treat traffic estimates as trends rather than absolute truth.
Overall, GrowthBar's Site Inspector provides the key information you'll need to sense check a website's SEO condition — whether yours or a competitor's — but I'd like to see one metric added: a 'total backlinks' figure that shows you how many backlinks point to the website you enter.
Although the GrowthBar site inspector provides access to a list of key backlinks to a site, this is limited to 500 links — there doesn't appear to be a way to determine how many links point to a specific domain.
What about broken link building?
A link building tactic that you won't really be able to engage in using GrowthBar is broken link building.
Broken link building involves identifying content in your niche that is no longer live, recreating a version of it and then approaching webmasters who had previously linked to that content (asking them to replace the broken link with a link to your new resource).
Unfortunately there isn't really a way in GrowthBar to identify these broken links — so if this particular SEO tactic is important to you, you'll need to look elsewhere (other SEO tools like Semrush and Ahrefs do have this as a core feature).
The 'keyword research' tool
As the name indicates, GrowthBar's keywords research tool lets you get keyword data / suggestions based on a phrase you enter.

Using GrowthBar to conduct keyword research
The keywords section (shown above) displays:
the number of monthly searches for a phrase entered the difficulty (on a scale of 1 to 100) of ranking for that phrase a list of keyword suggestions —'related queries' based on the phrase
All very useful information, but there is one significant omission: the keyword suggestions do not include keyword difficulty scores.
This makes it difficult to determine which of the suggested keyword opportunities are actually worth pursuing. To get this data, you could enter individual keywords back into GrowthBar, but that would be a time-consuming process.
Trying GrowthBar out for free
Like many competing SEO tools, you can try GrowthBar out for free before committing to it. The company has made a 5-day free trial available, which you can access via this link.
TRY GROWTHBAR 5 DAYS RISK FREE
The rank tracker
GrowthBar's rank tracker lets you enter a domain and a keyword and see:
a monthly traffic estimate for that domain
how high that domain ranks for the keyword you entered
how hard it will be to get onto page one of Google search results for the keyword you entered
suggested keywords that will help you rank on page one of Google search results
the average word count of the content ranking for your keyword on the first page of Google's search results.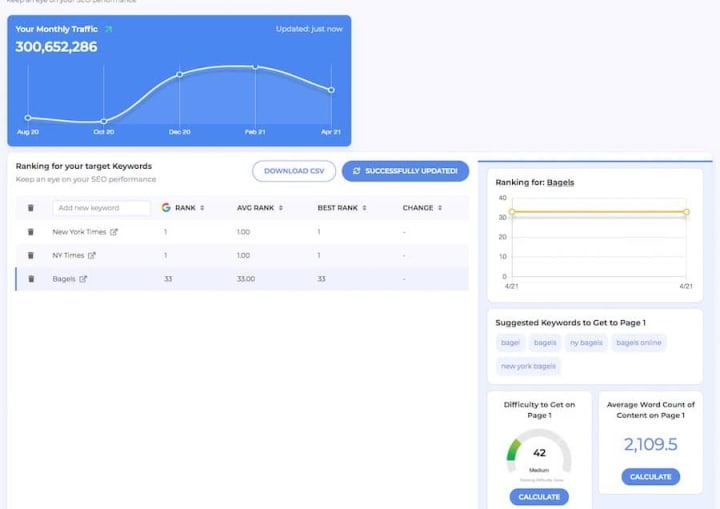 This section allows you to track how your ranking changes over time, thanks to a 'best rank' and 'change' column in the data table, as well as a graph on the right side of the screen.
This effectively provides'sense-checking' data rather than a detailed analysis of how your ranking for a specific keyword has progressed over time — but, again, that's the whole point of GrowthBar: to provide stats that are simple to access and understand.
A way to save money on GrowthBar
For a limited time, GrowthBar are offering a 20% discount on their plans (for the first three months of your subscription. Just sign up for a free trial and then use the code 'stylefactory' when purchasing a plan.
The Chrome extension
As discussed above, GrowthBar comes in two flavors: the 'standalone' version, which I've just covered, and a Chrome extension.
The Chrome extension basically changes all your Google search results so that in addition to providing descriptions of and links to relevant web pages, they also display SEO metrics. This is an interesting idea, and the thing I like most about GrowthBar.
Once you've added the GrowthBar extension and entered a keyword into Google, the first thing you'll see is a 'keyword difficulty' score for that phrase. This give you a sense of how hard it will be to rank highly in search results for it (the higher the value returned, the higher the difficulty).

Viewing the keyword difficulty score in GrowthBar — you can see here that the phrase 'keyword research' has a difficulty score of 63, so would be hard to rank for.
You'll also see a little strip (the 'growth bar' itself) underneath each search result.

GrowthBar SEO metrics in Google.
This gives you the following data about each website in the results:
its domain authority
an estimate of organic traffic to it
the top keywords that it ranks for
the top backlinks pointing to it
any paid keywords being used by that site
any Facebook ads being run by it.
In some cases — for example, where domain authority and organic traffic stats are concerned — the data is immediately visible.
In others, you need to click on a plus symbol on the strip to see the data. Doing so brings up a box containing the relevant metrics.

Viewing backlinks in GrowthBar
You also see a little 'Words' link beside each search result; clicking on this shows you its word count.
This is useful data, as there is often a correlation between page length and performance in search results. Knowing how many words are in a top-ranking article can help you craft a piece of content that is of a similarly SEO-friendly length.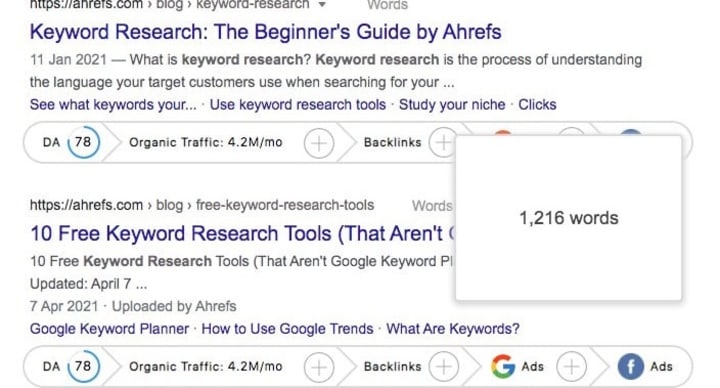 The 'word count' feature in GrowthBar
That said, I didn't always find that the word count provided was particularly accurate; there is room for improvement here.
Ease-of-use
Without a doubt, GrowthBar is ridiculously simple to use.
This could be because it has fewer features than most SEO tools, but it's also because a lot of thought has gone into prioritizing key SEO features, ensuring that they work simply, and presenting the data provided in an easy-to-understand format.
As long as you understand the fundamentals of SEO, the'standalone' version of GrowthBar has virtually no learning curve.
The Chrome extension version is also incredibly simple to use — simply enter phrases into Google and all the key metrics are displayed in front of you.
In the end, it's difficult to imagine new users having too much trouble learning how to use GrowthBar.
GrowthBar is very simple to use if you have a basic understanding of key SEO principles — and this is one of its main selling points.
Pricing and value for money
The best thing about GrowthBar is the price of its entry-level plan, 'Standard' — this is available for just $29 per month if you pay upfront for a year, or $39 per month if you pay on a monthly basis.
This means that on this plan, you can get a lot of SEO data at a much lower price point than competing tools like Ahrefs or Semrush, which cost at least $99 per month to use (and often considerably more, if you add on additional features).
Fairly tight limits do apply to the GrowthBar 'Standard' plan, however. AI content outlines are limited to 15 per month; rank tracking is limited to 25 phrases across 1 website; and you can only generate 50 AI paragraphs with it.
And on this plan, the number of competitor keywords and backlinks is limited to 300 per query.
To increase these limits, you'll need to upgrade to either a $79 per month 'Pro' or $199 per month 'Agency' plan. These increase your ranking tracking limits to 1,000 keywords across 3 sites, and 5,000 keywords across 10 sites respectively. They also facilitate more AI-created content outlines each month (20 and 50 respectively) and are more generous when it comes to the numbers of competitor backlinks and keywords they output.
(Note: these monthly costs are based on paying upfront for a year — the 'Pro' and 'Agency' plans cost $129 and $299 per month if used on a rolling basis).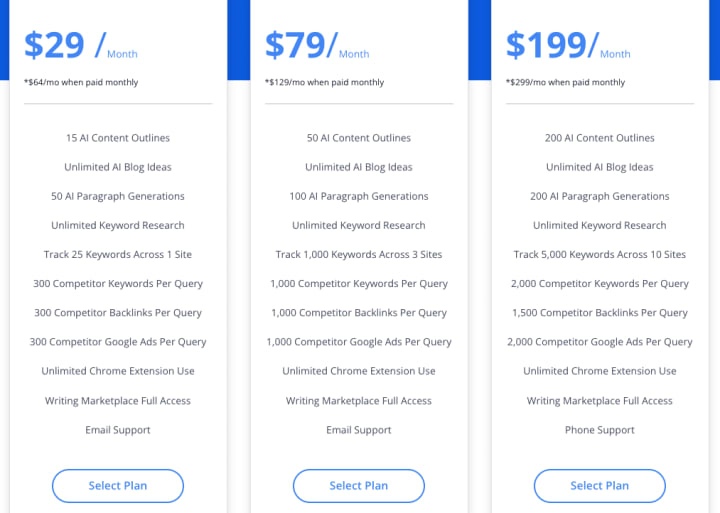 For me, the best value plan is definitely the 'Standard' one — the 'Pro' and 'Agency' costs start to become comparable with those of Ahrefs, Moz and Semrush (products which all offer much more SEO data at these sorts of price points).
Customer support
Although email support is provided by GrowthBar, it's not immediately obvious where to find it — the email address is not displayed anywhere in the interface (and there aren't any links to help resources or FAQs provided within the tool's interface either).
The support address is listed on the home page of the GrowthBar website though — albeit in the footer!
You do get emailed a video walkthrough of the product when you subscribe to it however, which is helpful, along with contact details for Hailey, who is one of the founders. So you will be able to get support — it would just be better if the process for accessing it was more obvious.
On the plus side, I can't imagine too many people actually needing much support with this tool — it's very easy to use.
GrowthBar review: summary
The main thing that GrowthBar has going for is that with its 'Standard' plan, you are getting a lot of useful SEO metrics for a fraction of the price of competing products like Ahrefs, Semrush and Moz.
You could argue of course that with GrowthBar, you are also getting a fraction of the functionality of products like these — if you're looking for features like broken link reporting, link intersect data, technical SEO audits, local SEO data, toxic link reports etc…you won't find them in GrowthBar.
Because of this, the pricing of its 'Pro' and 'Agency' plans — which is comparable to that of products which do offer these features — is questionable.
But as far as the 'Standard' plan goes, the proposition is great. The pricing of this plan is particularly affordable for startups and solopreneurs, and the features that are provided are definitely strong enough to let you create or promote content that ranks.
GrowthBar won't be for absolutely everyone, but there's lots to like about it. It's well worth trying out, especially if your needs are simple and you're on a budget — you can access a five day trial for free here.
The main areas for improvement lie in its content generation features which, whilst good for generating ideas for content, aren't yet a substitute for actually researching and writing it yourself.
I'll leave you with a summary of the key pros and cons of GrowthBar.
Pros and cons of GrowthBar
Pros of using GrowthBar
It's extremely easy to use.
Its entry level plan is very cheap.
It gives you all the key data you need to execute a simple but effective SEO campaign.
The Chrome extension provides a unique, fast and really easy way to access SEO data 'on the go.'
No limits apply to keyword research or domain queries.
It can be used for free for 5 days.
FREE TRIAL OF GROWTHBAR >
Cons of using GrowthBar
Because of its 'slimmed down' nature, it's suitable for more basic SEO projects only.
The keyword suggestion list doesn't display keyword difficulty scores.
The content generation tools need improvement.
Backlink research features are basic.
You can't really do broken link building with GrowthBar.
It could be easier to access customer support details.
Pricing for the 'Pro' and 'Agency' plans is too high given the functionality offered.
TRY GROWTHBAR 5DAYS RISK FREE NOW